It's the month with the start of the best season. We'll begin with 90 degree days and end with 70 degree days. In between are 30 days and nights of disco, books, Hispanic culture and more. Here are 30+ recommendations to have the best possible September.
Stay in the loop and follow us on Facebook + Twitter + Instagram and listen to BYT Radio.
Your Best Months of 2018 are presented in partnership with our friends and partners at Hilton
Corot: Women @ National Gallery of Art September 9 through December 31
Determining the merit of art is a highly subjective endeavor, one in which a Paul Cézanne can either be a founder of modern painting or just a guy who painted a landscape near Paris in 1876. When the discussion turns to Camille Corot, credit is usually given to his landscape painting style that blended elements of French neoclassical tradition and predicted tenets of impressionism. The upcoming exhibition at the National Gallery alters this perception of Corot's greatness, and reorients the discussion to focus on Corot's lesser known figure paintings. Examining his portraitures of women, Corot's mastery of color, contrast, and the delicacy of each stroke exemplify a truly transformative artist. -Ruben Gzirian
You know what Art All Night is… And even if you don't know, you could probably guess from the title of the event that it involves looking at art… all night. While the event has gotten wilder and bigger over the years, encompassing multiple neighborhoods and including both indoor / outdoor spaces, you can keep it small and simple if you want by narrowing down your neighborhood destinations. It's basically a choose your own adventure kind of night with weirdo, arty surprises lurking behind every corner. And it's still 100% free. In a city this expensive, you truly can't beat that. -Kaylee Dugan
National Book Festival @ Washington Convention Center September 1
Chicago may get Lollapalooza, but DC gets the National Book Festival. I'm not kidding when I say this one-day event, that's FREE for an added bonus, rocks just as much in my mind. With the weather alternating between repulsively hot and rainy, it's also such a perk that as of several years back they smartly moved the event into the air-conditioned confines of the Convention Center. Starting at 9:30am to 7:30pm on Saturday Sept 1st, there are great readings and Q&As with a wide variety of notable authors and public figures, such as Dave Eggers, U.S. Supreme Court Justice Sonia Sotomayor, Amy Tan, Danica McKellar (Winnie from The Wonder Years who's also a freakin' genius), Jeffrey Eugenides, Tayari Jones, Celeste Ng, Roxane Gay, Ron Chernow, and so many more. This lineup of authors is really top notch this year. Alongside all the readings they'll be activities for young kids and outposts for book buying. -Diana Metzger
Sound Pictures: The Life of Beatles Producer George Martin, The Later Years, 1966–2016 by Kenneth Womack available September 4
Grab a copy of the second part of the massive, comprehensive biography of The Fifth Beatle, Sound Pictures: The Life of Beatles Producer George Martin, The Later Years, 1966–2016 by Beatles historian Kenneth Womack. It appears to be a super in-depth look at Martin's work producing the Beatles during their creative peak, as well as his later career work on projects like Cheap Trick, Jeff Beck, and Elton John. -Matt Byrne
Feminasty: The Complicated Woman's Guide to Surviving the Patriarchy Without Drinking Herself to Death by Erin Gibson available September 4
Co-host of the well-loved podcast Throwing Shade, Erin Gibson, has a new collection of biographical memoirs and politically-charged essays coming out this month called Feminasty: The Complicated Woman's Guide to Surviving the Patriarchy Without Drinking Herself to Death. She's hilarious but you already knew that. If you didn't, subscribe to Throwing Shade and also buy this book, dummy! -Matt Byrne
Small Press Expo @ Marriott North Bethesda Hotel & Conference Center September 15-16
Small Press Expo is North America's leading independent comic festival taking over Marriott North Bethesda Hotel and Conference Center. I've been attending SPX as a casual comic fan for years now, and it's always a delightful time full of friendly faces and inspiring illustrations. This year, SPX will be bigger and better than ever, with 29 special guests and many more up and coming artists. Special guests, including Rebecca Sugar of Steven Universe and Ngozi Ukazu of Check, Please!, will lead a variety of workshops ranging from a screening of a film about growing up with Jeffery Dahmer to panels about mental health and gender representation in comics to a Beatles sing-along. Attend panels or simply wander around the massive ballroom meeting artists and publisher, either way you'll have a great time. -Afriti Bankwalla
Craig Robinson @ DC Improv September 27-30
There's a lot to love about Craig Robinson. His comedic presence is undeniable—roles in Ghosted, The Office, This is the End, Knocked Up, and Hot Tub Time Machine round out a resume that has made Robinson one of the most human comedians out there; his aptness rests on his ability to combine dry observational humor with lockstep timing. The finished product is downplayed hilarity that never stretches thin or tries to do too much. And if for some reason you don't like laughing, Robinson also incorporates live music into his act. If you can't find something to enjoy here then sadly there isn't much hope for you. -Ruben Gzirian
John Kerry In Conversation with David Ignatius @ Sixth & I September 8
Memoirs are always tricky affairs. Ignoring the fact that most of them fly too close to being contrived, they're primarily just…boring. John Kerry's upcoming memoir, Every Day is Extra, may buck the trend. Kerry's life encapsulates at least three separate lives: Vietnam veteran turned activist, 2004 Democratic presidential nominee, Secretary of State during President Obama's second term. Whether you agree with his politics is irrelevant here. Kerry's life has spanned some of the most pivotal moments in our nation's history, with Kerry heavily involved in many of them. To hear Kerry speak about his life is to hear history, perspective, and the musings of a political remnant. -Ruben Gzirian
Neil deGrasse Tyson @ Warner Theatre September 13
It's tough to really nail down the importance of Neil deGrasse Tyson. Heir to the cosmic throne held previously by the late-great Carl Sagan, Tyson is a once-in-a-generation proprietor of cool, of intelligence, and of charisma almost as infinite as his devotion to his lifelong passion of astrophysics. Perhaps even more importantly, Tyson has provided a narrative voice to a period in human history that has seen our exploration of space reach new limits; he has single handedly made space exploration not only accessible to the masses but relevant to how we understand are own existence. And while all of this may sound hyperbolic, I dare you to watch Cosmos: A Spacetime Odyssey and not be moved. -Ruben Gzirian
Hispanic Heritage Month September 15 through October 15
Hispanic Heritage Month was designated by Congress to celebrate the contributions, stories, and achievements of American citizens of Latin American and Hispanic origin. It runs from September 15 to October 15, and there are plenty of activities (such as Carlos Vives at The Anthem) and events that feature and elevate Hispanic culture.
I know it's trite to gripe and grouse about the Trump administration and his cronies, but the truth is that their hateful rhetoric and anti-immigrant policies have led to a rise in hate crimes against Latinos over the last couple of years – not to mention the horrifying, heartbreaking policy of separating families at the border. Too often Latinos and Hispanics are an invisible or overlooked part of life in the United States; they're the back of the house crew that cooks your food, cleans your house, and watches over your children. But we have a voice, and we contribute to improving this country – in every aspect – on a daily basis. Show some love even if for a couple of weeks. -Jose Lopez-Sanchez
Atlas Brew Works Five Year Anniversary September 8
Earlier this year, I found myself in Atlas Brew Works taproom, ogling the stacks of barrels the brewery had on display. (All of them are marked with a different album cover, including – much to my amusement – WU LYF's Go Tell Fire to the Mountain.) When I inquired about what was inside each of these barrels, Tap Room General Manager Rachel Murray kindly shared a little secret: A few contained a barleywine spiked with Brettanomyces, and if the aging process played out as hoped, Atlas would release the beer for its fifth anniversary.
Of course, I subsequently forgot this, but half a year later, here we are: On September 8, Atlas Brew Works will release that beer as Batch 500. I'm pretty jazzed about it. Brett beers might not be the first thing you think of when it comes to the Ivy City brewery, but from the annual La Saison de Brett to the recently re-released white wine barrel-aged Brett Helles Pope Magic, Atlas has proven a knack for utilizing the wild yeast.
Oh, and there's a party, too. Sorry, I was blinded by the Brett. Atlas is turning five-years-old! Well, it technically already turned five-years-old, but unless you possess a magically air-conditioned auxiliary space or a giant-ass parking lot, an August anniversary party is a dicey proposition. So, on the presumably more temperate September 8, Atlas will celebrate five years of Rowdiness.
Like last year, tickets for the all-day rager cost $15, which includes your first beer and a donation to the Living Classrooms Foundation. So, you can totally write it off as a charitable donation. (Fact check: not true.) The "Steam Punk Carnival Celebration" will also include face-painting, fortune telling, a dunk tank, a "fire performance," a Big Wheel Race in the brewery, and live music. That's a lot of shit! And beers are $5 all day. -Phil Runco
Zoo Uncorked @ Smithsonian National Zoo September 13
Here comes the National Zoo, with yet another dope food and/or booze-themed event. Like Brew at the Zoo and Boo at the Zoo, this one is awesome. Zoo Uncorked (the event formerly known as Grapes with the Apes) is an event designed to do two things: raise funds for the continued upkeep of the National Zoo and allow guests the opportunity for an up close and personal view of the zoo's animals while sipping on award-winning local and national wines. Live music, local food trucks, and a commemorative wine glass only add to the experience. Throughout the evening, you'll enjoy unlimited wine tastings, live music and entertainment, a wildlife art exhibition and sale, a fun outdoor evening at the Smithsonian's National Zoo, and, most importantly, that warm fuzzy feeling of helping save animals. The Zoo's Reptile Discovery Center, Think Tank, and Great Cats exhibits will even be open late for event attendees. You should make it to this event, support the admittedly noble conservation efforts of the Zoo, and try to connect with (and empathize with, maybe?) your fellow planetary residents. -Logan Hollers
Aslin Beer Co. Third Anniversary September 15
Aslin Beer Company. Top five breweries of all time. You already know.
But did you also know Aslin was turning three? I don't really remember life before the Herndon buzz magnet, so I would have put them at closer to 30-years-old, but it actually checks out: They're only three. That's three years of elite IPA and fruited sours and decadent imperial stouts, a very nice saison, an equally nice Pilsner, and a bunch of crazy shit with vanilla and lactose milk sugar. Also a few barleywines. And a Hefe. And a Biere de Garde. And some wheat wines. Look, these dudes have made everything. Untappd currently has them at 237 unique beers. In three years. Cray.
Anyway, they're throwing a big old party. And by "party," I mean a bonkers festival. The list of participating breweries is nuts. It includes a significant cut of the country's best and the buzziest operations, most of which are not available in DC regularly. That list includes the UK's Cloudwater, Toronto's Collective Arts and (my personal death row brewery) Bellwoods, Hill Farmstead offshoot Casita Cerveceria, Brooklyn's Threes, and… look, I don't have time to go through everyone. Click the link above.
There are two sessions for the festival, one early afternoon and one late afternoon. Both have a general admission option (unlimited pours + a taster glass) and a snazzier VIP alternative (the pours + VIP tasting glass + an anniversary cooler bag stuffed with an anniversary beer, an anniversary teku glass, Aslin Coffee, and more). Surprise, surprise: The VIP option is sold out. But GA remains available. -Phil Runco
Make It Funky Fest @ Denizens Brewing Company September 29
Denizens Brewing Company boasts arguably the area's most adventurous wild and sour beer program, so it's only fitting that the Silver Spring brewery hosts our premier festival for wild and sour ales. That shindig is called Make It Funky, and on the last Saturday afternoon of September, it's back for the fourth time.
Yet again, it features a fantastic selection of breweries. As you'd expect, Maryland is well represented (RAR, UNION Craft, and Black Flag, among others), as are head brewer Jeff Ramirez's old stomping grounds of Colorado (Avery and Crooked Stave) and Pennsylvania (Free Will, Conshohocken Brewing). And in the category of random dope-ass breweries: Oxbow, Allagash, Two Roads, and the always welcome sight of Black Narrows. (Side note: Based on many conversations I've had, I can comfortably say that brewers and beer reps love – and go out of their way – to work this event.)
$62.50 gets you access to unlimited nectar from all those breweries, plus literally dozens more. All in all, we're talking a selection (of mostly one-offs and rarities) in the triple digits. That's a lot of beers. And if past years are any indication, they'll cover a wide range of flavors: tart, tropical, citrusy, hoppy, Bretty, fruit-forward, acidic, vinous, and on and on. If you're unfamiliar with the world of wild yeast and Lactobacillus, here's your crash course. It's a wonderful and not-at-all-scary place to visit – especially when you're drinking the best stuff. -Phil Runco
The Nun in theaters September 6
Another year, another delicious entry into The Conjuring Cinematic Universe (AKA the only cinematic universe that matters). Instead of yet another film featuring Annabelle, our favorite creepy doll, this time we're digging into the backstory of that spooky nun the Warren's (maybe????) defeated in The Conjuring 2. Unlike both of the Annabelle movies, it looks like they actually threw a little money toward this one, so I could not be more excited to jump scare my way through this film. It's certainly no Hereditary or A Quiet Place, but I won't look a horror movie gift horse in the teeth and neither should you. -Kaylee Dugan
The Predator in theaters September 14
Look, nobody wants to ever see another movie based on an existing property ever again. THAT SAID, The Predator looks pretty goddamned sick. Directed by Shane Black (director of Lethal Weapon, The Nice Guys, Iron Man 3, among others), if you're gonna do another sequel to the Predator franchise, this appears, from early footage/buzz, to be the way to do it. It's time to have fun at the movies again!!! -Matt Byrne
A Simple Favor in theaters September 14
In the vein of Gone Girl, A Simple Favor is another twisted thriller about a mysterious and seductive missing woman, yet this time told from the friend's POV. Anna Kendrick plays Stephanie, a mommy blogger, who investigates the disappearance of her neighbor and pal Emily, played by Blake Lively. The conceit of the film plays off the molds that both Kendrick and Lively fit into in their careers– audience surrogate/everywoman and elevated goddess, respectively. Directed by Paul Feig, who's really great at pulling interesting and funny, even darkly funny, performances out of talented women. It also stars It Guy Henry Golding, fresh off that Crazy Rich Asians fame as Sean, Emily's husband. -Diana Metzger
White Boy Rick in theaters September 14
Based on a true story, White Boy Rick tells the tale of legendary narc Richard Wershe Jr., a 14-year-old drug dealer turned FBI informant. The cast is rounded out by a slew of character actor types, like Bruce Dern, Jennifer Jason Leight, and Matthew McConaughey, which is enough to at least get this one into the "ah yeah, I should probably go see this" column. -Matt Byrne
The Sisters Brothers in theaters September 21
Man, every year there's at least one rambly, shambly arthouse revisionist western that looks cool as hell, and 2018 is no different: The Sisters Brothers, featuring a stacked cast of indie crossover showbiz vets like Joaquin Phoenix, Jake Gyllenhaal, and John C. Reilly, plus the massively talented Riz Ahmed as a bunch of cowboy/prospector types that are all fighting/mad at each other. All signs point to "hell yeah" here for me. -Matt Byrne
REI Culinary Campout September 15
Our good pals at REI are bringing foodies and outdoors fanatics together for one evening of kayaking, hiking, yoga and most importantly, all the delicious food you could ever want. After a long day enjoying the outdoors, settle around the campfire and enjoy craft cocktails while you chow down on food from the chefs behind Maydan / Compass Rose, Red Apron / The Partisan, Little Sesame, Amparo, Tail Up Goat and Himitsu. When you've reached food coma status, just crawl a few feet away and collapse in your tent. This is the ultimate camping experience. -Kaylee Dugan
DCVegFest is a free festival (and the largest vegan gathering on the East Coast, nbd) held right down by Nationals Park. The event highlights the many benefits of choosing plant-based foods. Sounds crunchy, sure (and it is), but it's also a hell of a good time. Tons of free food samples at the TryVeg.com tasting booth, more than 100 exhibitors, a beer garden, a kids' zone, live music, numerous cooking demonstrations, and talks from authors and celebrities. Best of all: it's FREE. Bring your dog, try some bites and beers, and resolve to cut back on meat. -Logan Hollers
Blisspop Disco Fest @ 9:30 Club September 1
The concept of a two-night disco music mini-festival in Washington, D.C. is not that surprising, and definitely welcome. The District has its fair shares of venues and bookers who share a deep love for dance music in its many forms, and nobody has done it better (or longer) than Will Eastman and the rest of the team at U Street Music Hall.
While the term "disco" is a Rorschach test in itself, there's no denying that the musical style has endured and evolved with the time, moving further away from the anodyne excess of the late 1970s, and a lot of that has to do with a few of Blisspop's performers, a list that includes legends of the art form as well as exciting up and comers. Giorgio Moroder is one of the style's earliest pioneers and innovators, and is widely considered the "Father of Disco" – his legacy is still felt today any time a twenty-something year old spins into an MDMA-fueled dervish at 3am to Donna Summer's "I Feel Love". On the other end of the spectrum, folks like Claptone and DC-based Eau Claire are adding contemporary flourishes that keep electronic music about dancing and having fun. Oh, and it's worth mentioning that Holy Ghost!, Juan Maclean, and Nancy Whang – all on DFA Records – will also be performing. Basically, it's a crash course through dance music history over the span of a weekend, and it promises to be amazing. Not a bad way to spend Labor Day Weekend. -Jose Lopez-Sanchez
Drake & Migos @ Barclays Center September 1, Capitol One Arena September 12 and 13
Two of the biggest acts in music on one tour…where have I seen this before? Oh right. When Drake went on tour with Future for the Summer Sixteen Tour in 2016 many expected a dualistic heaven. Instead, what we got was Drake with a brief Future interlude. All indications point to this co-headlining tour to be co-headlining in name only, but that really shouldn't matter. If you like Drake, you'll like this show and any other show he puts on. Say what you will about his beef with Pusha T or the creeping sense that he might have hit his peak with 2018's Scorpion, Drake really cares about his live performances. And when you have a catalogue of hits that could fill up an entire festival schedule, you have the recipe for a show with very few lulls.
As for the Migos, they're the Migos. They are the purveyors of Atlanta hip-hop and a group nearing that expiration date where each member releases a solo project. Drake may have stolen Migo's flow when he remixed "Versace," but money talks and Drake prints it. -Ruben Gzirian
Miguel @ The Anthem September 4
In the music industry, there are a few truths: Beyonce is the Queen, Kendrick Lamar is the King, and nothing makes Drake happier than talking about calling his exes. Another truth is that Miguel doesn't release bad albums. Since All I Want Is You in 2013, Miguel Jontel Pimentel has delivered project after project that have—rightfully—catapulted the singer into the discussion of "Who's the best R&B singer of our generation?" Much of what makes Miguel so lucid in his projection of sex, compassion, and timeless swagger is his stage presence; his performance at 2018's Broccoli City Festival was a showstopper. And that's saying something when you realize the lineup also included a seven months pregnant Cardi B performing in thigh-high ruched denim boots and the Migos. -Ruben Gzirian
Alanis Morissette @ Filene Center  September 6
Grab some wine to wash down this Jagged Little Pill because this show is All You Really Want. Now I'm not a doctor but she is FOR SURE the cure to what ails you. – Jenn Tisdale
Lil Baby @ Irving Plaza September 5, Fillmore Silver Spring September 8
In the rarified air of Atlanta hip-hop, few artists seem as reactionary as Lil Baby (real name Dominique Jones). The melodic flow with which Baby bounces around bars on "Life Goes On" or "Southside" off his 2018 debut Harder Than Ever all point to clear inspirations from other Atlanta rappers—mainly Young Thug and Rich Homie Quan. And while that's not exactly new, in the landscape of Atlanta the blunt packaging of Baby's life story into three to four minute exposes is refreshing when the other options (i.e. the Migos) are primarily concerned with celebrating life after the struggle. This is no thrills rap—nondescript to a fault—but in it you'll find nuggets of a fresh perspective to a timeless image. -Ruben Gzirian
Saintseneca @ Bowery Ballroom September 6, Black Cat September 9
Folk band led by songwriter Zac Little, Saintseneca just released their third and most ambitious album Pillar of Na at the end of last month. Featuring members of The Sidekicks and All Dogs, Saintsenca make layered folk rock with biblical imagery and intricate wordplay akin to Neutral Milk Hotel, and the comparison goes deeper than Little's voice. Opening is Black Belt Eagle Scout, the project of Katherine Paul, that's been getting a lot of buzz before the release of their debut album on September 14. –Rohan Mahadevan
Childish Gambino @ United Center September 8, Madison Square Garden September 14 and 15, Capitol One Arena September 19
To be completely honest, if you asked me what I thought of Childish Gambino back in 2011 I would have told you that at best he sounded like a Drake clone and at worst he sounded like clone of a Drake clone. Fast forward to 2018 and boy was I wrong. It's hard to separate the genius of Donald Glover from the output of Childish Gambino, and if you're still trying I suggest you stop. Childish Gambino is one of those artists that garners respect even from listeners who dismiss him. His 2018 "Awaken, My Love" wasn't my favorite album, but its sonic reflection on compositions and instrumental arrangements made household names by Parliament Funkadelic was as fun as it was educational. If his recent singles—"Summertime Magic" and "Feels like Summer"—are any indication, Donald Glover is about to take his persona to another level. -Ruben Gzirian
Black Cat 25th Anniversary September 14 and 15
The Black Cat is 25, which means the club can now rent a car without paying extra penalties. Besides that, there's nothing exciting about turning 25… except the killer two day party that they'll be throwing in celebration. With a line up that includes Ex Hex, Subhumans, Ted Leo and so many others, it's the perfect way to celebrate 25 years of killer shows. -Kaylee Dugan
Slow Hollows @ Beat Kitchen September 14, Baby's All Right September 21, Songbyrd September 22
Austin W. Anderson is a musician's musician, and by the age of 19 had already made appearances on records that dominated the hip-hop/R&B conversation: Frank Ocean's Blonde in 2016, and Tyler, The Creator's 2017 record Flower Boy. Anderson is soft-spoken and more likely to be in the background, but his ear for a melody and unique guitar work is the reason he's been sought out by leading tastemakers and culture creators. Slow Hollows – formerly a solo project – morphed into a band a couple of years back, and his latest music video, "Lessons for Later" was directed by BROCKHAMPTON frontman Kevin Abstract, another sign that Anderson has caught the eye of the right people. -Jose Lopez-Sanchez
Jay Rock @ Concord Music Hall September 14, Irving Plaza September 18, Fillmore Silver Spring September 24
If modern West Coast hip hop was the Pantheon, the architects would be Jay Rock's record label Top Dawg Entertainment (TDE). That's not an overstatement either. Over the past seven years, TDE has been untouchable, flexing a roster that includes Schoolboy Q, Kendrick Lamar, SZA, and Isaiah Rashad. But TDE's core, and its first signee, is Jay Rock. Through three albums—the most recent being 2018's amazing Redemption—Jay Rock has forged a career out of struggle, near-death experiences, and bruises that never truly healed; songs like "ES Tales" or "For What It's Worth" drip in esteem born out of triumph. With every track, Jay Rock solidifies TDE's origin story and proves that being battle-tested only happens when you barely survive the battle. -Ruben Gzirian
Bad Moves @ Black Cat September 21
Bad Moves is one of our favorite local bands and they should be yours too. Their songs are made to be shouted while driving very fast (or running very fast, or dancing very fast) and it's why we're incredibly excited for their album release party at the Black Cat. Joined by The Obsessives and Ultra Beauty (who's number one fan is The Rob Thomas), it's sure to be abounding with good tunes. Come support some local acts, dance and have a damn good night. -Kaylee Dugan
Christine and the Queens Chris available September 21
It feels like an eternity since Chaleur Humaine dropped, and I guess in music world terms, it kind of has been – four years is a considerable (hopefully well worthwhile) span of time to wait for a sophomore record, but Chris seems like it's going to slay. The most interesting thing about the record (in the lead-up to actually being able to listen to it in full, that is) has been the transition from "Christine" to "Chris" – the French musician's altered stage name, and butched up appearance, is apparently a reflection of feeling stronger and bolder, in contrast to the debut record, which was notably softer, a self-described "teenage" album. So, we'll see what the added muscle does for the French musician. Either way, I'm super stoked for this release, and for the subsequent tour that hits US stages this fall. -Megan Burns
Mount Eerie (after) available September 21
The last two albums from Mount Eerie have been singular works of artistic brilliance unlike any other pieces of recorded music I've ever heard. This sounds like hyperbole but it's mostly not. Songwriter Phil Elverum chronicled his ongoing processing of a life-altering, world quaking loss across a pair of stark, plainspoken albums of freeform, poetic meditations on death. You can imagine how the live shows went! (after) is a document of one such gig, capturing the devastating intensity of these songs, as Elverum performs accompanied by only an acoustic guitar to a rapt, justifiably emotional audience. If you didn't make it to a Mount Eerie show in the last two years, (after) is just the thing to make you wish you did. -Matt Byrne
Blood Orange @ Central Park Summerstage September 26, Lincoln Theatre September 28
Devonté Hynes's music is as beautiful as it is tumultuous; its power to lift you out of a rut deep in your mind is only matched by its capacity to remind you just how deep that rut is. That's the music Hynes makes; a haunting proxy for narration and curation transcending complexity previously relegated to the dark corners of abstract indie music. Hynes's most recent album, album-of-the-year contender Negro Swam, is flush with extrinsic compositions rooted in R&B, hip-hop, alt-pop, and guitar arrangement; each fragment of minimalist expression is constructed with melancholic deliberation that resonates long after the last song abruptly ends with three seconds to spare. -Ruben Gzirian
Cher Dancing Queen available September 28
I'll admit, the only reason I agreed to see Mamma Mia 2 in theaters this summer was SPECIFICALLY because it involved Cher. (I'm 100% here for ABBA tunes, but I have a special level of hatred for musicals.) Of course, her on-screen time was merely a blip at the end of the film, but hey, it was a ploy that worked – despite considering leaving the theater halfway through, I was determined to see homegirl's grand entrance. And so I stayed 'til those goddamn credits rolled. Anyway, this is a long-winded way of telling you that I am VERY amped for the full record of Cher's ABBA covers to drop at the end of September, and you obviously should be, too. -Megan Burns
The most appealing part about listening to Slaves is just how brash…and relatable the entire experience ends up being. This is the musical appropriation of anger fueled by angst; a statement bereft of meaning without its expression. Consisting of Laurie Vincent and Isaac Holman, Slaves deliveries new-age punk music with its fingers deep in the pies baked by the guitar riffs of the Black Keys (think Rubber Factory) and the ravenous attitude of the Sex Pistols. Have you heard variations of this formula? Yea, probably. But that doesn't mean songs like "Cheer Up London" or "Chokehold" don't make an impact, even if that impact doesn't make the same thud it used to. -Ruben Gzirian
Leave It All Behind: A Renwick at Night Experience September 7
The Burning Man exhibition that took D.C. by storm is finally coming to a close and we're throwing a party so you can officially say goodbye. Expect surprises behind every corner including a full cast of talent, transcendental music and overflowing libations. We wish we could tell you more, but that would ruin all the fun. -Kaylee Dugan
H Street Festival September 15
H Street Festival is one of the biggest street festivals of the year. Taking over 11 blocks and hosting 150,000 attendees, it focuses on the arts and will feature everything from live music and dance performances to fashion shows and poetry readings. Past festivals have even displayed giant and kinetic sculptures. It's the perfect way to round out the summer street festival season. -Afriti Bankwalla
BYT & Nat Geo Present: My Party Will Go On September 21
We're taking the Nat Geo Museum by storm and transforming their killer Titanic exhibition into the 90's prom dance party of your dreams. Get ready to dance all night to sweet throwback tunes by White Ford Bronco, nerd out with some Nat Geo explorers and hog the photo booth with your best Jack and Rose poses. Unlike the actual Titanic, no iceberg can stop this party. -Kaylee Dugan
Grab your dog, grab your cat, grab your kids (or someone else's kids) and make your way down to D.C.'s inaccurately named State Fair! Just like the county fairs, you can expect your fair share (sorry) of local performances, food based contests and all the weird crafts you could ever imagine. Unlike most fairs, you probably won't see as many horrifying fried concoctions, but there will be pies, smoothies, pizza and a host of other delicious things. There also won't be any upsettingly rusty carnival rides, so it's really a win-win. -Kaylee Dugan
It's Always Sunny in Philadelphia season 13 begins on FXX September 5
It's Always Sunny in Philadelphia returns to television for their 13th season after almost 2 years. It feels like we've been waiting much longer. There's a reason Sunny is one of the longest running comedy shows in television history. It's just that good, and it keeps getting better. It's gritty, it's dark, it's funny, it's everything you want in a sitcom about terrible people. Not to mention, the show has become increasingly more political in recent years. Take the first episode of season 13. It's called, "The Gang Makes Paddy's Great Again," and I'll be expecting nothing less than a satirical masterpiece. -Afriti Bankwalla
The Deuce season 2 begins on HBO September 9
After Homicide: Life on the Street, The Corner, The Wire, Generation Kill, Treme, and Show Me a Hero, it's not hard to see the rhythm of David Simon's storytelling. The unexpected ripples, the slow-slow-QUICKNOW plot points, the large figures driven by small events — he aims to weave a large societal canvas, but never worries about hiding the stitching. His latest Dickensian HBO epic, The Deuce, deals with nothing so new as the world's oldest profession — set in the racial and class struggles of 1970s Manhattan, of course. We follow prostitutes, their pimps, mobsters running massage parlors, female bartenders dressed in spandex, and, of course, the cops and reporters chasing through everyone else's wake. Season 2 looks primed to continue Simon's exploration the commodification of sex. Staring Maggie Gyllenhaal as a street walker turned porn maven, The Deuce explores the way our desires play out in a city, and a capitalist culture, writ large. Get into the rhythm. -Tristan Lejeune
American Horror Story: Apocalypse premieres on FX September 12
While the last iteration of AHS hit a little too close to home following the election nightmare, I would rank it third in my top three favorite seasons, with second and first place going to Murder House and Coven. (Coven is clearly supreme. See what I did there?) So it goes without saying that this upcoming season, a mash-up of Murder House and Coven, should automatically go down in history as my favorite of all time! Right? RIGHT?! That's what logic would lead me to believe, but you can never be too sure with these things. I'm optimistic for the moment, so don't let me down, Ryan Murphy. (Sarah Paulson is playing not one, not two, but THREE characters, which is a strong strong STRONG start right out of the gate, that is for goddamn sure.) -Megan Burns
BoJack Horseman season 5 released on Netflix September 14
BoJack Horseman's fourth season handed its characters a string of failures: business disasters, a doomed political campaign, a miscarriage, multiple breakups, getting trapped with Jessica Biel by an earthquake. Season 5 has a lot of pieces to pick up, but it also has a high bar to clear. And despite BoJack's newly discovered half-sister, the plotline I'm most intrigued by is his return to TV with Princess Carolyn's new series. Let's take the cue: It's time to go back to television! With House of Cards set for an ignominious end, this, not Stranger Things, should be thought of as Netflix's flagship. -Tristan Lejeune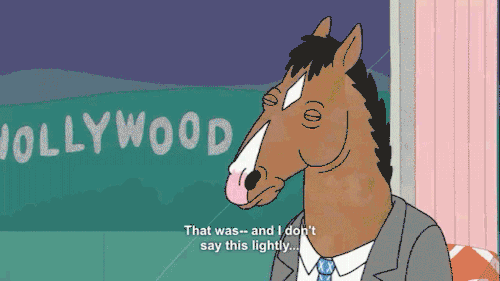 God Friended Me premieres on CBS September 30
CBS' occasional reputation as The Christian One of the big three networks rears it's head once again with the new insane, high concept series God Friended Me, which is sort of like Early Edition but with 100% more Facebook. An atheist podcaster gets a friend request from a profile named God, whose picture is a cloud, who then begins connecting him with other wayward souls. The whole thing sounds like TOO MUCH but also NOT ENOUGH to commit to watching more than a few episodes, unless they really commit to doubling down on this wild conceit. -Matt Byrne
Looks: Capitalé @ Smith Public Trust September 7
One of my personal favorite queens and bearded Chicago drag legend, Lucy Stoole joins Miami godesses, FKA Twink and Miss Toto for a night of drag, dancing, and drinks. True to its name, knowing these performers, you're not going to want to miss the looks that will be turned at this event. Coupled with the lively energy they're all known to bring to the stage, Looks: Capitalé will be all glamour, fun, and self-love. -Afriti Bankwalla
If I Forget @ Studio Theatre September 12 through October 14
This new play by Steven Levenson (Dear Evan Hansen, Masters of Sex) is a no-brainer pick for Studio Theatre to kick off their 2018-19 season. Not only is Tony-award winner Levenson a D.C.-area native, but this show about a Jewish family dealing with gentrification in the district literally hits close to home. If I Forget takes place in 2000, when a family struggles over what to do with their parents 14th street home after the death of their mother and their father in need of full-time care. Based deeply in Levenson's personal experiences, the show while dealing with relatable and intense family and political issues, it's also a story told with biting humor and honest heart. -Diana Metzger
Feature photo by Spencer Watson on Unsplash