Welcome to the busiest month of the year. It's also the spookiest month. And the funniest month thanks to our Bentzen Ball Comedy Festival.
What follows are 31+ ways to have Your Best October. It's the most jam packed month of the year, full of new art exhibits, multiple oyster options, the good kind of weirdos and the good kind of hometown pride.
Stay in the loop and follow us on Facebook + Twitter + Instagram and listen to BYT Radio.
FEAR EATS THE SOUL @ Glenstone through early 2020
Glenstone's first new exhibition since expanding their gallery space in 2018 is absolutely worth the trip. After bringing food into the galleries at the Hirshhorn for the first time this summer, Rirkrit Tiravanija has taken over the old Gallery (not the new Pavilions) for "FEAR EATS THE SOUL," a testament to Tiravanija's ability to convince museums to do things they would never agree to do otherwise. -Kaylee Dugan
Read more in "FEAR EATS THE SOUL Changes Glenstone"
Women Artists of the Dutch Golden Age @ National Museum of Women in the Arts October 11, 2019 through January 5, 2020
When you think of historical Dutch painters, especially those hailing from around the 17th century, it's rare that you think of women. For the most part, the names Rembrandt and Vermeer are more synonymous with the era than Clara Peeters and Judith Leyster. The Women Artists of the Dutch Golden Age exhibit at the grossly underrated National Museum of Women in the Arts presents of much welcome counter-narrative to this era in European art. The Dutch Golden Age specialized in realism, portraying allegories, portraits, scenes of everyday life, landscapes, and still life without the idealization and love of splendor commonly found in Baroque painting. The women artists of the period not only rivaled their male counterparts in skill but also achieved careers despite having to balance family, marriage, and children. This exhibit is a reflection of that triumph and is a must-visit. -Ruben Gzirian
Those of us who have been social media stalking NYC's 29Rooms, staring longingly at the Instagrams of our friends who live in NYC, are finally getting our very own slice of 29 magic. 29Rooms slides into D.C. just in time for Halloween weekend, and it looks like a magical portal straight into another world. If you have no idea what I'm talking about, think of 29Rooms as an art gallery from another dimension, it's a fully immersive art experience that wants to inspire you to get weird. For the D.C. pop-up, they've teamed with amazing local artists Trap Bob and Jamea Richmond-Edwards, which makes us even more excited to check it all out. It's going to be dreamy. -Kaylee Dugan
Pat Steir: Color Wheel @ Hirshhorn October 24, 2019 through September 7, 2020
The Hirshorn is one of the best, if not the best, museums in D.C. for consuming abstract modern art. In particular, the second-floor inner-circle galleries are works of art in their own right, and when paired with immersive vibrant paintings, provide an experience unrivaled in the city. Beginning on October 24, the galleries will be home to thirty large-scale painting by the acclaimed abstract artist Pat Steir. Steir's distinctive method of brushwork paired with layers of drops and pours (see "August Waterfall" or "Wind and Water" for examples) will create an impressive color wheel throughout the entire perimeter of the second floor. You'll probably see this exhibit a lot on Instagram until it ends in late-2020, but you should do yourself a favor and see it in person. -Ruben Gzirian
Transformer Auction October 26
After last year's epic success Transformer will take over the Corcoran School of Arts in design for a night of drinking, dancing, performances and above all some of the best art in the city. Don't believe us? Check out these photos from last year, let the magic run over your like a rogue wave and start planning your outfit. And speaking of outfits, this year Transformer is honoring german art, and founder Victoria Reis explained it best when she said, "Think Berlin Babylon meets Franz Ferdinand meets ​Comme des Garçons, or more recently ​Khaite. B​old shapes, bold sounds, bold colors, yet functional – like Transformer! ​The energy will be dancing and drinking on the edge of the abyss – which let's face it we kind of are!" Want more proof this is the can't miss art party of the year? Check out the sweet video about Transformer we created last year with some of D.C.'s best artists. -Svetlana Legetic
BYT's Fall Book Swap October 8
I'm including this because I am both an inveterate kiss-ass and incurable bibliophile (seriously: it took years before I understood the Tegan and Sara line "Build a wall of books between us in our bed," was a bad thing.) I missed out on the Summer book swap, and despite my "currently reading" and "to be read piles" stress-testing my nightstands, you can never have too many books. -Jeb Gavin
Medallion Status: True Stories from Secret Rooms by John Hodgman available October 15
New John Hodgman book alert! His latest may be his most introspective yet, a look at his unlikely rise to acclaim as a writer and comedian, and it's effect on his family. Hodgman reflects on his unusual career, full of left turns and lucky breaks, and looks toward an uncertain but hopeful future. -Matt Byrne
Nothing Fancy: Unfussy Food For Having People Over by Alison Roman available October 22
Alison Roman's first cookbook outing "Dining In" is as close to a crossover phenomenon cookbook could be – from "the cookies" to "the stew", her seemingly simple, definitely genius, crazy intuitive way of cooking took all of us by storm and we haven't look back since. The next chapter in her mission to make "unfussy, good vibes food" the new normal is bound to be as much of a hit (use this Bon Appetit preview as proof of concept). -Svetlana Legetic
The Hard Times: The First 40 Years available October 29
Somehow, against all odds, The Hard Times, an Onion knockoff about punk music, is actually funny. It's probably the only funny news satire site out there that exists outside the Onion Inc. sphere. The site's editors are celebrating their five year anniversary with a new collection of historical reportage, pulled from the site's fictional 40 year archive. Scoop this one up as an early Christmas gift for that cool music person in your life. -Matt Byrne
Bill Burr @ MGM National Harbor October 5
When I interviewed Bill Burr in August 2018, I was struck by how authentic, sincere, and kind he was. I think somewhat unfairly Burr gets a bad rap as a comedian who frequently crosses some sort of imaginary line of political correctness. But what stand-up comedian worth their weight in salt doesn't? Regardless of what you think of the man, he's a master of the art form; a true student of stand-up comedy before everyone with a half-decent joke got a Netflix special. Listen to 30 minutes of Burr's set, and you'll hear traces of Carlin, Kinison, Pryor, Murphy, and Bruce. He is a comic's comic because he understands the value of comedy beyond making you laugh, and for that reason, he deserves the acclaim he's garnered over the course of his 27-year career. -Ruben Gzirian
Bianca Del Rio @ Lincoln Theatre October 18
Season 6 winner of RuPaul's Drag Race, Bianca Del Rio, is bringing her latest comedy tour, "It's Jester Joke" to Lincoln Theatre. Bianca's influence has permeated mainstream culture, particularly after coining the popular phrase, "Not today, Satan." Nearly six years after her Drag Race win, Bianca is still as clownishly funny as ever before. Her biting wit and savage reads have won the hearts of the Drag Race judges as well as over two million fans worldwide, making her one of the most successful drag queens to come out of the reality show. A brilliant, sharp, and completely unapologetic insult comic, this self proclaimed "clown in a dress" is sure to have even the most somber audiences in peals of laughter. -Afriti Bankwalla
Bentzen Ball Comedy Festival October 24-27
We celebrate 10 years of Comedy & Friendship, brought to you by BYT & Tig Notaro. All our amazing shows are sale NOW on bentzenball.com: Tig, Maria Bamford, Pete Holmes, Los Espookys, The New Negroes, Roxane Gay, Call Your Girlfriend, Sasheer Zamata, Jay Pharoah, Judah Friedlander, Aparna Nancherla, Jaboukie-Young-White and more! Portion of the proceeds goes to World Central Kitchen. Get the tickets now, we sell out every year: BENTZENBALL.COM. Here's some gifs to get you in the mood for people you're about to hang out with:

Local First Awards @ Audi Field October 17

The third annual Think Local First Awards are bound to be a huge helping of positivity and optimism to D.C. you may be in need right about now. A celebration of all things local (surprise!), the awards party is one of those nights where you really, truly want everyone to win, with the nominees where a shortlist of some of our favorite makers / creators / people / places in the city. BYT is proud to be a media sponsor for the 3rd year in a row, and if you need any extra motivation – check out the cuteness from last year – right here. -Svetlana Legetic

Miss Adams Morgan @ Washington Hilton October 26
Always an epic time, this year's ultimate homegrown D.C. drag moment is themed "Passport to adventure" and while the Facebook invite still teases "more details to come soon" – outfits need to be planned NOW. -Svetlana Legetic
Flying Dog's Bags and Brats October 5
For those willing to take a shortish drive up I-270, the Flying Dog Brewery is a pleasant oasis- a small, verdant patch in the middle of an industrial park just outside of downtown Frederick. Likely supplanting their annual Local Riot, Bags and Brats is instead a low key cornhole tournament. My plan isn't to play so much as eat and drink as much as possible. On the drive up, hit the Urbana Waffle House (the second closest Waffle House to D.C. Believe me, I've checked. It's Dumfries, then Urbana, then one north of Baltimore in Fallston.) After eating most of the WaHo menu, I'll spend a few hours drinking fresh beer and eating killer beer brats in an Adirondack chair on Flying Dog's patio. And finally, close out the trip with a stop at the White Rabbit Gastropub in downtown Frederick. It has one of the best curated beer lists in the Mid-Atlantic and is within walking distance of three used record stores. If necessary, there's a Sheetz on the way back to DC where you can pick up fried mac and cheese and antacids. -Jeb Gavin
Not so fun fact: I spent the past seven years working seven days a week. This is the first time I can make it to Snallygaster and I am going to drink all the beers. ALL.THE.BEERS. Nobody on their deathbed has ever said "I wish I had spent more time at the office." In the same vein I will once again prove no one ever looks back on their life and says, "I wish I hadn't taken my pants off and run down Constitution," because I'm usually drunk and don't remember doing it. -Jeb Gavin
ChurchKey's Tenth Anniversary Celebration: Vol. 4 October 17
ChurchKey crosses into its second decade this year, and Beer Director Greg Engert (aka Skim Necktie, aka Foxy Brown Ale, aka Krayzie Bone Dry, aka The Bière de Coupage, aka Dem Framboise Boyz, aka Black Milk Stout) has been celebrating the milestone with a series of flexes rivaled only by Arnold Schwarzenegger at the 1975 Mr. Olympia competition. First came a hype lord showcase in May, then July's evening with The Bruery, which was followed by a Hill Farmstead extravaganza last month. Now the Logan Circle beer bar presents the fourth entry in the anniversary series, and it's a doozy.
On October 17, ChurchKey will showcase Allagash Brewing, the Cadillac of American craft beer, with a 32-draft tap takeover. It'll also have an additional eight bottle pours. Oh, and founder Rob Tod (a recent James Beard Award winner) and Brewmaster Jason Perkins will be here for the festivities. Minor footnote.
Of those 40 Maine beers, the main attraction will be one called The Cloister – a blend of fresh and wild beer devised for the occasion by Engert and Perkins. Composed of 65% Allagash White, 25% Coolship beer (aged roughly 33 months), and 10% Saison Gratis (a foudre-fermented wild saison), The Cloister is meant to evoke the "wild" witbiers that would have been brewed in Hoegaarden, Belgium in the 1950s and then when Pierre Celis revived the style in the mid-1960s.
Earlier this week, I chatted with Perkins about The Cloister, so be on the lookout for an article soon. Another topic in our discussion: Allagash launching cans in the D.C. market. If you'd like to celebrate that occasion, head to Bar Deco on October 4. -Phil Runco
Astro Lab's 1st Anniversary Celebration October 19
As you might guess from the title of this event, one year has passed since Astro Lab opened in Silver Spring. If you have yet to visit, you are fucking up. The Maryland brewery has quickly made a name for itself with an array of bright, juicy, aromatic, often hazy IPAs. In fact, there is a legit argument that Astro Lab is making the best IPAs inside the Beltway (though Bluejacket and now Aslin might have something to say about that). But don't pigeonhole the brewery on the strength of those offerings: its New Zealand-style Pilsner Tahi is excellent, and it's mixed-fermentation barrel program is starting to bear fruit.
Astro Lab will be releasing the first bottles from that latter program at its one-year anniversary party on October 19. One, called Lil Corporal, is a Berliner Weisse fermented the old fashioned way with Brett, Lactobacillus, and Saccharomyces. The other, Waka, is a mixed-ferm farmhouse ale named after Māori watercrafts.
If you're picking up on the Kiwi vibes here, that's because co-founder and Head Brewer Matt Cronin hails from New Zealand. And one of the perks of those origins is a connection with the Southern Hemisphere country's hop growers. So, you're going to find way more of the vaunted, sought-after New Zealand hops – like Nelson Sauvin, Motueka, and Riwaka – on the Astro Lab chalkboard than is customary around these parts. Along those lines, Cronin recently mentioned to me that's he's preparing an all-Riwaka pale ale for the anniversary. (If you haven't read Shaun Hill's post about his quest for Riwaka, give that read.)
Also on tap for the occasion: a bourbon barrel-aged stout, food, and entertainment. -Phil Runco
Boos & Brews @ National Building Museum October 21
Beer, scary stories and the National Building Museum are three of our favorite things, and NBM's Boos & Brews is combining them all into one delightful mini-party. Get the low down on all of the ghosts that haunt the museum while you sip on beers from our very own Port City Brewing Company, dance to some spooky jams and snack on some good food. It's the most D.C. way to ring in Halloween. -Kaylee Dugan
Paws Vegas @ Solace Brewing October 27
For the past two years, Lost Dog Café has collaborated with Port City Brewing on Rescue Ale – a rye IPA that raised money for the Lost Dog & Cat Rescue Foundation. But in 2019, the mini-empire of pizza-and-beer joints (with five Virginia locations) is mixing it up. It has found a new brewing partner, and together they've made a new beer, and they're putting it in a new receptacle.
Now let's work through that string of declarative statements.
This year's Rescue Ale was brewed at Solace in Sterling, Virginia. It's still an IPA, which is a good thing, because Solace is in the upper echelon of local IPA producers. More specifically, the new Rescue Ale is a 7% IPA hopped with Mosaic and Amarillo, two Pacific Northwest gems that typically lend a beer notes of berry and orange blossom, respectively. The beer is still fermenting, but let me tell you something: There is no way Solace is fucking up a Mosaic-Amarillo IPA.
The beer will debut on draft and (for the first time) in 16oz four-packs at all Lost Dog Café locations on Thursday, October 17. A portion of proceeds from every pint or can sold will support Lost Dog & Cat Rescue Foundation, a non-profit founded in 2001 to non-profit corporation devoted to helping homeless dogs and cats find homes.
On Saturday, October 26, Solace will host its own release party for the beer. Then, the next day from 2 to 6 p.m., the brewery will host the third annual Paws Vegas, a family friendly charity casino event with silent auctions and raffle prizes. Like everything else mentioned in this blurb, proceeds will go to a very good cause. -Phil Runco
Roger Waters – Us + Them in theaters October 2 and 6
Recorded during his 2018 tour of the same name, Roger Waters – Us + Them is both a compelling rock doc and a potent piece of political commentary. Comprised of footage from a run of three shows in Waters played in Amsterdam last year, the film captures and reinforces the themes of antifascism and radical empathy. Plus, they do a bunch of old Floyd songs! Sick! -Matt Byrne
In the Tall Grass available on Netflix October 4
Netflix's upcoming film In the Tall Grass looks to be a sufficiently creepy, surreal adaptation of the 2012 novella Steven King wrote with his son Joe Hill. It follows a pair of siblings who try to follow the voice of a small child crying out for help deep within a field of tall grass in the middle of nowhere. Things quickly go off the rails, people start to appear and disappear, time becomes elasticized, directions become irrelevant. Probably worth a watch to get you in the Halloween spirit! -Matt Byrne
Countdown in theaters October 25
Man for whatever reason I have a pretty good feeling about Countdown, a slasher that dares to ask: "What if Final Destination but with apps?" Death stalks a bunch of teens after a popular app that tells you the exact time of your death starts to go haywire. The trailer is pretty great, tonally speaking, but I might just be in the spooky movie spirit, feeling extra generous. Unless advance reviews are absolutely brutal, I'm going to be there opening night! -Matt Byrne
Oyster Wars @ The Salt Line October 13
If you're looking for another excuse to hang out The Salt Line's beautiful outdoor space, Oyster Wars is the right move. It's an all day extravaganza showing off the most delicious oysters in the area, plus food and drinks that are not at all related to oysters. You can go full throttle and eat nothing but raw oysters and drink nothing but oyster shooters, or you can dive headfirst into their killer beer list (featuring brews from Other Half Brewing) and eat fried chicken. Check out last year's recap and get your tickets now. -Kaylee Dugan
D.C.'s oldest oyster party turns 25 this year! Celebrate more than two decades of oyster obsession with an oyster party to end all oyster parties. You can expect oysters, wine, oysters, music, oysters, beer and more oysters! October is the month for oysters, the ocean's spookiest seafood, and we're not complaining. -Kaylee Dugan

Food and Grooves @ Union Market October 26
The Food & Grooves experience, created by the minds behind Broccoli City, is a cultural platform (BUT REALLY, A ONE-DAY FESTIVAL) showcasing diverse talent at the intersection of food (Kwame Onwuachi! Erik Bruner Yang!), music (Questlove! Tank and the Bangas!) and art. Should be fun. -Svetlana Legetic
Adams Morgan Apple Festival & Pie Contest October 26
This is the 6th annual apple pie contest and I'm so mad I didn't know about this festival until now. Apple pie is my favorite pie and nothing sounds better than an entire festival dedicated to apples and pie. All I want to do is eat apple pie. If all you want to do is also eat apple pie, block off your Saturday and get ready to eat more calories than you should in a single day. No regrets. Pass the pie. -Kaylee Dugan
Markoff's Haunted Forest October 4 through November 2
If you only go to one outdoor haunted attraction this year, then skip Field of Screams and head to Markoff's Haunted Forest. Markoff's is filled with surprisingly scary trails, a haunted hayride that will terrify grown ass adults, and a whole bunch of stuff to do between getting your pants scared off by rambunctious high school students in elaborate costumes. You can zip line, hang around the bonfire, get your face painted to look like a zombie (I did this, it was great), and drink some nice warm cider. All of the money goes towards funding Markoff's year round outdoor school which teaches kids how to do outdoor stuff (or something like that). It doesn't matter. You're getting scared for the kids. That's all that matters. Oh, and by the way, the actors can most definitely touch you. You have to sign a waiver and everything. -Kaylee Dugan
17th Street High Heel Race October 29
The ideal way to celebrate Halloween if you're no longer allowed to trick-or-treak, the annual 17th Street High Heel Race features the best costumes, the best crowd and the best camp. If you're on the fence about attending the free event, just peruse our annual photo recap. -Brandon Wetherbee
Girl Band @ Beat Kitchen October 2, Songbyrd October 6, Elsewhere October 8
Ireland's Girl Band are on the periphery of punk rock. Songs like "Paul" are deliberately alienating, with vocalist Dara Kiely sounding proactive and obnoxious. They're a bit like Metz METZ they push rock instrumentation to its noisiest limits, and their new album "The Talkies" takes it even further. Kiely has been struggling with mental illness, and there's this destructive streak to the new album, almost like the band is about to fall apart. They invite that kind of observation: the opening track is literally a recording of Kiely having a panic attack. Needless to say, this kind of combustible energy will lead to a memorable live show, one that proves rock and roll still has something to say about our uncertain future. -Alan Zilberman
Sturgill Simpson @ Music Hall of Williamsburg October 6, Black Cat October 7
Sturgill Simpson's surprisingly intimate tour for charity – because just when you thought you'd only ever see him again in almost-arena-level room, Sturghill does the right thing – for both the veteran community and music fans. -Svetlana Legetic
The Black Keys @ The Anthem October 12, 16, Barclays Center October 15
There was a point in recent memory when the Black Keys were everywhere. The 2010 release of Brothers began an Icarus-esc climb towards mainstream consumption that saw their music reach the heights of commercials, movies, and massive festivals. As a fan of their work since the release of their best record (at least in my opinion anyway) 2004's Rubber Factory, Black Keys commercial success was also a double-edged sword teetering between "finally" and "I've had enough." The five-year gap (their longest between projects) between 2019's Let It Rock and 2014's Turn Blue gives you the sense that Dan Auerbach and Patrick Carney felt much the same. Let It Rock isn't so much a return to form as it is a return to identity; it's straightforward, howling with deep riffs and drum patterns unadulterated by modern trends. In other words, it's what the Black Keys have always been. -Ruben Gzirian
All Things Go Fall Classic @ Dock 5 October 12-13
This isn't just a music festival, it's a D.C. tradition. No matter what new ace they pull from their sleeves, the All Things Go Fall Classic is a dependable D.C. celebration. It's the best way to close out the summer and fully embrace the nightmare that is transitional seasons in D.C. This year (like past years), they have a little something for everyone. CHVRCHES and Melanie Martinez headlight Saturday and Sunday (respectively), while Betty Who, Lany, Allie X and Coin (plus so many more). It's the kind of festival where you go meaning to see a specific artist and leave with a new favorite band. Also, they food is good! In between sets you can nosh on &pizza, DC Empanadas, Rocklands BBQ, Shake Shack, Taqueria Del Barrio and more. It's a classic. -Kaylee Dugan
Down in the Reeds @ The Parks at Walter Reed October 19
From the producers of two of the most friendly, fun and D.C. proud music festivals (Kingman Island Folk & Bluegrass Festival and Funk Parade, respectively) comes the inaugural Down in the Reeds. Just like those festivals, this one-day event is good for the entire family, putting music at the front and center of day in the park. Speaking of the park, it's in the old Walter Reed hospital space. Celebrate something new in something old. -Brandon Wetherbee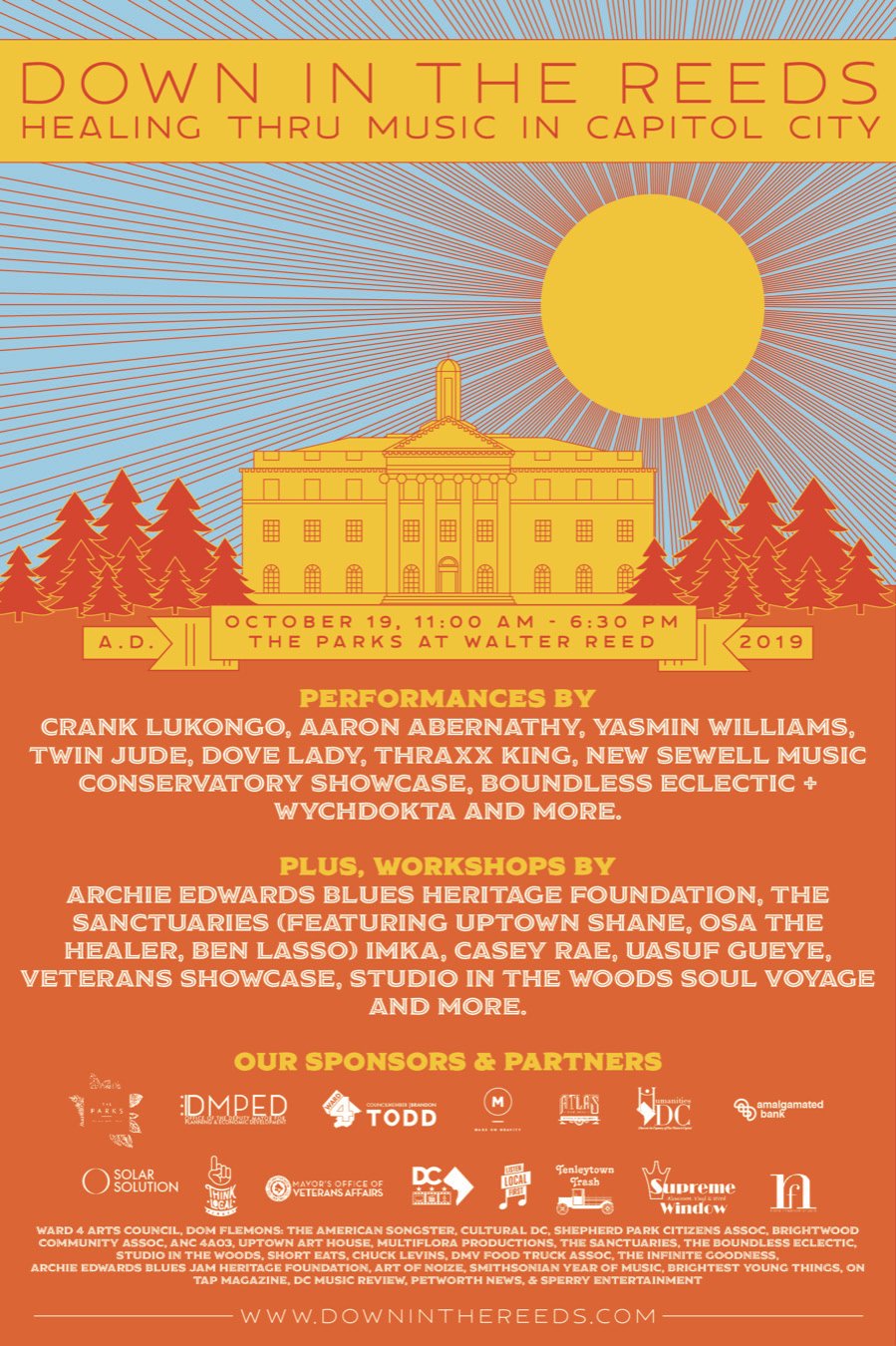 Cigarettes After Sex Cry available October 25
Cigarettes After Sex went from online curiosities to a midsize venue headlining band in what feels like a short time, however their story is more complicated. Formed in 2008 by Greg Gonzalez, the band released their first EP in 2012. It would take five years for the band to follow it up with their eponymous debut album in 2017. The dream-pop band have a style all of their own. Taking cues for Mazzy Star and Interpol's "Untitled," Cigarettes After Sex never break their vibe even when covering REO Speedwagon's "Keep On Loving You or Brooks & Dunn "Neon Moon". Thinking of them just as a vibe bandwould be a mistake. Gonzalez's playful matter of fact songwriting is poignant and funny. Two years on the band are set to release their best record yet. Again, the songs blend into one another and keep a constant mood. Like their previous effort, Cry deals with the ups and downs in relationships, and explicit sex. "Kiss It Off" is a call-back to "Young & Dumb" including the softest "fuck bois" you'll hear all year. "Hentai," a song about explaining hentai to a partner he just had sex with, the track could easily linger in the background at a dinner party, only to turn a head upon a closer listen. -Rohan Mahadevan
Hellraiser Fundraiser @ Slash Run October 27
Support the incredible local organization Girls Rock DC while jamming out to Kate Bush, Nirvana, My Bloody Valentine and Jose and the Pussycats cover bands at one of the best small venues in D.C. It's going to be a weird, fun, cute, spooky, good night. -Kaylee Dugan
For more D.C. concert picks, consult our D.C. Fall Concert Guide. We recommended a show for every night in October.
Big Mouth season 3 available on Netflix October 4
Big Mouth is everything you could want in a show about puberty. It's absurd, vulgar, ingenious, relatable, and, at times, just a touch cringe-y. Not to mention a cast and writers room stacked with some of the best contemporary comedians from Maya Rudolph to John Mulaney to Jenny Slate to Nick Kroll to Jordan Peele. Plus, this season will feature an appearance by Queer Eye's Fab Five. So, if you've ever wanted to see an animated version of JVN makeover a repressed middle school gym teacher voiced by Nick Kroll, now's your chance. -Afriti Bankwalla
Drag Race UK premieres on Logo October 11
With a fresh 10 Emmy's under her belt, RuPaul has decided to expand her franchise to the UK. That's right, there will now be a full four seasons of Drag Race a year (RuPaul's Drag Race, All Stars, Drag Race Thailand, and Drag Race UK). That's one Drag Race season for every actual season, and I, for one, couldn't be happier about it. Taking Drag Race to a new country means audiences get to experience an entirely new and unique approach to drag, with fresh aesthetics, cultural references, senses of humor, and, of course…British accents! -Afriti Bankwalla
Limetown premieres on Facebook Live October 16
Horror/sci-fi podcast Limetown was an early breakout in the narrative fiction subgenre of podcasting that has since exploded (with decidedly mixed results). Serial knockoffs may be a dime a dozen these days, but back in 2015 when it was originally released, the show felt genuinely exciting and innovative. A new TV adaptation of the series starring Jessica Biel is coming Facebook Watch this month, so definitely check that out if you can figure out how to use whatever Facebook Watch is! -Matt Byrne
Impulse season 2 premieres on YouTube Premium October 16
Impulse is a pretty bonkers show that I didn't expect to enjoy – it's basically about a teenage girl named Henry who realizes she has special abilities (so far mainly teleportation and telekinesis), and I housed the entire first season (available on YouTube Premium) in like one day. It's a complicated thing to recommend, because on the one hand, it's SUPER good, but on the other, themes of sexual assault come up again and again and again, so I do feel like I need to majorly trigger-warn people about it first. But it's back again for a second season and I'm really amped to see what happens next. (Please for the love of god someone kill Clay.) -Megan Burns
Modern Love available on Amazon Prime October 18
Is there a more perfect essay column than NY Times' Modern Love? (don't answer that, it was obviously a trick question – because THERE ISN'T ONE.) So, we are happy to share that the show adaptation of it features a worthy cast of characters (from Tina Fey to Catherine Keener to Dev Patel to John Slattery) in 8 of the columns brought to life. The one that we hope makes it to season 2? This epic, heart throbbing divorce reflection by Bentzen alum Cameron Esposito. -Svetlana Legetic
Watchmen premieres on HBO October 20
Many of the reasons why Watchmen is one of the most revered graphic novels are also the reasons why it's hard to successfully adapt it to other media. It's a boundary-pushing exploration of the medium, full of sly references and inverted expectations, much of which was stripped away in Zack Snyder's mediocre adaptation, released in 2009 after decades of false starts and time spent in development hell. Either way, the approach Lost's Damon Lindelof is taking is an interesting one: rather than directly adapting the source material, the series will be more of a thematic adaptation, taking place within the world of the original work, but featuring a new story. Most have this one filed under "cautiously optimistic," so cross your fingers and maybe it'll be cool! -Matt Byrne
Jenny Slate: Stage Fright available on Netflix October 22
Jenny Slate's the latest high-profile standup star to partner with Netflix for an hour-long special and you know what? That's great. She's taking liberties with the format, too, combining footage of a live standup performance with home videos from her childhood and interviews with loved ones. Jenny's great and hilarious and I'm sure this will be very good. -Matt Byrne
The Tempest @ Synectic Theatre through October 20
Drunk on a heady combination of homage, ingenuity and madness, the theater has transformed their stage into a 1,200 square foot pool filled with about 3,000 gallons of water. The result is a four inch deep pond with enough space for Synetic's performers to splash, dance and jump around, which they do with a childlike exuberance. The logistics might be a nightmare, but they're not going to let that get in the way of good fun. -Kaylee Dugan
Read more in "Behind The Scenes: The Tempest @ Synetic Theater"
Werq the World @ The Anthem October 27
The annual RuPaul's Drag Race Werq the World tour returns to D.C. for an incredible night of drag featuring some of your favorite Ru girls. From Naomi Smalls' long legs and back bends to Asia O'Hara's energizing drag pageantry to Violet Chacki's jaw-dropping burlesque numbers, Werq the World takes drag to a whole new level. At Werq the World each performance is a whole production with dramatic stage lights, expensive costumes, extravagant sets, and all the stunts, gags, and death drops you could ever want. I've said it once, and I'll say it again: Werq the World is like the Broadway of Drag, and it'll snatch your wig right off. -Afriti Bankwalla