Indoor lawns and outdoor movies. The following contains 31+ picks to have your best July. None of the picks have anything to do with Independence Day on the National Mall.
Stay in the loop and follow us on Facebook + Twitter + Instagram and subscribe to BYT Radio.
LAWN @ National Building Museum opens July 4
Another summer, another larger than life what-the-hell-does-this-have-to-do-with-buildings exhibition from one of the most underrated museums in D.C. Like the giant maze, the giant ball pit pool and the giant fun house, this summer the National Building Museum has partnered with LAB at Rockwell Group to turn their Great Hall into a dreamy and fully turfed lawn. You'll be able to kick back and lay on the grass, play games like croquet and bocce ball or lounge in one of the hammocks suspended from a 100-foot-tall ceiling grid. You know, just like any normal lawn. -Kaylee Dugan
By the Light of the Silvery Moon: A Century of Lunar Photographs @ National Gallery of Art July 14 through January 5, 2020
Did you know that the Apollo 11 moon landing will celebrate its 50th anniversary this July (the 20th to be exact)? Well, it doesn't really matter if you knew, because the National Gallery of Art certainly did. In honor of that anniversary, their latest exhibition includes a barrage of vintage moon photography, including pictures from the (unmanned) Ranger, Surveyor, and Lunar Orbiter missions that were the prequels to Apollo 11, shots taken by Neil Armstrong and Buzz Aldrin on the moon and old as dirt stereographs and photogravures (what does that even mean!) taken off the moon in the 1850s-1910s. The title of the exhibition really says it all. Get ready to bask in the glow. -Kaylee Dugan
The Warmth of Other Suns – Stories of Global Displacement @ The Phillips Collection through September 22
Art often has a way of making you see an event, or an emotion, or a location from a perspective you're unable to ignore. The Warmth of Other Suns at The Phillips Collection forces dialogue about migration and the current global refugee crisis through installations, videos, paintings, and documentary images produced by 75 global artists. Each piece of art deconstructs themes in migration, from the universality of migration to the deeply personal experiences shared through history. This is the type of exhibit the Phillips Collection almost always does perfectly. -Ruben Gzirian
American Predator: The Hunt for the Most Meticulous Serial Killer of the 21st Century by Maureen Callahan available July 2
Summer's the time to hang out on the beach and read incredibly in-depth profiles of some. Of the most heinous criminals to ever walk the Earth, right? Right. Enter American Predator: The Hunt for the Most Meticulous Serial Killer of the 21st Century by Maureen Callahan, a deep dive into the story of Israel Keyes, a relatively unknown but ruthless killer whose carefully planned murders are the stuff of true nightmares. Callahan speaks with countless FBI agents and folks from Keyes' life in an attempt to understand his motivations and the work that went into finally catching him. -Matt Byrne
DC Art Book Fair @ National Museum of Women in the Arts July 7
Books make the best gifts. Art books and cookbooks are tied for the best type of book to give and receive. Both make your world a smaller place. Both bring beauty into your house. One of them won't make you feel inferior for not correctly frosting a cake or charring the vegetables.
The next edition of the DC Art Book Fair at the NMWA is kid friendly, small press friendly, zine friendly and free friendly. It happens to be on their Free Community Day, making it a no brainer way to spend the first Sunday of July. -Brandon Wetherbee
Hungry: Eating, Road-Tripping, and Risking It All with the Greatest Chef in the World by Jeff Gordinier available July 9
Jeff Gordinier's travelogue/ode to food follows a four year long culinary excursion alongside the acclaimed Danish chef René Redzepi. Blending memoir, food, and travel writing approaches, Gordinier has crafted a sprawling tale of a rambling fever dream spent in pursuit of new flavors and experiences. -Matt Byrne
Raised in Captivity: Fictional Nonfiction by Chuck Klosterman available July 16
It's nice that Chuck Klosterman is still at it, you know? I've been reading the dude since I was a kid and I'm excited to see the latest weirdo pop cultural takes he's got on deck in his newest collection. This one's a bunch of very brief, bizarre short stories that are fictional but written as if they're not, featuring a bunch of almost-believable scenarios that could have only come from Klosterman. -Matt Byrne
Summer Thriller Reading Picks from Svetlana Legetic
Vacation season usually means a strong showing of murder mysteries in beach bags across the world. Here's what we're packing.
Bunny by Mona Awad
For fans of Donna Tartt's Secret History, a made-to-order tale of the dark world of MFA programs, secret-ish societies, desperate desire to belong and the inevitable blurring between reality and fiction. Awad's previous 13 Ways to Look at a Fat Girl was smart, honest and unflinching, and you should expect all that, plus a healthy dose of danger in her latest.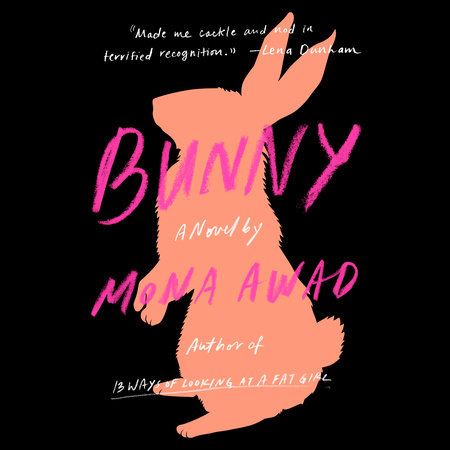 Something In The Water by Catherine Steadman
This Reese Witherspoon approved pick (which basically is shorthand for "perfect breezy reading that doesn't insult your intelligence" these days) is a story of a dream honeymoon in Bora Bora that takes a sinister turn after a scuba diving trip reveals something unexpected. They may as well make a special edition of this with a waterproof cover.
Furious Hours by Casey Cap
After Harper Lee helped Truman Capote research In Cold Blood, she set out to do a true crime novel of her own. Her subject: a rural preacher whose wives and family members had a strange habit of dropping dead, around the same time he took life insurance policies for them. Lee spent a year in town reporting, and many more years working on her own version of the case but the book itself was never written. Now, Cap, in one of the best reviewed books of the year, brings it all to life, from the murders to the courtroom drama to the racial politics of the Deep South to the story of Lee and her creative process and struggle.
The Silent Patient by Alex Michaelides
For Big Little Lies fans in search of something more dangerous, a story about a woman who has it all, then loses it all in the moment when she decides to kill her husband for seemingly no reason, and the psychiatrist who is trying to figure her, and himself, out.
We've updated our very useful Outdoor Drinking Guide. Cocktails are more enjoyable when there's no roof.
Summer Rooftop Happy Hour Series @ Kennedy Center July 11 and 18
The newest addition to our Outdoor Drinking Guide may be the best. The Kennedy Center, not exactly a new space, is about to open the massive new buildings, but that's not what we're writing about. Their summer happy hour rooftop series is what's going to make this month better. Well curated music, reasonably priced local beer (both July editions feature 3 Stars) and some of the best views anywhere in the District make this series a July must. Hopefully July 2020 will feature weekly editions. -Brandon Wetherbee
Denizens 5 Year Anniversary Party July 13
Yes, if you've been living under a rock for the past six weeks, what was once just plain ol' Denizens Brewing is now Denizens Silver Spring Barrel House + Beer Garden. Why? Because Denizens built (built!) a slick new production space (30-barrel brewhouse! 60-barrel fermenters!) and taproom (with a full kitchen!) in Riverdale Park. On July 13, it'll be hosting an anniversary party to mark a half-decade of Southside Rye IPA, Born Bohemian, and an inclusive, politically conscious atmosphere unlike any other in the area.
Denizens loves a good party theme, and this time around they're going with New Orleans vibez. According to the brewery, guests are "encouraged (but not required) to dress in their best Mardi Gras outfit." You can expect live music, dancing performances, various contests, po'boys, blue hurricanes, and, of course, a drag show. -Phil Runco
Crooked Run 6 Year Anniversary July 20
The brewery is serving up a whole roasted pig from Spring House Farm and Farm Store, along with "six very special beers." No word yet on what these beers are, but I'd imagine some hazy IPA, pastry stout, and sour ales are in the cards. Additionally, Super Doppler will be taking the stage at 8 p.m. Unbiased endorsement: I went to the party last year and had a blast. A lot of thought and planning was evident. They made great use of their space – and that was before they had the combo of Daybreak and Nectar. -Phil Runco
UNION Craft 7th Anniversary Celebration July 27
The Baltimore operation – a top 3 area brewery for my money – is turning seven! And they are coming off a year of straight crushing it in their spacious Union Collective location.
If you've never been to a UNION event, these guys know how to do them right. New beers, vintage beers, live music, local food – they've got all the angles covered.
This year, they've landed Afrofunk legends (and Daptone Records act) The Budos Band, which may be the coolest band to local brewery. (Sorry, metal doodz.)
I've been trolling UNION Craft social media for clues about what those new beers may be, but it's safe to assume one of them will be their annual (and always different) (and always excellent) anniversary kettle sour. -Phil Runco
Summer movies should be seen under the stars. Consult our DC Outdoor Movie Guide and NYC Outdoor Movie Guide for screenings. Most are free. All are outside.
Midsommar in theaters July 3
Holy fuck this movie looks BONKERS. Like, will this potentially ruin Sweden for me? Festivals? CULTS?! I don't really care, 'cause I'm gonna watch it anyway, but I already feel VERY, VERY SCARED. – Megan Burns
Crawl in theaters July 12
Alexande Aja's latest claustrophobic horror nightmare, Crawl, pits a family attempting to ride out a Category 5 hurricane in Florida against a battalion of relentless alligators that have learned to take advantage of the rising water levels. It looks intense, ridiculous, and wildly violent, and I'm very excited to get extremely freaked out while watching it. -Matt Byrne
Stuber in theaters July 12
So I'm not sure if Stuber is like, funded by Uber or something so I'm pretty sketched out by it on a base level but otherwise, like, as far as premises go, it looks like a pretty fun buddy/action movie. Kumail Nanjiani stars as an Uber driver who gets all wrapped up in a big crazy crime chase after picking up a cop who's been temporarily blinded. Good for Kumail making it happen on the big screen and all that, too, we love to see it. -Matt Byrne
Frankenstein's Monster's Monster, Frankenstein premieres on Netflix July 16
Netflix's new goofy looking mockumentary Frankenstein's Monster's Monster, Frankenstein stars Stranger Things' David Harbour as himself as he embarks on an exploration of his family's complicated history with the titular monster tale. Apparently Harbour's father created a stage play based around the Frankenstein myth and things get pretty weird. Kate Berlant and Alfred Molina guest star, which is a great sequence of words I'm happy I got to type. -Matt Byrne
Carly Rae Jepsen @ The Chicago Theatre July 9, Hammerstein Ballroom July 17 and 18, Fillmore Silver Spring July 21
The last time I saw Carly Rae Jepsen at the Fillmore (for the Emotion tour, a night a will truly never forget) a very rude man bothered me and my friends, so the strangers behind him stole items out of his bag and threw them to the back of the venue. A few feet away from us, two men made out so hard that one bit the other and drew blood (which they smeared on each other). It was without a doubt, one of the wildest shows I've ever seen. Above us, oblivious to the light chaos, Carly Rae sang like an angel whose only goal was to gift good pop unto the world. She didn't play "I Know You Have a Girlfriend." This time, I'm really holding out for that one. -Kaylee Dugan
Carmen Villain Both Lines Will Be Blue available July 12
Norway's Carmen Villain is back in action with Both Lines Will Be Blue! Ethereal vibes for days, and definitely something I'm gonna be listening to during any/all pensive travel this summer. -Megan Burns
Kool Keith KEITH available July 12
Longtime rap weirdo Kool Keith has a new one on the horizon, produced in full by hip hop legend Psycho Les from the pioneering production duo The Beatnuts. Keith sounds as locked in and eccentric as ever on the album's first single, "Zero Fux," I can't wait to hear what else is in store here! -Matt Byrne
Purple Mountains Purple Mountains available July 12
Following the dissolution of the incredible Silver Jews in 2008, songwriter David Berman disappeared from public life, dropping off the radar to pursue various personal concerns and spend some time away from music. Thankfully, Berman has returned with Purple Mountains, a new project on his longtime label partner Drag City. Advance singles have been encouraging and thrilling listens, with Berman backed by members of experimental folk collective Woods, overflowing with the sort of surrealist Americana imagery that made Berman one of my favorite lyricists ever. -Matt Byrne
Iron Chic @ DC9 July 17, Brooklyn Bazaar July 19
There is something romantic about watching Iron Chic perform. They're about the ugliest band you'll ever see, and when they take stage, you think there's so way they should have a cult following. But then they start playing, and it instantly clicks. The crowd does not sing along: they scream at the top of their lungs, getting in the singer's face because his lyrics are his truth. This is punk rock at its most cathartic. -Alan Zilberman
Angie McMahon Salt available July 26
Words cannot express how much I love Angie McMahon, you guys! I am incredibly excited for her to release Salt, which is chockablock full of great tunes. (I feel an especially deep connection to "Pasta".) -Megan Burns
Sugar Ray Little Yachty available July 26
There's a new Sugar Ray album out. The first one in 10 years. It's called Little Yachty. Not Lil. Little. This is more of a morbid curiosity recommendation than anything. Let's see what Mark McGrath thinks Sugar Ray should sound like in 2019, huh? -Matt Byrne
Start planning your outfit for Diner en Noir on July 20 (get your tickets here!) and take a peek inside Diner en Noir's Director of Operations Aisha Keys' closet.
Wimbledon begins July 1
It's the most wonderful time of the year! Wimbledon is probably my favorite of ye olde tennis Grand Slam tournaments, just because it's so aesthetically pleasing, and I would highly recommend tuning in for a match or ten! -Megan Burns
FIFA Women's World Cup Final July 7
It has been a REAL TREAT watching the FIFA Women's World Cup this summer, and I am REAL PLEASED with how the USWNT has been playing. They face off against England tomorrow, and should they win (England is the only team I'm still worried about), they'll take on either Sweden or the Netherlands on Sunday, July 7 at 11 a.m. MUCH EXCITE, MANY NERVOUS. – Megan Burns
Stranger Things season 3 on Netflix available July 4
I'm gonna be real honest with you, I'm kind of getting sick of the whole Stranger Things franchise. TOO MUCH HYPE. But I am still planning to check out Season 3, and hopefully will be pleasantly surprised! (Also they should still bring Barb back. I don't care how many times you tell me it won't happen, I'm still gonna ask.) -Megan Burns
Queer Eye season 4 available on Netflix July 19
If Netflix keeps the Queer Eye pacing at this rate the show could run indefinitely without becoming grating. A twice a year reminder to love yourself and try harder from the Fab Five 2.0 is making the streaming platform and world a better place. There's no shortage of podcasts and memoirs and YouTube originals from the cast but nothing beats the 40-60 minute episodes. Similar to other 'fab' nicknamed groups, the sum is greater than the parts. -Brandon Wetherbee
Gordon Ramsay: Uncharted premieres on National Geographic July 21
Gordon Ramsay's got like 400 shows so why not give him a 401st? Gordon Ramsay: Uncharted looks to be a mix of a No Reservations-style gritty travel/food show and Bobby Flay's mean spirited small town cooking competition Throwdown. Honestly I'm looking forward to the latest "culinary journey" from this beloved and foul-mouthed TV chef, well-trodden territory or not. -Matt Byrne
Orange Is The New Black final season available on Netflix July 26
A lot of people weren't into last season. Personally, I didn't mind it, so I have decently high hopes for the final episodes. (And if it sucks, we can all just watch the superior-in-every-way Australian women's prison show, Wentworth!) -Megan Burns
Pennyworth premieres on Epix July 28
They're just gonna keep making comic book stuff into other forms of media so you can't complain about Pennyworth, the new Epix series that provides an origin story for Alfred Pennyworth, the dude who would go on to be Batman's butler. I didn't do much research on this one because I'm pretty annoyed by it, because like, geez louise. -Matt Byrne
Bachelor in Paradise season 6 begins on ABC July 29
Nothing says romance like elimination-style reality TV! The Bachelorette is coming to a close in a couple weeks, but if you thought you were done with John Paul Jones and the like, Bachelor in Paradise is gathering all your favorite bachelors and bachelorettes for a round two at romance. Unlike the main series, the show throws the former competitors into the tropics to pair up or be sent home, a musical chairs of emotion perpetrated by their lord and shepherd Chris Harrison. Right now, the cast list for the season isn't complete, although you can count on at least one of the series' 15 Laurens to arrive in paradise. Luke P., the appointed villain of the current season of The Bachelorette, was rude, selfish and an all-around terrible contest. So he's certainly going to make an appearance, and I'm certainly going to love hating every second of it. -Lyna Bentahar
Sherman's Showcase premieres on IFC July 31
Pitched as a sketch show that gives the Documentary Now! treatment to classic television variety shows like Soul Train or In Living Color, Sherman's Showcase is chock full of celebrity guests. Folks like John Legend, Tiffany Haddish, the Lucas Brothers, and Common will drop by the show, bringing a ton of star power to this loving tribute to a lost form of entertainment. -Matt Byrne