Previously in Your Best Month
Each month the BYT staff compiles at least 28, 30 or 31 reasons why this will be the best month ever. December 2016 will be the best month ever (or at least better than last month, Jesus Christ last month was bad). We're embracing the cold with lots of drinks. We're seeing musicals. We're visiting the Black Side of the Moon. It's going to be fun.
Plus, stay forever in the loop and follow us on Facebook + Twitter + Instagram + Pinterest.
Georgetown GLOW December 2 to January 1
Get out of the way Paris, D.C. is the new city of lights. Now in its 3rd year, Georgetown brings its absolutely gorgeous (and absolutely free) outdoor light art exhibition back, and it's brighter than ever! For a solid month you can stroll the lovely historic streets of Georgetown which provide a delightful backdrop for the works of local, regional and international artists. Plus it's an interactive experience so feel free to jump in like Mary Poppins would a sidewalk chalk drawing. Or something like that. -Jenn Tisdale
The Pearl: Seeing the Unseen December 10
Some people notice details no one else can see. And for one day, Silver Spring's incredible new luxury apartment experience, The Pearl, is celebrating that ability (and revealing some hidden treasures of its own). Join them at 180 High Park Lane from 12-3 p.m., for a celebration of the previously unseen that includes an exclusive look at The Pearl's beautiful, innovative living environments, both in person and via virtual reality. The event will also include performance art by Carlita Caliente, music by Taylor Carson and a custom art installation by one of D.C.'s most influential artists, Kelly Towles.
The festival may be over, but a lot of the amazing exhibitions are STILL VERY MUCH up. December is a great time to go and check them out since hitting 30+ of them during one week was probably a little too ambitious.
The Undoing Project by Michael Lewis available December 6
It takes a brave author to put out a book in the literary dead zone of December. It takes an especially bold author to put out a book about a topic like the history of behavioral economics. Michael Lewis is that author. The Undoing Project is his new work on the Israeli psychologists who analyzed the human decision-making process in the late 20th century. Doesn't sound terribly scintillating, but it's already a best seller because Michael Lewis. Read it if you like or just sit back and wait for the film adaptation starring…I don't know, Jeff Goldblum and Ben Stiller probably. -Trisha Brown
George Lucas: A Life by Brian Jay Jones available December 6
Brian Jay Jones, author of the very good Jim Henson biography, Jim Henson, is back with a profile of another '70s iconoclast, George Lucas, with George Lucas: A Life. Collecting previously-untold anecdotes and deeply researched personal details, Jones has got a pretty compelling look at one of the most legendary filmmakers ever. -Matt Byrne
75 Years of Capitol Records available December 10
75 Years of Capitol Records is an incredibly cool looking, nearly 500 page long photo book that collects countless stories, as well as hundreds of images from the archives of this storied record label, responsible for releasing albums from folks like Miles Davis, The Beach Boys, Pink Floyd, the Beastie Boys, and many more. This would make a very good gift for a very specific type of person in your life! Holy cow! -Matt Byrne
Emily Dickinson Birthday Tribute with poet Tracy K. Smith @ Folger Shakespeare Library December 12
Trying to impress your family and high school friends over the holidays? Of course you are. And there's no secret weapon better than poets. Not just one poet – you're going to need two to really get the job done. Enter a tribute to Emily Dickinson by Pulitzer Prize winner (2012) and National Book Award finalist (2015) Tracy K. Smith. Hosted by the Folger Shakespeare Library, the event also features the Smithsonian's chief historian for astronomy. Why? I don't know and it doesn't matter. Just go, learn, and ensure that no one else at your parents' Christmas party stands a chance. -Trisha Brown
Christina Pazsitzky @ DC Improv December 9 and 10
Once again I come to you with another alumna of my favorite mental health podcast, The Mental Illness Happy Hour. I know! I know…she's a comic and we should stick to the funny stuff. Well you know what, you can't have the laughter without the tears so TRUST ME when I say Chrsitina Pazsitzky is super goddamn hilarious, but she also made me cry once on a podcast. There, I said it. -Jenn Tisdale
Josh Gondelman @ Various Venues – Virginia December 9 and 10
Josh Gondelman's website labels him as comedian * writer * pal and he's all of those things. He's also an Emmy-award winning writer for John Oliver's Last Week Tonight. Plus his incredible new album Physical Whisper is available for purchase RIGHT NOW (*ahem* holidays). This is one of the only comics I'd haul my cookies alllll the way down to Virginia to see. You should too. – Jenn Tisdale
From our First Look: Let's start with the one piece of bad news, the dinosaur manger, our favorite part of last years Miracle on 7th Street, is gone. In its place are three Christmas bars that reflect the different personalities of Derek Brown's establishments and the holiday itself. Mockingbird Hill has been transformed into a majestic Icelandic landscape with narwhals galore, Southern Efficiency conjures your classical Christmas iconography (but with more goats), and Eat the Rich is a love letter to everyone's favorite Netflix show, Stranger Things. -Kaylee Dugan
Monday Night Beer Club @ Pizzeria Paradiso
From Draft Picks: The December edition of Birreria Paradiso's Monday Night Beer Club spotlights strong and spiced Christmas ales. In addition to standards from Sierra Nevada and Great Lakes, the basement bar will be pouring St. Bernardus' Christmas Ale, the Bruery's 9 Ladies Dancing, Ninkaski's Sleigh'r, and a handful of other #rare finds. Honestly, no one wants a six-pack of Christmas ale, so this is the ideal way to dance with the style.
Here's an added incentive: 100% of the tips solicited by A-team bartenders Josh Fernands (Pizzeria Paradiso's beer director) and Drew McCormick (its assistant beer director) will go local organizations DC Greens. Are you donating any of your salary to charity this holiday season? No? OK, then the least you can do is put on an ugly sweater, go to Birreria Paradiso, and drink holiday beers from 6:00 p.m. to close. -Phil Runco
DC's Repeal Day Ball @ Carnegie Library December 9
On Friday, December 9, the DC Craft Bartenders Guild will be hosting the 9th annual Repeal Day Ball, celebrating the 83rd anniversary of the ratification of the 21st Amendment! This year's event will be held at the historic Carnegie Library, where some of D.C.'s (and the nation's) best bartenders and mixologists will be mixing up drinks to celebrate the end of prohibition. The ball itself is a fully catered black-tie or period-era dress affair, featuring dancing to the sounds of a live jazz / swing band, photo booths, and more potent potables than you can shake a stick at. The event has grown from the first year at 150 guests to last year at almost 500 and has rapidly become one of D.C.'s funnest parties of the winter season. Even better: the event raises funds for the Anacostia Watershed Society and the DC Craft Bartenders Guild, which help support the education, training, and continued community presence of D.C.'s top bartenders and mixologists. This event is so goddamn much fun. -Logan Hollers
Artists & Artisans Holiday Extravaganza @ 3 Stars Brewing December 18
From Draft Picks: For the fifth year running, 3 Stars will host a boozy Sunday afternoon market to celebrate the holidays. If it's anything like last year, it'll be a great opportunity of pick up some crafty stocking stuffers while drinking a few of the boutique brewery's standbys (including my two favorite 3 Stars mainliners: the rye berliner Raspberry Dissonance, and farmhouse pale ale Above the Clouds), its seasonals (the cranberry saison Nectar of the Bogs, and double chocolate milk stout Starsky &Dutch), and harder-to-find offerings (a double dry-hopped version of Two to the Dome, and a new foeder-aged sour ale called Funkyard Dog).
There will be a handful of purveyors on site, offerings wares either digestible (including but not limited to Greenhat Gin, Jerkface Jerky, Ivy City Smokehouse, and Qualia Coffee) or otherwise (District of Clothing, Cielo Productions). The $15 price of admission gets you your first beer and a fancy commemorative glass that will let future house guests know you were doing something cooler than they were on December 18, 2016. -Phil Runco
Incarnate in theaters December 2
Blumhouse and WWE Studios have teamed up to produce Incarnate, a movie that looks like it's basically going to be a cross of The Cell and Insidious. Blumhouse has brought us plenty of great horror movies this year. Between Hush and The Purge: Election Year, I've been pleased with what they're brought to the horror table. This movie looks like it's going to be terrible, but also in the most fun way possible. Aaron Eckhart goes into people's minds. Carice Van Houten (who you know from Game of Thrones) is a spooky nurse and also something else? I don't know. It has to be better than See No Evil (which I also loved). It has to be. -Kaylee Dugan
Zodiac @ The Senator Theatre December 4-6
Every time Zodiac comes on, and it's often, I watch it. And every time this happens I think to myself THIS TIME THEY'RE GOING TO CATCH HIM. And yet they never do, and never did. This movie is compelling beyond belief, nearly as compelling as the actual story of the Zodiac killer. I can't wait to watch this on the big screen. Again. And probably again. -Jenn Tisdale
La La Land in theaters December 9
I'm sorry, but this looks amazing. I have every fear that because my expectations are so high I'll be let down in a monumental way, but you know what? We'll cross that bridge when we get to it. For now I'll just be watching the trailer on repeat and going I'M NOT CRYING YOU'RE CRYING. -Megan Burns
Star Wars: Rogue One in theaters December 16
I seriously don't feel like I can wait seventeen days to see Rogue One (managed to get tickets for the 17th, the day after it opens), because HOLY EFF DOES IT LOOK AMAZING. I mean, just watch the trailer and tell me you don't get goosebumps. And YASSSSSSS to more female leads! So stoked, so stoked. -Megan Burns
Bonus: The Force is strong at the National Air and Space Museum in DC and the Steven F. Udvar-Hazy Center in Chantilly, VA. Both locations will be showing the movie on screens over 5-stories tall. And if you get your ticket for the evening of December 16 or 17 at either location you can enjoy the company of an actual Stormtrooper!
Assassin's Creed in theaters December 20
It would take a holiday miracle for this movie to not be bad, but I'm gonna watch the shit out of it regardless. The Assassin's Creed video game franchise is nonsensical, convoluted, and in terms of quality; inconsistent–with the games ranging from 'great' to 'shit' on the video game enjoyment spectrum. But when it's good, it's very good–so I'm surprised it's taken them this long to get a movie made to be honest. Perhaps they were waiting for Michael Fassbender and Marion Cotillard to come of age. Regardless of how well made it is or isn't, it looks like it's taking itself entirely too seriously, so who knows, maybe Fassbender's charm and Cotillard's class will save it from mediocrity. Sadly, movies based on video games are almost always terrible. Name one that isn't. Go on, I'll wait…(I bet you said Prince of Persia didn't you? Prince of Persia is terrible and you are terrible for thinking that it isn't terrible). -Norm Quarrinton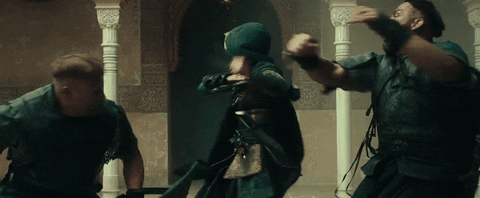 20th Century Women in theaters December 25
Real good filmmaker Mike Mills got his start making cool ass music videos and transitioned into making feature films in the last ten years. His new one, 20th Century Women has a really strong cast, featuring Annette Bening, Greta Gerwig, Billy Crudup, and more! Advance reviews are positive and the trailer looks good! I hope I like it! -Matt Byrne
Paterson in theaters December 28
The quality of Jim Jarmusch's movies ranges from excellent to very interesting, and let's hope that the meditative, cerebral Paterson lands on the former end of the scale. Adam Driver stars in this look into a week in the quiet life of an unpublished poet and bus driver. I'm excited to, like, hang out in the vibes of this movie for a few hours. -Matt Byrne
Billed (correctly) as "The Ultimate Food Lover's Weekend," DC's annual MetroCooking festival is a celebration of artisan food, booze, and culinary products. This year's event returns to the Washington Convention Center Dec. 3rd and 4th. Whether you're an aspiring home cook or expert entertainer, the two-day culinary extravaganza provides a one-of-a-kind experience for all food and entertaining enthusiasts. There are cooking demonstrations from famous chefs; there are food policy discussions; there are samples from more than 50 local restaurants in the Grand Tasting Pavilion; there's a pop-up cooking school where you can hone your skills in the kitchen; and there are numerous breweries, wineries, and distilleries offering samples in the Beer, Wine, and Spirits Garden. All of is, of course, in addition to the literally hundreds of specialty food vendors in the exhibitor marketplace – the perfect opportunity to make up for sleeping in and missing out on Black Friday. Listen, if you love food, you'll love this event. It's that simple. -Logan Hollers
Winternational – 5th Annual Embassy Showcase on December 7
Traveling to embassies is fun and all, the architecture is great and it's fun to feel like you're going to another country, but all that walking sure is tiring. If you're lazy and still want to enjoy all the delicious food and trinkets D.C.'s embassies have to offer, Winternational is just what you need. Enjoy cuisine, art, and crafts from a variety of different countries all under one roof. Putting in effort is overrated. -Kaylee Dugan
NSO Pops: Diana Ross: ALL The Best of Times @ Kennedy Center December 1-3
You may have read that Diana Ross was recently awarded the Presidential Medal of Freedom. Or you may have recently seen the gif of President Obama putting the medal on Diana Ross. Regardless, Diana Ross is an American treasure, and she's performing with the NSO Pops at the Kennedy Center. Go, listen, and be even more awed halfway through when you remember that Diana Ross is 72-damn-years-old. -Trisha Brown
Unwound What Was Wound ships December 5
Just in time for the holidays, the mighty Numero Group is releasing a massive 10CD box set (with bonus DVD!) compiling seemingly every second of audio recorded by legendary Pacific Northwest indie rockers Unwound. What Was Wound is the final iteration of their ongoing excavation of the band's deep, previously unexplored archives, and features a 256 page hardcover book, full of photos and 40,000 words worth of liner notes from the band's longtime roadie, David Wilcox. Numero Group, ya did it again!!! -Matt Byrne
Japanese Breakfast & Eskimeaux @ Comet Ping Pong December 14
Two incredibly talented artists touring together for the first time. Japanese Breakfast's Psychopomp has received critical acclaim from many quarters for good reason – it's a personal, emotionally charged work of art that translates gorgeously onto the record, and even better live. Eskimeaux's Gabby Smith has been crafting songs that play like short stories, and last year's O.K. makes me cry every other listen. I'm excited to see these two at the same venue and hope they collaborate sometime in the near future.
Also, Comet Ping Pong has great pizza. Hail Satan! -Jose Lopez-Sanchez
Smithsonian Holiday Festival December 3 and 4
Wanna get in the holiday spirit on the cheap? The Smithsonian is here for you. Technically the Holiday Festival includes a bunch of the museums, but the best bang for your non-existent buck is going to be the National Museum of American History. Both days, NMAH is offering a FREE chocolate discussion with samples, three FREE concerts by the U.S. Air Force Band and three FREE screenings of A Muppet Christmas Carol. Where else are you going to pay zero dollars to see a live concert, Fozzie Bear, and Dorothy's ruby slippers all in the same afternoon? -Trisha Brown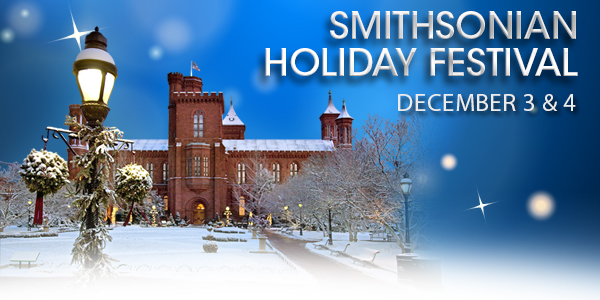 BrewLights & Date Night @ National Zoo December 1 and 8
Zoo Lights is one of my favorite things the National Zoo does. It combines one's love of holiday decor with the enduring love of animals. Plus if you're lucky sometimes you'll get to have some drinks, eat some food, and impress a date. You can wander in and out of Zoo Lights for FREE but BrewLights is TONIGHT and for a nominal fee you get 6 pours of beer and food tastings from popular D.C. restaurants, a souvenir light-up tumbler and after-hours access to animal houses and exhibits including Elephant Community Center, Elephant Outpost, Great Meadow and Great Cats Circle. Plus, snowless tubing! If you're looking for something a little more intimate (plus tigers) then next week you can hit up Date Night! When you purchase tickets for this little love fest you'll get to oooh and aaah at the 500,000 environmentally friendly lights of Zoo Lights while sipping on champagne cocktails, hot toddies and sweet treats. Don't forget to hop on the carousel (this is a date so don't vomit) and hit those snow tubing tracks. Either way you're going to share a beverage with a wild animal. Sort of. -Jenn Tisdale
DC Sierra Club Holiday Party @ Policy December 6
We've all seen the uptick in doom and gloom predictions after the recent elections. I get it. I've gone through the same emotions, bummed and disappointed. But, moving forward is a must. One of the best ways to make a substantive difference is to volunteer at the local level with causes important to you. The DC Chapter of the Sierra Club is a cause that's important to me; over the past two years, it's grown exponentially in scope, membership, and advocacy, and is consistently one of the loudest voices for environmental protection and conservation measures in the District. Just showing up and volunteering can be intimidating, I know. Instead, come join us at this year's Holiday Party, held Tuesday, Dec. 6th from 6-8 pm at Policy on 14th St. $35 tickets in advance ($40 at the door) get you into the bash, access to the silent auction, and a spread of snacks for the night. There's a cash bar and, more importantly, a community of green-minded people dedicated to protecting the area's natural resources. Come check us out – you just might find your next calling. (Also, fyi – if $35 is too much during the holiday season, it's cool…just e-mail them, and they'll work something out.) -Logan Hollers
MGM National Harbor Grand Opening December 8
I love gambling. Not in an, "Oh god, I need to gamble" way, but more in a, "Hey, this is kind of fun" way. That said, one can only lose so many bucks to buddies on a Sunday night poker table; sometimes, you just want to head to a casino and ball out. That's way I'm so jacked on the new MGM National Harbor. The new $1.4 billion casino and resort will celebrate its grand opening on December 8, showing off its gaming facilities, hotel, restaurants, and live entertainment venues. The resort will include 3,600 slots and 140 table games including poker, a 308‐room (234 rooms and 74 suites) 4.5‐star quality hotel with luxury spa and rooftop pool, 18,000 square feet of high-end branded retail, fine and casual dining – from both local and celebrity chefs, a dedicated 3,000-seat theater venue, and 27,000 square feet of meeting and event space. It's luxe, it's gorgeous, and it's like a 10-minute Uber ride away…this could be trouble. Awesome, awesome trouble. -Logan Hollers
Joe Pera Helps You Find The Perfect Christmas Tree premieres on Adult Swim December 9
NYC comic Joe Pera's first Adult Swim special, Joe Pera Talks You To Sleep is a great distillation of his folksy, small-town persona. Pera's got a wholly unique comic voice, one that he's lending to an all-new holiday special, called Joe Pera Helps You Find The Perfect Christmas Tree, which looks to be a welcome addition to the modern Christmas special cannon. -Matt Byrne
White Rabbit Project available on Netflix December 9
The three folks from Mythbusters' B-team, Grant Imahara, Tory Belleci and Kari Byron, have reunited for the new Netflix series, White Rabbit Project, which looks pretty similar to their last gig, but somehow even more outrageously stunt-driven? Either way, should be a pretty nice way to kill a bunch of hours as the dark days of winter begin to set in! -Matt Byrne
Second Shepherd's Play @ Folger Shakespeare Library through December 21
Doctor Who holiday specials aside, no one does Christmas like they do in the British Isles. The carols, the food, the Dickens — heck, wassail is like 1,000 years old. So if your tree-trimming and goose-stuffing just can't get Anglophilic enough, the Folger Shakespeare Library is reviving its Second Shepherd's Play from 2007. Combining humor, homily and Medieval music, the production, going on now until Dec. 21, might prove irresistible to those of us with tartan bows on our trees. God bless us, everyone! -Tristan Lejeune
The Second City's Black Side of the Moon @ Woolly Mammoth through January 1
From our review: I could sing the old song about how lily-white most theatre can be, but when Perkins proclaims he's so black he "once sucked a dick while watching Roots," you'll know the song is different this time.
Well, if the band you're in starts playing different tunes, I'll see you on the Black Side of the Moon. -Tristan Lejeune
The Last Guardian available December 6
A bunch of nerds are about to get super excited by something that is probably technologically obsolete–and not for the first time. After half a decade of setbacks and postponed release dates, the third installed of Fumito Ueda's thematically-linked-but-otherwise-unrelated trilogy of games (that also includes Ico and Shadow of the Colossus) is finally coming out. The Last Guardian has been in development since 2007, and was originally supposed to be released on the PS3 in 2011, so the graphics will no doubt look a bit dated, but who gives a shit?! It's here! -Norm Quarrinton