It is autumn. For most of the country, that means pumpkin-flavored everything and changing leaves. That happens in the D.C.-area, too, with the added detail that it is now camping whether. Summer is just way too hot for sleeping outside – this one was particularly bad – and to get you in the mood for building a tent or whatever, here are the most underrated camping movies (in chronological order). An important caveat: I've never seen Meatballs.
#UnitedOutside content has been done in collaboration with our friends at REI

Addams Family Values
I was never much of a summer-camp goer. Like David Krumholtz's Joel, when I was young I would much rather read than participate in typical camp activities. That's why I could identify with Addams Family Values, and its summer camp sub-plot in particular. Christine Baranski and Peter MacNicol are brutal sends-ups of the 1990s "Kumbaya" attitude, and Wednesday (Christina Ricci) skewers it with a mix of deadpan anarchy and a righteous sense of history. I bet the climax of the camp scene, in which Wednesday leads a revisionist insurrection against a group of faux-pious Pilgrims, inspired an entire generation of kids to pick up "A People's History of the United States."
Camp Nowhere
This movie came out when I was ten years old, so I was the perfect age to accept its premise. Camp Nowhere falls a small group of kids who want the freedom of summer camp without any adult supervision. They devise a scheme for their own blissful, laissez-faire summer, although that gets complicated when they attract the attention of, well, every other kid in town. This is a lesser-entry in the tween films of the mid-1990s – The Sandlot and Little Big League are both better – yet it has a shaggy charm, plus the novelty of Christopher Lloyd and Thomas F. Wilson appearing in something together that's not Back to the Future.
Heavyweights
While director Steve Brill would go onto make second-rate Adam Sandler films, this summer camp movie is noteworthy for its premise and cast. It follows a group of chubby kids who go to fat camp, only to discover that the camp director (Ben Stiller) is sadistic zealot . This is an early riff on the character Stiller plays in Dodgeball, except there's an added level of cruelty because he's terrible to children who deserve better. There are also bonus cameos from Paul Feig, Judd Apatow, Tim Blake Nelson, and Jeffrey Tambor. Aside from a solid camp movie, this is an early, fascinating example of the breadth comedy talent that still dominates to this very day.
Touching the Void
Camping is not just an activity for privileged youths whose parents would rather have alone time and get drunk. Camping is an activity for adults, too, and a necessary component of those who go mountain climbing. The documentary Touching the Void is about the worst camping trip imaginable, to the point it could double as a horror film. It follows two hikers who attempt a difficult climb in the Andes, and disaster befalls them during the descent. One climber shatters his kneecap, falls into a crevasse, and is left for dead, yet he somehow survives anyway. Your camping trips will never be this bad, even if they might feel like they are, so Touching the Void is a testament to human endurance (while camping).
Into the Wild
The original camper was Henry David Thoreau, the philosopher poet who went into the woods to live deliberately. All future camping endeavors channel Thoreau, but Emory student Christopher McCandless took the idea a little too seriously. Sean Penn directs this adaptation of Jon Krakauer's non-fiction biography of McCandless, a young man who abandons modern life for the Alaskan wilderness. McCandless was so committed to the Wild, or his idea of it, that he made stupid mistakes for which he paid the ultimate price. Penn's adaptation is sympathetic to McCandless, and critical of him, too. That balance is crucial, particularly for people like me who think he was – at best – an arrogant dreamer who thought friendship was beneath him (it wasn't). Camping can be fun, folks, but it can also lead to deadly, hunger-driven hallucinations.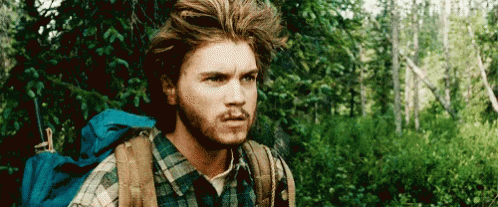 Moonrise Kingdom
Most of us think of camp as a time where you meet your best friend, or maybe get to second base. For the two leads in Moonrise Kingdom, camp is where they fall in love. Wes Anderson's comedy may seem complex, with a huge cast and an odd obsession with meteorology, but at its heart it's about two serious young people who hate that adults cannot take them seriously. It is a strident film – its characters are violent, dismissive, and cruel – and yet it settles into a sense of tolerance and goodwill that makes the initial adversity all the more plausible. You probably won't fall in love while you go camping, but if you have a successful camping trip with someone you love, you should probably stick with them.
Meru
It's good to know that for every McCandless out there, there are more people like Conrad Anker and Jimmy Chin out there. Meru is about some of these two, among the world's top mountain climbers, and their quest to reach the top of "The Shark's Fin," a particularly dangerous face of Meru Peak in The Himalayas. Meru is a documentary with remarkable access to its subject: there are intense shots of each ascent, botched or not, and painstaking details about the physical toll involved. The Shark's Fin looks god damn terrifying, and the climbers would make camp on it with suspended tents that were linked to hooks and cables. If Touching the Void is about the worst camping trip possible, then Meru is the most triumphant. Either way, you're certainly not in any shape to try it.
Camping is like life: it's difficult, a mess, and there's never enough GORP. These films distill the extreme highs and lows of the activity, and serve as a reminder that living deliberately would be too much for most of us.