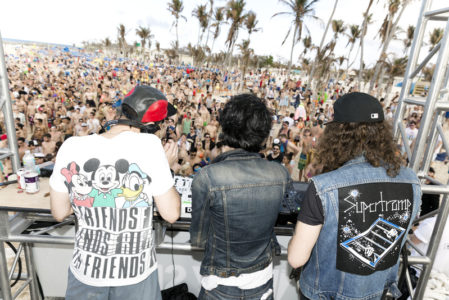 by William Donaldson
"Oh my god, I just saw Diplo eating a bowl of cereal. It was, like, so surreal."
"Pretty sure a dude eating a bowl of cereal is the opposite of surreal."
That was the exchange I heard walking through the hallways of the MSC Poesia, a massive 3,000-person/raver cruiseliner hosting Holy Ship!!, a three day electronic dance music (EDM) festival. That either sounds like the worst thing in the world to you, or the best, as you accumulate details of what the trip entails. I definitely lean toward the latter opinion as you'll find out.
The nautical, nonstop 72 hour party, which sailed from Ft. Lauderdale to Nassau, Bahamas, and then to a private island elsewhere on the Bahamas, featured multiple DJ sets from the likes of Justice, Major Lazer, Diplo, A-Trak, Skrillex (announced on the first evening as a surprise guest), Boys Noize, Skream & Benga, Zedd, Knife Party, Dillon Francis, Digitalism, and many more. When not performing, the DJs congregated and canoodled with ship guests as casually as if the DJs themselves were vacation guests. And they more or less were. To reiterate the conclusion of the opening conversation, Diplo munching on a bowl of Cap'n Crunch was really the opposite of fantasy, it was dull Realism. Superstars of the DJ world strolled through the cafeteria and leaned over the rails overlooking emerald Bahamian beaches just like everyone else.
Each night, when not spinning, artists and their guests formed a small posse behind other DJs they wanted to check out and dance to. Seeing Skrillex stroll up to Baauer and RL Grime's back-to-back set or Diplo to Nadastrom's first set was amusing if only to see how goofy Diplo and Skrillex looked when they danced to other people's music. But it also seemed to indicate that tastemaking DJs had their own curiosities and preferences to indulge while enjoying three days among a star-studded rave scene.
Now in its second year (hence the double exclamation), Holy Ship!! is put on by HARD Events, an LA event company that puts on popular EDM events and tours all across the country. Recently sold to Live Nation, HARD Events' acquisition serves to illustrate dance music's growth as a major market. Part of its expansion into new markets includes the novelty of a music festival aboard a three day cruise into the Caribbean. And although HARD now has its foundation in well-funded corporate assets, that doesn't mean that the event is a simulacra of cheap experience, a sponsor-pocked hyper aggressive bro-fest blaring noise to a tourist trap and then back to the US again to shoot its posses off to Miami, Jersey, and LA to fistpump their way through more mindless beats. Instead, most of Holy Ship!!'s clientele seemed to be financially stable young professionals.
A high ticket price to the event (starting at around $700 and climbing to as much as $1,500 for VIP treatment) didn't keep out all of the annoying neon-clad teens and twenty-somethings that were overdoses and DUIs in the making, but a prevalent financial stability among guests suggested a professional and personal maturity among the ship's community, as evidenced by the several doctors and lawyers I met, as well as the general lack of scuffles, outbursts, overdoses, and crowd friction that I saw. Contrast that to other festivals I've been to –I won't say which one, but I will say it rhymes with Smelectric Smoo — where you can see small armies of 15-year-olds rolling their faces off and then foaming at the mouth as an overdose precipitates in their little drug-addled brains. The large majority of Holy Ship!!'s guests seemed respectful to one another, and helped make the experience all the more manageable and habitable.
The crew of the MSC Poesia, mostly Italian navigators and management with a large retainer of internationals doing menial and service-based work, ran the operation with consistent efficiency, getting us from port to port perfectly on schedule, permitting and/or excusing our wants (music, drugs, and around-the-clock partying) and furnishing our needs (room, board, full bath toiletries). I'm sure there was the occasional interpersonal kerfuffle between passenger and deckhand, or something like a mistake in delivering luggage, but the vital organs of the event operated without a misstep. Most importantly to me, they had food available 24/7. Things like instant access to water, coffee, and pizza made the deal pretty sweet and set Holy Ship!! apart from other music festivals.
On the first night, after a ship-wide compulsory evacuation drill, everyone spend the first few hours getting settled in and exploring the ship, then loading up on drinks, pills, powders, and herb in the comfort of their rooms, waiting for Holy Ship!!'s openers, Major Lazer, to start. As the ship sailed off toward the Bahamas, Major Lazer hit the main stage in typical fashion, Diplo and Jillionaire behind the decks, hype man Walshy Fire telling everyone to get their fucking hands up, and two gazelle-legged dancers clapping their asses to the floor. As tropical night breezes swept through the main deck stage, the hard, reggae-tinged electro set featured new cuts like "Jah No Partial," "Bubble Butt," and Diplo's pet favorite Andy C drum and bass remix of "Get Free". A Trak was next, filling his set with hard house, hip hop, including his "Piss Test" remix with Juicy J and Flosstradamus, and finishing his set off with his remix of Yeah Yeah Yeah's "Heads Will Roll."
(Justice spinning their first set in the rain)
I caught the tail end of Boys Noize, who played a remix of the Space Jam / Jock Jams classic "Y'all Ready For This," and following that set the Parisian duo Justice took stage for their first of two headlining sets. As they opened their set with "Genesis," it rained briefly, but it was a short system of weather that helped cool everyone down more than anything. Besides their own songs their DJ set included Felix Da Housecat's remix of "Silver Screen," Junior Senior's "Move Your Feet," Chemical Brothers' "Block Rockin Beats," Destructo's "Technology," Wildchild's "Renegade Master 98" remixed by Fatboy Slim (the Old Skool Mix), and closed their set with T. Rex's "Get It On." As for their own music their song selection came equally from † (MSTRKRFT's remix of "D.A.N.C.E.," and "Stress") and Audio, Video, Disco ("Civilization" and "New Lands")
As soon as Justice ended their set, the confident rumor that Skrillex was this year's special guest was confirmed when the diminutive, raven haired star emerged from behind the decks and started blasting Wax Motif and Neoteric's play on Janet Jackson's "Go Deep," into a remix of Simian Mobile Disco's "It's The Beat," and then gorgeously into Disclosure's "Latch." On top of playing his own "Bangarang" and "Wild For The Night" (sans the new A$AP Rocky verse) Skrillex went with Damien Marley's "Jamrock" and was the first of many to play Gents & Jawns amazing remix of "Express Yourself." Despite his reputation for all out dubstep, his mix was more a generically "hard" set, whether it be house, trap, moombahton, or even a sprinkle of drum and bass toward the end. My personal favorite drops were probably a playful dip into Montell Jordan's "This Is How We Do It" or Mayhem And Antiserum's "Brick Squad Anthem."
Next we scuttled down through the many cavernous dance floors of the ship's interior to check out Nadastrom + Sabo and then Crookers. Both acts played fantastic, high energy sets, but as crowds poured into the discotheque, it was clear that Baauer and RL Grime's back-to-back set (i.e. taking turns mixing and song selecting) was a must-see. The two freshface kids, after cheekily beginning their mix with Celine Dion's "My Heart Will Go On," lit up their decks with the future-crunk sounds of trap, a synthesis of UK bass (massive, opaque bass tones) and Southern hip hop (slow-flow raps, 808 and 909 drum effects). The crowd started to get feral early on in the set, and frequently went batshit everytime there was a drop on popular tracks like TNGHT's "Higher Ground," Kendrick Lamar's "Backseat Freestyle," Drake and Lil Wayne's "HYFR," Juicy J's "Bandz A Make Her Dance," as well as their own — Baauer's "Dum Dum" or remix of Flosstrdamus' "Rollup" and RL Grimes' "Mercy" Remix. Throughout the hour, large posses, including Skrillex, Skream, and Walshy Fire from Major Lazer, partied on the stage while Baauer and RL tore up the dance floor. Their set ended at 3 a.m. Saturday morning and many soldiered on until 5 a.m. as the last DJs spun till the cusp of sunrise. Depending on how much molly, coke, or drinking you did, many stayed out all night or never seemed to go to sleep at all.
Day 2 was largely centered around a day trip excursion to The Bahamas capital of Nassau. If you don't venture too far out of the central port in Nassau, the impression you're left with is that Nassau is a tourist trap that probably has a Hard Rock Cafe peeking somewhere around the corner. The boulevards outside customs were dotted with souvenir wallahs and counterfeit handbag and sunglass merchants. Store fronts were adorned with shitty neon BAHAMAS! t-shirts and you could get braids, beads, and seashells in your hair at every street corner for fifty dollars. The positives were that the duty free shops sold cigarettes and liquor — especially rum — on the cheap. And word is it was easy to re-up your supply of weed and molly and whatever else you wanted to get your hands on if you played Hey Mister with the right gentlemen standing in the dockside alleys at port.
Later that evening, I went to one of the many extracurricular DJ events, a DJ class by A Trak (the others were a round of drunk mini golf with Dillon Francis, poker with Zedd, and a Mad Decent Scavenger Hunt). A Trak led about 300 people step by step through all essential aspects of DJing from mixing vinyl to CDs and digital software-based systems. He didn't get super technical, but he introduced the basic concepts of beat matching, keys and chord progressions, scratching, software evaluations, and the mechanics of the turntables and mixers. I came back to my room to find out my roommate had one Dillon Francis' Single Malt Invitational round of minigolf. He got a handle of single malt scotch as his prize, as most, if not all, golf competitions end.
I began my night of music around 10 pm Saturday after a failed attempt at a power nap; music throbs from other rooms having their own parties, and the hallway is a rattlechamber of excited, intoxicated shouting, singing, and chanting. Speaking of chanting, Dillon Francis' set was the only to feature a "U-S-A!" chant, spurred on by his hypeman, @FatJew. Francis played his moombathon hit "Masta Blasta," while the video screen behind him flashed images of cats and pizza and animal faces that looked almost like meme templates. On top of his hat, a snapback that simply read INTERNET, and Fat Jew saying things like "You can't get an STD if you never get tested," and "Tony Danza has a huge dick," the set was a binge on immature humor and pounding moomba beats. Despite those two volatile mixtures poured in at once, the energy was undeniable and one of the more universally well-received sets. He was the first DJ to play Daft Punk ("One More Time") and for a second the festival's edge takes a soothing French house groove.
Then like a ferocious breaking of bowling pins, Zedd came on stage and transitioned into the Jackson 5's "Can You Feel It," devolving into a violent warble of dubstep. People around me were raging (I was too) while others were standing dilated and slackjawed looking on as someone in front of them with glow rave fingers put them in a molly trance. Zedd's biggest moment probably came either during his own "Spectrum" his remix of Swedish House Mafia's "Save The World," or a fun spin on the NES 8-bit version of the Legend of Zelda theme music sent through a blender of dubstep, affirming my opinion that at heart, 95% of DJs are goddamn geeks (I mean that in the most loving way possible). After a finale of glowstick confetti and water bottle geysers erupting from the crowd, I went into the cafeteria.
It was important all weekend, and prior to the cruise, to carb-load as to not grow fatigued and hit a wall. Luckily things like pasta, fruit, vegetables, and water were in abundant supply. So were beats. Back to those. Knife Party kicked off their second set of the weekend with a hard remix of Icona Pop's "I Love It," a song that sort of typified their set in that it was filled with a lot of catchy, aggressive pop bangers that everyone only knew about 8% of the lyrics to. But when the lines came up that people knew, everyone absolutely killed it for 8% of the song! After playing their most well known track "Internet Friends," and finishing off with a dubstep remix of Whitney Houston's "How Will I Know," 12th Planet took the stage to continue a mix of trap and dubstep. 12P started out with a remix of Robyn's "Dancing On My Own," and he was quickly joined on the decks by Skrillex for a back-to-back set that evolved into a playful set consisting of Crizzly & AFK's remix of "Chain Hang Low," and en masse singalongs of Biggie's "Hypnotize" and a left-field drop of "The Fresh Prince Of Bel Air" theme song.
(A Trak + Skrillex = BBFLs <3)
During the set I couldn't help but trace the genealogy of trap and dubstep back to some common ancestor. Both subgenres work off midtempo drum marches, are very hip hop conducive, and feature huge drop moments. The only difference is dubstep goes crazy on all high, mid, and low ends of the EQ spectrum, skittering off into wild, highly textured synth tangents, whereas trap typically has a very minimal, blunted approach to its drops. In any case, hearing trap in almost every set was no surprise, and for me, it was a welcome relief to inject the swagger of hip hop in place of a set consisting only of hard dubstep and its seizure-inducing, aural garbage disposal drops.
Day 3 was centered around a private island party with sets from Destructo, Brodinski, Diplo, and Justice. After stretching out sleep as long as I could manage, maybe four or five hours, my friends and I slugged back several cups of coffee and dragged our feet to the island ferry. We made it in time for the end of Diplo's third set of the weekend, where he concluded with a B'more remix of Inoj's "Love You Down." Justice's second, and for all intents and purposes, headlining set, was the first extended mix of non-hard house, electro, techno, or dubstep. They began their set with a little yacht rock (or, the pop your dad probably listened to in the late 70s, early 80s) and eased into several classic French house cuts like Alan Braxe and Fred Falke's "Intro" and "Music Sounds Better With You," before dipping back into their own catalog for the likes of "D.A.N.C.E." The island party was like a combination of Berlin and Ibiza. For many the night before had just begun with the sunrise of the island party, and the tropical, sun-kissed vibes of the beach entrenched everyone with a laidback ease. Around 4pm everyone ferried back to the cruiseliner for one more night of partying.
The next several hours seem like a fatigued blur. I caught Skream & Benga, who, although being more on the UK side of dubstep, typically suggesting that garage, grime, and 2-step would be part of their set, but they played a harder, dirtier set than any of their American contemporaries. They almost took on an industrial, grating edge, so much so that someone next to me on the dancefloor remarked grimacing that "this sounds like molly tastes." Skrillex and Dillon Francis popped up behind them, getting geeked off drops by The Prodigy, Wiley, Knife Party, and even an unremixed spin of "Smells Like Teen Spirit." After checking out Brodinski and Baauer once more in the Fool's Gold Hip Hop Party room I attempting to catch Diplo one last time but ended up passing out early (~4 a.m.).
The next morning, or really just three hours later, the intercom system announced throughout the ship that we had docked back in Ft. Lauderdale, Florida and that it was time to disembark. Everyone lurched deadeyed through the hallways through the pristine luxury cruiseliner lobbies back to the industrial gloom of Port Everglades on a dreary, rainy day. It was a shock to go from perfect weather back to the dread of landlubbing climates and everyone's professional situation. Meanwhile, as we passed through customs, a few people got pulled aside by drug sniffing dogs for inspection and interrogation. Everyone else had already put their drugs in their system, I guess.
Throughout the weekend you were subject to sites of unprecedented amounts of drugs. Peeks into rooms revealed piles of coke and molly, or simply walking by a cabin wafted heady scents of marijuana. Smuggling drugs onto the boat seemed to be as easy as making fun of dubstep. On top of that, bringing back alcohol from Nassau was no problem, despire warnings we would be searched. Most passengers seemed to be thankful that they had found a unique context to binge on amphetamines, psychotropics, psychedelics, alcohol, and cannabis for three days straight. As I mentioned before everyone seemed to handle their substances responsibly, so I can't really fault the community for being a little decadent. This is a rave scene, after all.
One things for sure is that everyone that puttered off the boat eventually had fatigue completely envelope them. Bodies were limp, ragged, bleary eyed and unresponsive. After a marathon weekend of dancing and running on only a few hours of sleep each night, guests were ushered off to the the airport where I saw several weary souls sleeping on the floor waiting for their flights. Even on my connecting flight in Charlotte, NC I walked around the terminal and saw several sunburned bodies wearing Holy Ship paraphernalia planking their face into their carry-on bags as they waited for their connecting flight back to the real world.
One common thread among the tired guests was ubiquitous. Is it 2014 yet? We want back on the ship.
Instagram roundup here
Holy Ship!! Dance Moves As Animated GIFs here
Best Fashion here
Most played tracks:
Benny Benassi – Satisfaction
Yeah Yeah Yeahs – Heads Will Roll (A Trak Remix)
TNGHT – Higher Ground
Kendrick Lamar – Swimming Pools
Major Lazer – Get Free
Diplo – Express Yourself (Gent & Jawns Remix)
GOOD Music – Mercy
Trinidad James – All Gold Everything
My best dance move: Furiously finger dancing my thumbs on the Notes feature of my iPhone like a god damn nerd taking down observations while everyone else danced.
Number of people seen having public sex throughout the weekend: Twelve
Moment when I knew things were over the top: After an hour of boarding, a guest had set up a mixer and speakers in the elevator lobby of the 11th floor and a 30 person dance party spontaneously combusted.
The "I Feel You, Dawg" Empathy Award: The staff that had to deal with drunk, drugged up guests but did it with tact and without hassle.
Best Group Costumes: Seemingly the entire cast of Sesame Street, Ghostbusters/Staypuff Marshmallow Man, undead sexy sailor girls
Clothing That Should Be Banned: Where's Molly? hats, YOLO parapernalia, Indian headdresses
Surprisingly Never Played: "I'm On A Boat."
Number of girls that subbed pasties for bikini tops: 11
Largest international population represented: Australian bros.