Welcome back to another edition of MERCH PARTY – a weekly round-up of all the best band merch comin' to a venue near you, 'cause supporting your favorite artists in more ways than one is just part of bein' a good fan! Let's get into what's good RIGHT NOW:
October 10th
Kesha @ Irving Plaza
Guys, if Kesha could get through all the bullshit and land herself back on stage with a new record, you can get through this day. Homegirl is at Irving Plaza tonight and Chicago's Aragon Ballroom on Wednesday 10/18, and she's got some pretty dope merch happening in her store. I'm a personal fan of the spaceship bolo tie, but if you have a spare $40, I wouldn't try to deter you from buying a Kesha candle, either…
Pumarosa @ Baby's All Right
I'm very into the color scheme that's happening in Pumarosa's merch store, though I'm especially into this all-over print T-shirt, which you can feel free to buy for me if you want!
October 11th
Best Coast @ White Eagle Hall
I don't think I'm going to make it out to NJ for Best Coast's show tonight, so fortunately I can still grab some memorabilia via the magic of ye olde interwebs! I pretty much love ALL of Best Coast's merch options, so it's kind of hard to pick one above the rest, but if I had to, I'd go with this mug, which is major hot beverage season goals:
October 12th
Andrew WK @ Rock & Roll Hotel
Leave it to Andrew WK to pull out the big guns when it comes to a rad merch spread! He'll be at Rock & Roll Hotel on Thursday, New York's Warsaw on Friday and Chicago's Vic Theatre on the 21st, but you can grab stuff from his online shop whenever you want! There's so much to choose from that it's difficult to narrow things down to a few top picks, but I'm gonna go with the signature air freshener as a must-have item for anyone who wants to smell of partying: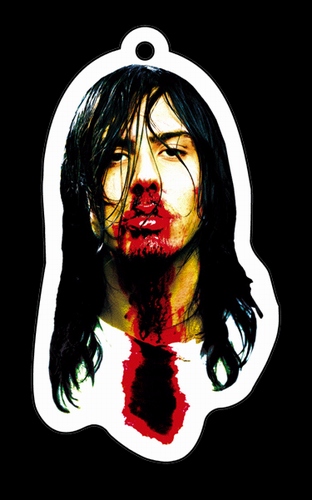 ++++++++++++++++++++++++++++++++++++++++