Congratulations, you're good enough to bring home for the holidays. Besides bringing a bottle of wine (you should), or reading up about everything football related (Grantland's got you covered), you'll need to dress the part to keep the parents impressed.
Whether you want to dress like it looks like you know the difference between dressing and stuffing, or that you've read more than Buzzfeed in the last month, we've got you covered. Remember: you'll be meeting her father, who will ask you about your goals, your aspirations, your favorite sports team, the strength of your handshake, your political affiliation, your whiskey preference, and your job. You'll also be meeting her mother, who will ask you if you want a second slice of pie. Dress and act accordingly.
Look 1: The Boyfriend Who's Well Read
Don't lecture, listen to her parents about their favorite authors. You're not writing a thesis.
ASOS Cable Cardigan – (ASOS)
Men's Flannel Checkered Long Sleeve Shirt – (UNIQULO)
Ripley Frames –  (Warby Parker)
Levi's Made and Tack Selvedge Denim – (Revolve Clothing)
Armani Jeans Shoes, Suede Oxford  – (Macy's)

Look 2: The Boyfriend Who Played Sports in College
Or if you didn't, don't say you "rowed crew." You were on the crew team.
Gap x GQ Bespoken Shrunken Blazer –  (Gap)
Brooks Brothers Tipped Cardigan – (Brooks Brothers)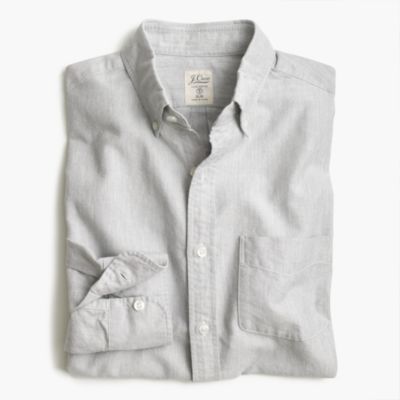 Vintage Oxford Shirt in Heathered Cotton – (J. Crew)
ASOS Skinny Chino in Green – (ASOS)
Tod's Brown Leather Driving Loafers – (Bluefly)
Look 3: The Boyfriend Who's a Master in the Kitchen
Roll up the chambray shirt, and get basting. 
Barbour Lowerdale Quilted Vest in Green – (Saks Fifth Avenue)
Biography Wear Fitted Chambray Shirt – (Karmaloop)
ASOS Slim Chino in Heavyweight – (ASOS)
To Boot New York Mens Hawk Boot – (Amazon)