Men on Film: The BYGays Review Les Misérables
On Christmas night, the Brightest Young Gays team headed for an outing to catch the premiere of Les Misérables, the most gay-anticipated movie since Magic Mike. So, after a traditional Jewish Christmas Chinese dinner of dim sum and sesame chicken, we cabbed to the Georgetown AMC to find the place packed with gays, Jews, and – most prominently- gay Jews. This is how it went.
The crowd in line for the premiere Les Mis couldn't control their enthusiasm.
Especially the Jewish Theater Queens.
It was Christmas after all, the holiest movie night of the Jewish calendar.
But despite the crowd's excitement, they all got real serious just before the film began.
The lights went down, and first off…Gurrrrrrrrlllllll.
The Academy is totally going to give her an Oscar for this,
although she totes deserved it for the Princess Diaries as well.
At that point, everyone in the theater was like this:
But then, they were like….no girl, no.
Do you hear the people sing? At least they're not singing as bad as Russell Crowe.
We had our doubts, but Sacha Baron Cohen worked it out as the Innkeeper's Husband.

He totally proved the doubters wrong.
As did Helena Bonham Carter as the Innkeeper herself.
Although she pretty much plays this character in every movie role (but, we love her for it).
Then, after Anne Hathaway went to the dentist and Hugh Jackman decided to attend Fashion Week in Paris, the crowd began to demand satisfaction.

Every gay in the theater: Enough of the period costumes. Take your shirts off!
This was followed by collective disbelief from the disappointed audience.
"Why is there no skin is this flick?"
We are too. ;-(
But then, we all totally fell for the love story between Marius and Cosette.
Apart from Russell Crowe singing, the big problem with the movie was that the costuming was all wrong.
Hugh Jackman as Jean Valjean.
A better costume would have been:
Eddie Redmayne as Marius.
A better costume, in our opinion:
Aaron Tveit as Enjorlas.
A better costume:
Or, perhaps this:
We could have also settled for him giving snuggles to James Franco.
George Blagden as Grantaire, Alistair Brammer as Jean Prouvaire, and Hugh Skinner as Joly.
A better choice of costumes:
As far as the performances themselves:
Hugh Jackman
Russell Crowe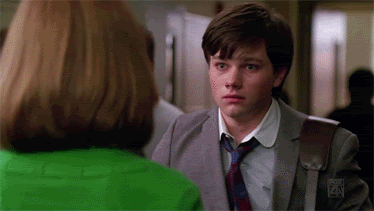 Eddie Redmayne
Anne Hathaway
The film went on, and everyone had another good cry. Then, after all that, the lights went up and the gays were largely satisfied.
But, that didn't stop them from reading the film for filth on the way out.
And the gays went home, cried again in their beds at the thought of a toothless Anne Hathaway, and began to plot their Oscar parties.
Follow the BYGays on Twitter for more sparkly news and review.