There's something about a taste of warm weather that makes me super nostalgic for my youth. Perhaps it's dreams of a summer vacation or remembering what it was like to drive with the windows down after just getting my license. Whatever the trigger, I want all the things that make me feel teen again. It's a good thing stores have caught on to nostalgia being big business… at least from me. Now that my adult acne is about as bad as it was in the late 90s, let's buy some things to compliment it!
Remember when this was THE gift? It was the perfect place to keep all your lip smackers and Hard Candy nail polishes. Urban has put out a new edition that comes in three yummy pastel colors. Only downside is that I checked it out in person and it's small, kind of cheaply made, and the caboodle label is just a sticker. It very well could have been this way too when I was eleven and a lot less discerning about the quality of my products, but whatever (I'm currently making the "whatever" W with my fingers right this minute).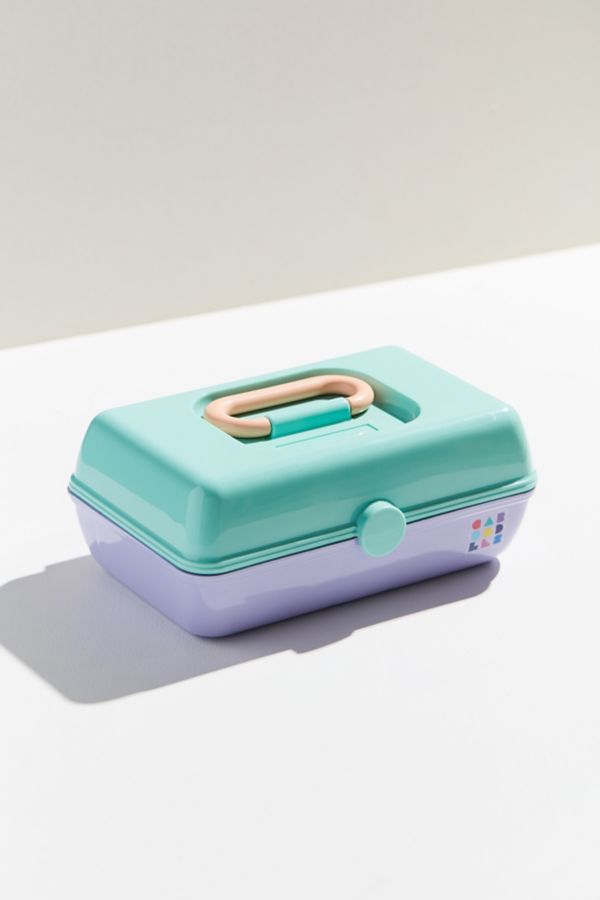 Tommy Hilfiger Sandals – $29.99
I haven't been a label whore since middle school, but in 7th grade it was allll about those labels, especially Hilfiger. I had a pair of Hilfiger sandals in middle school that I coveted, saved up my allowance, and literally wore out. I loved them so much I still kept the box for years (it was home to my postcard collection– remember when restaurants all had those free postcard racks? That was a time). Now these slides may give me blisters, but who cares about that when you're young, beautiful, and just hanging around outside the United Artist movie theatre waiting for your crush to show up.
L.A. Gear Bike Shorts – $14.90
I used to rock a matching top and bike short set in black and neon green and I looked AMAZING. Granted, I was nine-years-old. Forever 21 has a new L.A. Gear capsule collection. I don't think I could pull off the high legged, camel-toe inducing one-pieces, but perhaps those bike shorts? Unlike the crop tops, some which allow for visible underboob, don't feel flattering or age appropriate, the shorts I feel I could maybe do. I'd probably do the plus size because unless I was actually forever 21 there's no way I could fit into their standard size. Bike shorts are basically Spanx that you can wear on the outside. Isn't that the ultimate athleisure move?
Britney Spears at National Harbor MGM – $348+ 
Say what you will about the pop star's singing ability or sartorial taste, Britney has risen. After a mid '00s breakdown that could have felled most bubblegum pop songstresses, Britney pulled herself (with the help of a conservatorship by her father) back up. Unlike some divas who find momentum by reinventing themselves (Madonna, Katy Perry, etc.), Britters is reassuringly consistent. It's all long blonde extensions and glittery catsuits which bring viewers of her very popular Vegas residency back to the vapid and delicious halcyon days of late 90s pop music. I was so thrilled to see that she was bringing her stage show to the DMV, but unfortunately tickets feel a bit out of my price range. Maybe the prices are counting the inflation since Britney's heyday?
J. Crew 1988 Rollneck Sweater – $75
For the longest time, the only way I could find one of the iconic J.Crew roll neck sweaters of my youth was in the junior section (crewcuts) of the store or a random thrift store sighting. Both ways were more cost effective than this new reboot, but this one is much more likely to not only clear my very adult-sized rack but also be clear of moth-created holes. The nice thing about this sweater is while feeling cozy, oversized, and nostalgic it also looks timeless.
Herschel Hip Pack Ash Rose – $29.99 
Let's call a spade a spade. Or in this case, let's call a fanny pack a fanny pack. The past few years, designers have tried to revamp the fanny pack by calling it something new. Can't we just appreciate it for it's greatness, no matter what the name?! It's been a tourist and hiking standard for decades, but I love it for its ease and sheer goofiness (it's basically a kangaroo pouch). Now that fanny packs have infiltrated popular culture again, via Coachella, it unfortunately no longer feels anti-fashionable. This Herschel style fanny pack feels like a happy medium for me between looking chic and also feeling sweetly retro-cute. Finally a place to store my slap bracelets and pogs!