It's time to get on your bikes and ride (Queen reference). After months of sucky weather there couldn't be a better moment to start biking. It's consistently in the 70s and you're in or near a city, meaning there's no excuses.
We have you covered. Whether you're looking for a route, tips on how to make your biking experience part of a triathlon, how to bike with confidence, how it helps you get laid, what to listen to while cycling, films to get you in the mood to pedal, what to put on your skull and more, it's in here.
The best, free, all beer proceeds going to non-profits, win a bike, ride weird bikes, see a cool show event of the year.
17 miles of car-free roads for your biking pleasure.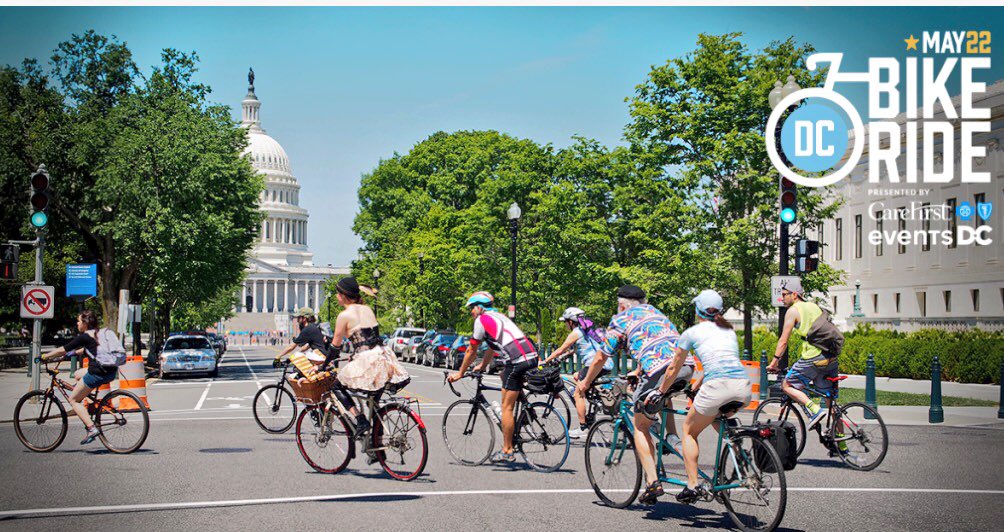 The 2nd annual Tour de Cure is a charity cycle event created by the American Diabetes association. Participants can choose routes up to 50 miles to ride and fight to stop diabetes.
Fortunately for us assholes who don't own cars, live in DC, and who love camping… our forefathers covered our asses with some pretty accessible camping spots via le bicycle. Take these three solid options:
First stop, C&O canal. So we're talking a 20-something mile bike ride to free camp spots every 4 miles all year round dotted all along the Potomac terminating in Pittsburgh. Generally they're open game to first-come-first-serve bikers. Be ready to share some spots with a few locals who are mid-life crisis'ing their way from Pittsburgh to DC. The first real stop is at White's Ferry along the Potomac where you can snag some cold beers and a greasy refueling meal. Make sure to wear bike shorts to avoid total grundle annihilation.
More info from Bike Washington.
Second ride, VRE train to Manassas. So the VRE is the only Amtrak train on the East Coast that allows bikes. You can simply load your bike on at Union Station and roll off at Manassas station for a solid night of camping and skeet shooting at Bull Run Public Shooting Center. But beware, the VRE only runs on weekdays and bikes are only permitted on the first and last cars of the train.
Third on the list, Mt Vernon Trail. Roll your way past Reagan National Airport, Old Town Alexandria and Mt Vernon on your way to plentiful camping on the southern side of the Potomac. Look out for the ghost of George Washington…he's rumored to finish off any neglected beers around the campfire.
You're going to get hit. You will most likely be fine. Get back up. It sucks, but get back up. If you were wearing a helmet and the helmet saved your life, awesome. If you were not wearing a helmet and not wearing a helmet saved your life, awesome. Lesson? You will most likely get hit by a motor vehicle while using your bicycle. It happens. Now don't judge someone if they were or were not wearing a helmet. That helps no one.

1. Lube Your Damn (Dang) Chain!
Pedaling through this city I've grown accustomed to the sound of sirens, Go-Go music, and bleating tourists, but I will never be able to bear the sound of a squealing drivetrain. You're chain should never sound like an excited rodent. That rhythmic squeak, squeak is the sound of your drivetrain dying, and it should be driving you insane. Buy some chain lube–it's cheap–and it'll save you $$ down the road. Like in life, being well lubricated is a good thing.
2. Put Air n Your Tires
Most common type of flat I see? Pinch flat. Know how you pinch flat? Not putting air in your tires every week. When there is too little air pressure in your tubes and you hit a pot hole, curb, rat king (it's happened!), it will flat your tire and we all know that's not fun. Look on the sidewall of your tire to determine the correct PSI and visit your friendly neighborhood bike shop once a week and put some air in those tires!
3. Don't Salmon!
It is basically never acceptable to ride down a bike lane traveling in the wrong direction, that is unless it's 4 A.M. and there is literally no one about. This transgression is referred to as, "salmoning," a coin termed by the snarktastic BikeSnobNYC. Salmoning is dangerous, silly, confusing, and frustrating for cyclists and motorists alike. Salmoning is a cardinal sin for cyclists! Confusing cars is bad, but it's especially wicked to alienate your own kind.
4. Lock your bike properly
Truthfully, there isn't a thief-proof way to lock your bike. There are lots of ways to break even the best of locks, but that doesn't mean you shouldn't try. Cable locks don't cut it in the city, I've heard of bikes being stolen from in front of the convention center in broad daylight! Thieves are brazen sort. Also, kids and drug addicts alike love running off with wheels and seatposts. There are myriad options for securing your wheels/seatpost to your bicycle and I suggest looking into them, trust me, there are much cooler things you can buy for your bicycle than a replacement seatpost.
5, Learn to Use Your Front Brake
Your front brake is much more powerful than your rear. I know it's scary because you've either endo-ed (crashed over your handlebars in a spectacular fashion) or have heard rumors of people endo-ing. It's totally possible to do, I won't lie, but if you learn to use the front brake in conjunction with the rear your brake pads will thank you. By using your front brake more often you'll dramatically increase the lifespan of your pads, saving you time and money.
6. Have fun
What's all this hard work and infrastructure for if we can't have fun? Don't be a menace, smile, and make sure to wave to fellow cyclists, pedestrians, and motorists. DC is too serious, let's have some fun and do something to change the status quo while riding your bike.
Get a Bikeshare membership. It rains a good amount in D.C. Sometimes it's raining and 60 on the way to work and sunny and 80 when you're getting off work. You may want to bike home. Get a Bikeshare membership.
Two months after I moved to D.C. I had a moment of inspiration, and decided that living by the national mall was the perfect opportunity to learn how to ride a bike. After 18 years of using the poor excuse that I grew up in a city, I was ready to start peddling. My friend, an experienced bike rider, a.k.a. he could at least balance, came up with a plan for my first bike experience. We would rent bikes by the Lincoln monument, get our bearings together and then journey to Sticky Rice on H St. At the beginning I was pretty full of myself. I had a scooter as a kid, until I had a nasty wreck down a hill, and it couldn't be that much different. They both have wheels. It took about five seconds on a bike to realize that I was very wrong, and that I had made a grave mistake. I could not balance for my life, tears were streaming down my face and I definitely should not have been wearing a dress. Tourists watched me continually crash into the chained-off grass areas by the Lincoln while falling off the bike as it tilted sideways. It wasn't quite as glamorous as I had imagined.
An hour later and we had made it past the monument, and were now on Madison Drive. Note: When learning to ride a bike, whatever you do, you should avoid an area over-filling with tourists, and especially on a nice, sunny day. They do not move, there are many of them and the threat of hurting a child increases tenfold. I made it a couple blocks, but the oncoming traffic and crowded sidewalks heightened my anxiety. As a result, I went straightforward into a planter outside the National Museum of Natural History. My leg cut open, blood ran down past my knee and I looked scarred for my life. By the time we made it to Chinatown, my friend had advised that I walk with my bike for the safety of both the public and myself. We made it to H. St eventually, but two and a half hours later than planned. It would have been shorter to walk, and needless to say we did not bike back.


This is me looking like an exemplary human after crossing the finish line of my first sprint duathlon. It was really fucking hard. Much harder than the indoor super-sprint triathlon I did in February. Did I mention I'm signed up for another sprint triathlon in July? Did I also mention that I'm insane? I mean, no rational person should want to swim (or run), then immediately go for a bike ride, then a(nother) run shortly thereafter. Multisport competitions are the dumbest competitions, and though I oftentimes question my sanity in the middle of training, I find myself drawn to them, not a little obsessed with pushing the limits of my physical fitness. Should you be of similarly questionable mental health and want to try this for yourself, here are my 10 tips for preparing for the bike segment, which is the longest part, and arguably where you can make up the most time and not embarrass yourself.
(1) Pick your race. Duh. Know your limits, but also give yourself a good challenge. Basically, don't pick an Ironman as your first race. And, you will get dusted by people twice your age, so don't let your youth make you cocky or lull you into a false sense of security. If you plan on doing more than one race in a season, join USA Triathlon, which is the national governing body of multisport events. You can buy a temporary membership which covers the day of the race, but but it costs $12. A year-long membership is $45. Economics, dude. (If you buy a one-day membership, USAT allows you to apply that cost towards towards the purchase of an annual membership.) Also, look into joining a triathlon club, because your new tri friends will understand what you mean when you talk about improving your T1 and T2 times.
(2) Invest in a decent road bike. When I signed up for my second and third races, I planned on using the bike that I had been using to commute to work for the last four years: a 40-plus-year-old steel-frame hybrid I inherited from my mother when I moved out of my childhood home. This, in retrospect, was really fucking naive. I stated my intention to use this old, heavy bike when I went in for a fitting a couple of months ago, and though the guy who worked at the shop was really nice about it, I could tell he wanted to laugh me out of the store. I ended up buying an entry-level road bike that day. You can buy a used one (and I saw plenty of older bikes on the course), but make sure it's the right size for your frame, and schedule a bike fitting. If you're using a bike that's too big or small for you, and if your body isn't in the right position on it, you won't be nearly as efficient as you could be, and, in the long run, you might injure yourself. If you buy a bike from a shop, they should fit you for no added expense.
Optional: clipless pedals (so called because they lack the toe clips/cages found on standard pedals) and cycling shoes. You probably won't need them for your first race, but should you decide to continue in this stupid sport, you'll want to invest in some down the line. Way more optional: aerobars, which you can attach to your stock handlebars to get in a more aerodynamic position. I don't plan on getting aerobars, but I do plan on replacing my pedals within the next two weeks.
Something you might want to get is a GPS unit. If you've got a smartphone — and I assume you have one, you web-savvy Millennial, you — there are apps that will allow you monitor your speed, or, alternatively, you can buy one that you can affix to your bike's handlebars or one you can wear on your wrist. I use a free app because I'm a cheap bastard. Try Strava or MapMyRun.
Not optional: a helmet. You cannot compete without one so suck it up, young invincible, and buy one.
(3) Now that you've got your bike, learn how to take care of it. Most bike shops offer free basic maintenance classes: take one. And, make sure you know how to change a flat. Now, will you get a flat during your first race? Probably not. I mean, I've only gotten a flat once since I've been regularly biking. But, I did see a couple of my fellow competitors get waylaid by a flat and a chain-drive issues, respectively. They ended up finishing, which was great — I would have been too hysterical — but they didn't finish in the time that I'm sure they expected to.
(4) This area has some amazing, amazing trails and they will be your best training resource. You know what sucks about biking to work? Traffic lights and cars. Trails don't have that. My favorite is Capital Crescent, despite it being a shitshow on the weekends since I'm not the only one who loves it so much. Another favorite practice course is Rock Creek Park as the Park Service restricts car access on weekends. And since I live within spitting distance of the Northeast and Northwest Branch trails, I would be remiss to not mention them.
(5) Make sure you do some hill training. I didn't do this, and it negatively impacted my performance. Now, I knew that the bike terrain was hilly because it was described as such on the race's website. "Hilly" was was a euphemism. It was damn near mountainous. It's true that there's a decline for every incline, but it doesn't make a damn difference if it takes you a long to get up the damn hill in the first place. I took multiple breaks on the course because I just couldn't deal, and it probably added minutes to my time. Even if the terrain on your race isn't hilly, practice hills anyway because it will help your legs get stronger. Don't be a wuss.
(6) Brick workouts and strength conditioning are equally important. All that repetitive movement from swimming, biking, and running will lead to injuries, and the best way to combat this is with strength training. I started having knee issues as soon as I eliminated most strength training from my regimen. Also, brick workouts — practicing one discipline after the other with very little rest between — will get you used to working through muscle fatigue. Most brick workouts are bike-run, but you should also do swim-bikes and, especially if you're doing a du, run-bikes.
(7) It might not rain in southern California (not true), but it sure as hell rains in DC. Don't let weather affect your training schedule. Start taking spin classes if you're not already. Most gyms (if not all) offer them, and, should you lack a gym membership, you can't spit in Northwest without your saliva landing on an indoor cycling studio. Alternatively, buy a trainer, a rig that allows you to ride indoors without smashing all your furniture.
(8) Speaking of weather, make sure you have all the weather-appropriate gear you need and practice in it before the race. We had been really lucky with weather and I had counted on that streak continuing but it was cold as fuck the morning of my race. I ended up buying a pair of compression capris literally 14 hours before the start time, and while I was warm, I wasn't comfortable in them and it definitely messed with my head. Related to that, make a list of anything you know you're going to need well in advance in order to decrease the chances of leaving something at home.
(9) Those stupid little energy gels will save your whole fucking life in the middle of the race. Intra-race nutrition is just as important as having the right gear and working out. You need carbs to keep you going: energy gels provide exactly that. (Otherwise, your body starts burning fat for energy which isn't nearly as effective.) I choked down some Hammer Gel (Hammer Nutrition was a race sponsor, so there were boxes and boxes of free energy gel available to us) halfway through the biking segment and felt like a new woman.
(10) Rest days are just as important as training days but this doesn't mean sitting on your ass. Yoga gives you a good stretch and walking is a low-impact way to keep active.
Now that you have my tips, go out there and compete in this inane sport, you crazy diamond. Wear that race-specific tech shirt and finisher's medal with pride. Eat all the damn snacks the race organizers offer you afterwards, too — you will likely have a near-religious experience with that snack pack of Oreo Minis. And don't forget to schedule that post-race massage because #treatyoself, you will have earned it.
Do the pants thingy. Roll up your right leg a few inches so you don't accidentally end up becoming part of your chains cycle. You may look silly but fuck it, it works. You don't want to be the cause of an accident.
Fun fact: I don't know how to drive. Not like: I live in DC now so I let my driver's license expire, but one of: I never, ever in my life got one. This makes me sort of a joke (in America, at least) since I am 16×2 (+1) but it also makes me a person that has lived (and walked and biked) in very urban environments on several continents for several decades and I am VERY GOOD at both walking and biking. Since we don't have a BYT WALKING GUIDE, I am going to limit the notes (in bullet point, natch) to just biking in cities, and please, use them:
If you are on a bike – you are part of traffic. You are NOT part of: the sidewalk, your own parade, some random fantasy bike music video etc – you are part of traffic. Behave that way. Stay either in the bike lane or as far right of the car lane as you can so people can pass you without issue, don't meander and zigzag on the road (even if no one else is on it), follow traffic signs, and KNOW WHERE YOU ARE GOING AND HOW TO GET THERE. Google maps! people.
Practice, much like with most things in life, makes (biking) perfect. Most novice urban bikers just tend to use the bike to get to and from work and that is, as anyone who drives knows, the busiest time of the day to take to the road. Busiest also means the most stressful. Take your bike out early in the morning, on weekends, during lunch breaks-get to know it, get to learn how it turns, how sensitive your breaks are, how it cruises, test drive it on a few hills and hill declines …. become ONE WITH THE BIKE. Then, once it is time to face a stressful traffic situation together, you can face it TOGETHER vs you and this breakable machine that is a stranger.
Which brings me to my next point: OWN YOUR BIKE. Citi bikes are fine in a pinch but they are heavy and bulky and DC has hills and they are NOT machines you know and therefore not your allies. I recommend a light framed, single speed bike for urban situations. Fixies are sort of show-offy and unnecessary in a city like DC and those ten-speed mountain bikes are too heavy and ALSO UNNECESSARY in a city like DC.
Get a comfortable seat. CHANGES EVERYTHING.
Get a good way to transport shit you carry with you while you're on the bike. I see people biking with things hanging by their side constantly. This is not smart or safe (Esp if you are not a confident city biker). Buy a cross body strap for your bag, buy a cross body bag, buy a bike basket. Put your stuff in those. Have both your hands free to break and hold onto your handles in an evenly balanced way.
Footwear/clothing wise: tie your dress in a knot so it doesn't get caught in anything. Learn to love shorts. Pack those heels and strappy sandals into that cross body bag/basket – trust me.
Don't drink and bike. In fact-don't do anything involving traffic and drinking unless it involves ordering yourself a cab/uber/hailo.
In the early stages of bike confidence – don't yell or wave at people. They'll live if you don't yell or wave at them. You may not live if you are so distracted by yelling or waving at people that you miss a STOP sign or someone trying to pass you.
ALWAYS LET PEOPLE PASS YOU. You're going places, not racing places.
Don't listen to music on your bike (and even then: just one earbud) unless you can truly handle everything that is going on around you. But if you do, listen to this song first (or right before you get on your bike). It changes everything:
Enjoy it. Seriously. People around you are suffering from butt cheek sweat while walking (hello DC summer!), experiencing pre-emptive road-and-parking-ticket rage in their cars, breathing in someone's armpit on the metro – you are in the open air equivalent of a transportation unicorn: wind in your hair, sun on your face, magic. I repeat: enjoy it.
You want to drink with bike messengers. They're in great shape, risk their lives for very little pay and are extremely friendly if you don't treat them like a local carnie. Buy one bike messenger one drink and you'll be taken care of for the rest of the night. Keep in mind that you are probably not as in shape and can not handle the amount of alcohol these brave souls can consume in one sitting.
After many double-blind science-related tests, peer-reviewed scholarly research activities, and other things, the data sets have been coagulated into the following findings by our over-sexed and extremely physically fit biker-scientists.
First and foremost, biking allows anybody to show off their assets in a most flattering way- 69% of subjects reported photos of people on bikes to be significantly "hotter" than photos of the same person sitting on a bus. Every body benefits from what experts in the field call "bike posture," characterized by a long, straight back, broad, open chest, activated glutes, and strong arm placement.

Cyclists are perceived as 75% more confident by potential mates. Who seems like a more advantageous match, a depressed oaf waiting for public transit, or a glistening, muscular cyclist in control of their commute and thus their destiny? They may not have a handle on anything else in their life, but at least track work isn't going to murder their commute.

People on bikes are 136% more likely to initiate successful conversations with other strangers on bikes. Sometimes it can be weird to start a conversation with some babe you see, but when you're both on bikes, you automatically have a common ground and unspoken understanding of one another. Most successful ice-breaker reported between biking strangers: "Hey."

On average, biking has been found to 5 times cheaper than owning a car, 3 times cooler than taking the Metro, and basically negates your need for an expensive gym membership, thus freeing up excess funds to buy whiskey and condoms.

When compared to non-cyclists, the sexual partners of cyclists reported that pelotons are 27% more likely to be called "calm," 38% more likely to be called "patient," and have 270% the "stamina" of non-cyclists. Sting has tantric yoga; YOU have cycling uphill against the wind in rush hour traffic. You are unstoppable.

All things being equal, scientifically-proven "boring people" still have a 35% chance of being perceived as interesting when they are thought to be cyclists. Biking is an insta-hobby, and something you can talk to people at parties about instead of your boring job or your cat.

The bike is the perfect excuse machine. In a recent Finnish study, subjects reported 71% more likelihood to feel sympathy and forgiveness toward a flaky date-canceller if the canceller used a cycling-related excuse such as a flat tire or "icing their thighs after a 32 degree incline 40-mile ride for children's leukemia research."

Biking allows for maximized eye contact, with minimized creepiness. 100% of attempts by sexual pursuers in large black SUVs with tinted windows failed. At least 42% of cyclists approaching a potential sexual partner were at minimum not persecuted.

Lastly, a bike ride is the cheapest and laziest date idea on earth, and the only cheapskate activity that still retains respectable levels of "adorability" and "creativity" in popular perception. So even broke people can get laid, with the help of a bicycle.
Small, sweaty, dedicated teams of social scientists and cycling professionals around the world are still investigating this rapidly evolving field, and new studies and findings are emerging daily. So keep yourself informed and keep getting laid by lots of sexy biker babes, and don't forget that the sexiest thing of all is a nice flat damp head of hair recently unsheathed from a helmet.
Speaking of helmets, Lisa is right, no one gives a shit if your hair isn't perfect if you were wearing a helmet. If you're ever feeling insecure about how you look while wearing a helmet, just remember, Jake Gyllenhaal was in Bubble Boy and has no trouble finding people sexually attracted to him.

5. Premium Rush
It's ridiculous on its face to see Joseph Gordon-Levitt as a fixie-loving bike messenger for whom a BMX bike is basically a superpower. Still, this a terrific New York chase film that knows its place.
4. Pee-wee's Big Adventure
Before Tim Burton became a boring parody of himself, his debut film was brimming with wit and energy. Pee-wee spends the whole movie searching for his bike, and his plight inspires sympathy for anyone who has lost their treasured conveyance.
3. The Armstrong Lie
Lance Armstrong is an obnoxious asshole, one who deserves more public scorn than he's probably going to get, and Alex Gibney's lucked out with his documentary about the former Tour de France champion. While it's easy to hate Armstrong, it's important to remember that his lies and power would be nothing without a media who wanted to love his story.
2. The Triplets of Belleville
This is gloriously weird animated French film, one that involves a chase with a mute young cyclist whose legs are thicker than his head. This one is inventive from beginning to end, and it's comically-exaggerated characters are memorable than anything done by Disney.
1. Breaking Away
Sorry, Bicycle Thieves, Italian neorealism has got nothing on a pleasing, all-American coming of age story. Breaking Away is the story of Dave and his buddies, including Daniel Stern and Dennis Quaid, who decide to compete in Indiana with a professional racing team. I'll take Dave's piss-poor Italian pronunciation over the real thing any day of the week.
Your bike will get stolen. While that's not OK, you're going to be OK. I have had multiple bicycles stolen because I bike exclusively in cities. The most recent theft occurred outside the Portrait Gallery. The bike was locked up in view of the security guards at the Portrait Gallery. The security guards at the Portrait Gallery do not care about your bike. Since then I have invested in a heavy duty Kryptonite New York Fahgettaboudit U-Loc. I hate this lock. It's heavy and uncomfortable. No one will steal my bike.

BYT does not advocate bicycling while wearing headphones and listening to music. That being said, we know that people that bicycle with headphones on while listening to music will not be persuaded to go without sound, so, here's a playlist. Once again, not advocating, we're just not ignorant to the people around us. ATTENTION TWITTER, WE DO NOT ADVOCATE BIKING WHILE LISTENING TO MUSIC. -ed.
So you're on your bike, and whether about to set out for spin class, the open road or just for leisure, this playlist has a bit of everything for you – the cycling enthusiast. Yes, I'll blow a few surprises. "Bicycle Race" by Queen and "Handlebars" by Flobots are here. As well, there's some pulse pounding and super high intensity tracks, hard rock to engage your muscles in going up that hill, and a few tracks that are there to just keep you in the zone of getting the most out of the journey. And no, Journey is NOT here, because putting "Don't Stop Believin'" on this playlist would've been boring and expected. In any event, do enjoy this one as it's definitely intended to best provide the feel of the ideal cycling experience!

Are you currently not wearing a helmet? Sounds dangerous to me.
Whether you want to cover your cranium AT ALL TIMES (as I would recommend) or are just looking for some extra protection when you go biking about the city—you want to be sure your helmet doesn't make you look like a square. There are a few ways to do this. The first is to ensure your helmet is not a square. As they say, "A square makes a square." Also, you want to make sure it is not ugly. That is also definitively helpful. Last, but certainly not least, I would say a sure way to avoid being a square in a helmet is to choose to don one of the following five picks. I picked them. They're good and for sure not square.
ENJOY YOUR BIKES, NERDS:
Bell — Faction (Artist Series)
Covering back to back photo assignments in the district can consume tons commute time. If you can stay light, biking is the best way to get from an editorial assignment in Dupont Circle to the concert at 9:30 Club and then towards the art gallery party or nightclub/bar. This sums up a Friday night for some photographers. But you can't really breeze through traffic with ease (and less sweat) with a 75 pound gear bag. Take out all the unnecessary bulk from your bag; subdue from using a battery grip and keep an extra battery in a tiny pocket of your bag, only bring the lenses you think you'll need for the day, and leave enough room for your bike lock when you're riding and an energy bar just in case you need fuel.
Telephoto lenses would be the most ideal in terms of staying efficient and covering a wider range. I use a small shoulder bag that carries my Canon 5d Mk III attached to a 24-70 lens along with a 70-200 and speedlight in the same compartment. This pretty much covers the essentials I would need for most editorial assignments and natural light portrait sessions. It's very key to bring extra batteries, so in the small side pocket, I keep an extra camera battery and double A's for the flash as well as a lens cloth. As for everything else, my camera strap rests on top of my camera with a few memory cards inside a pouch and I still have enough room for business cards, pocket wizards, energy bars, and a U Lock.
WHAT FOOD ITEMS TO BRING ON YOUR BIKE ADVENTURE BY STEPHANIE BREIJO
1.) Stay Hydrated. One of the most important commandments of biking–especially in the spring and summer–is nearly biblical in its importance; Thou Shalt Hydrate or thou shalt faint, wipe out, and subsequently wind up in one serious accident, maybe a coma, maybe a morgue. OK, maybe it won't be that dramatic but let's avoid the scenario just in case and make sure we're not sweating out all our fluids and sodium. You can calculate your sweat rate but I find it's easier to fill up one standard water bottle, attach it to your bike with a cheap 'n' handy bottle cage (this will only set you back $4 to $10) and refill it at every stop. Once you've got your water under control we can move onto other forms of liquid enjoyment, which will in turn dehydrate you. Drink plenty of H2O so that when you eventually splurge and buy one of these sweet leather wine holsters we can call it breaking even.

2.) Pack Accordingly (and Keep It Fresh). You'll find a number of bike baskets around the Internet to suit your biking food needs, whether they're you're standard metal front baskets or rear racks with panniers. The latter typically include two bags, one hanging across each side of your wheel, and will carry roughly 20 to 50 pounds of weight. Be warned: if you bike with panniers, you could very well end up as the Friend with the Truck helping everyone carry and transport their junk to and from your picnics (but more on that in a bit). If you're a frequenter of farmers markets, might we recommend a detachable tote basket? Many are reminiscent of ye olde bygone days of popping out to the store with a quaint wicker or wooden basket on hand, so you'll look oh-so-Kinfolk adding fresh, organic produce to your bike before zipping off to brunch or whatever. Add a baguette to let everyone know you're just so Parisian. Speaking of Parisians, if you're biking somewhere with cheese or any other perishable goods, try an insulated bike basket for best results.