Welcome to winter, the international (or at least, above-the-equator) season  for cozying up next to the fireplace with a comfortable sweater on.  Conveniently for you, we have the sweaters. And the fireplace. Go nuts.
Every day this week we will focus on the finest components of the bundling up process. Check out our SWEATER GUIDE (men's! women's! nordic! holiday themed! elf centric!) our MITTEN AND SCARF GUIDE (because, scarves and gloves deserve love too!), our BOOT AND SOCK GUIDE (boots and camp socks rule), and yesterday's WINTER HAT GUIDE (dry shampoo for hat hair not included).
Today, we're giving you the prime wintertime clothing option: pajamas. We even have a list of the best new Netflix and On Demand movie options this week, so get cozy.
—– For the Ladies —–
Thermal PJ Set – (Forever 21)
PJ Salvage Winter Cool Striped Thermal Pajama Set – (Bloomingdale's)
Free Bird Long Sleeve PJ Top with Shorts – (Revolve Clothing)
Gisele Sleepshirt – (Neiman Marcus)
Solow Hoodie & Button Up Leggings PJ Set – (Shopbop)
—– For the Gents —–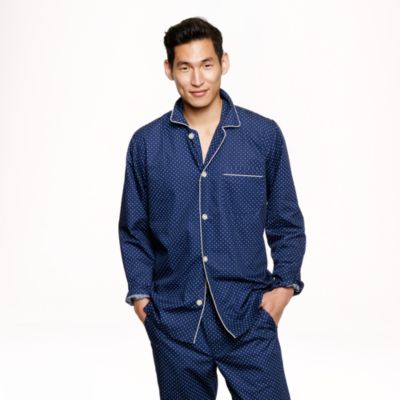 Slim cotton poplin pajama set – (J. Crew)
Stafford® Microfleece Sleep Pants – (JCP)
Stacy Adams Underwear Men's Regular Sleep Pant – (Amazon)
Shades of Grey Egyptian Lounge Pant – (Blue and Cream)
T BY ALEXANDER WANG Black Melange Knit Lounge Pants – (Ssense)