Behind The Desk 90: Roger Ebert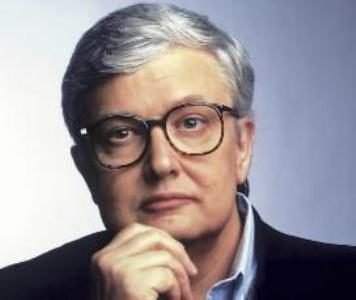 Brandon Wetherbee is the host of the talk show/podcast You, Me, Them, Everybody. He'll be at the Wonderland Ballroom tonight. He named the show after a line in "Blues Brothers." In Ebert's review of the piece, he says "It's a big, raucous powerhouse that proves against all the odds that if you're loud enough, vulgar enough, and have enough raw energy, you can make a steamroller into a musical, and vise versa.
Roger Ebert has passed away at the age of 70. The prolific critic and writer expounded on the human condition for 46 years in The Chicago Sun­Times and on rogerebert.com. I can reveal no truth he hasn't. I can express some gratitude and write about the few times our paths crossed.
I grew up in the Chicago suburbs. Our family read the Chicago Sun­-Times. Religiously. We got it from the blue box at the corner of Gardner Rd. and Canterbury St. in Westchester, Illinois. When that box was out of papers we went to the White Hen. The White Hen always had the paper. Once my grandparents were done with the daily, I looked through the sports section and read at least part of the Richard Roeper column and Roger Ebert reviews. 'The paper' has been part of my life from the age of four.
I watched "At the Movies with Siskel and Ebert" with my grandparents. I liked the bigger guy more than the thin guy. I wanted to make movies the guys from Chicago would review.
I made a few movies, only one long enough ever to be reviewed on "At the Movies." By that time it was "At the Movies with Ebert and Roeper." The movie wasn't very good. It was bad. It was never reviewed on "At the Movies."
I watched some movies with Roger Ebert. We didn't talk and he never knew my name. I was the editor of the arts section of my college newspaper. He was the Pulitzer Prize winning critic of the Chicago Sun-Times.
For one glorious school year, the fall of 2004 to the summer of 2005, I was lucky enough to see movies at the screening room on Lake St. in downtown Chicago. A wonderful piece in Esquire paints a vivid picture of the small screening room.
I sat in the middle aisle, in the middle of the row of the small theater. Mr. Ebert sat in the aisle seat nearest the door. I remember our first screening together. A few seats down from me was the Chicago Reader critic. I came with my friend, the editor of another college newspaper. Behind us, to the left, sat Mr. Ebert.
The movie was OK, nothing to write home about. It was neat to see anything in that room. It was special, way better than any big theater with stadium seating. But this is what I remember the most.
After the screening Mr. Ebert was greeted by his wife Chaz. They began to chat. She brought lunch. They ate lunch together. A couple in their early 60s shared lunch together. They were happy. He was dressed in what you'd see on "At the Movies." She was wearing a pink, velour tracksuit. They were in love.
I never introduced myself to Roger Ebert in the screening room. I was too intimidated. Besides Studs Terkel, no one else that used their words to make a living scared me. But Studs and Roger, those guys made me feel like a kid. I was intimidated and inspired.
A few years later I saw Studs Terkel in an Indian restaurant. I asked my fiance if it was Studs. She confirmed it was Studs. I ran, which was not a good idea, to the used bookstore a few doors down. I bought all their Studs books. By the time I returned Studs was gone. Studs passed away a few months later, on Halloween 2008.
When Roger Ebert signed copies of his biography of Martin Scorsese on November 6, 2008, I decided to skip work to meet the man I sat in front of on multiple occasions. By this time Ebert had lost most of his chin. He was not able to use his voice. He was prolific as ever, beginning the final act of an already impressive life.
I did not buy "Scorsese." I was a scumbag at the time and could not swing a $25 book. The staff at Borders were not being cool about the legendary critic signing his other books. Chaz was cool about her husband signing any of the books I brought. A fan is a fan.
Mr. Ebert's wife was acting as Roger's voice that day, thanking fans for coming out for autographs, support and well­wishes. Roger Ebert signed my book, "To a fellow movie fan." I thanked him. I expressed my admiration for his work and his touching obituary for his recently passed friend, Studs Terkel. It was the first and last time I talked to Roger Ebert.
My talk show did a week of shows in New York in October 2011. The shows were awful. I felt like I had beat myself up over five nights. On the drive back to D.C. Roger Ebert tweeted about an excellent article the drummer of my house band/driver wrote. Within an hour my friend's Twitter feed grew. A lot. By a few hundred people on an otherwise uneventful Sunday. A 68­year­old film critic was able to shine a light on something well­ written by a 29 ­year ­old academic. The article was not about film. It didn't matter. Good is good. Ebert knew that.
Ebert, along with Studs Terkel and Mike Royko, are the guys that I want to be. They were passionate individuals that knew they'd screw up, but also had a deadline. There isn't enough time in the world to be perfect. There isn't a reason to fear death. You're going to be wrong. You're going to say things you regret. You're going to make the world a better place as long as you try. What I'm saying here, it's being said by everyone else. Ebert did it right.
The things I've taken from Ebert aren't in his film reviews or books, but the few moments we spent in the same room. Have an open mind to all art and maybe most importantly, you're going to have a great life if you're willing to give yourself to someone else. Roger Ebert's greatest accomplishment was his marriage to Chaz. Ebert was an unhappy alcoholic until 1979. He met Chaz in the late 80s. They were married in the early 90s. By the time I saw them, they were married for a decade. They still liked each other. A lot. A few years later, after cancer had taken a toll on his body, they were still in love. He passed away in love.