BYT+AC Memory Lane 1: Tripping Balls with Animal Collective
July 5, 2011 | 3:45PM
ANIMAL COLLECTIVE is playing Merriweather Post Pavillion this Saturday. SHOULD BE a perfect show to roll up and down those hills to. As we've covered/interviewed the band MANY TIMES over the years, we figured we'd do a week-long homage to it where we can revisit those BYT/AC tender moments one at a time. First up, a classy September 2007 interview Cale did with Geologist.
A couple weeks ago I sat down with Geologist, aka Brian Weitz, the local DC member of indie freak-out superstars Animal Collective. They're currently on tour and just dropped "Strawberry Jam" earlier this month on Domino. Noisy, psychedelic, experimental, and often soul-crushingly beautiful, Animal Collective continues to put out some of the most creative music in recent years. They'll be hitting the 9:30 Club this Friday.
Brightest Young Things: First things first, can you send me a hot exclusive self portrait?
Brian Weitz: Here you go:
BYT: Wow, where can I get those glasses?
Brian Weitz: The outdoor market by the harbor in Bergen, Norway.
BYT: On it! What's your favorite piece of equipment?
BW: Even though I don't use it anymore, I think my favorite is a Roland SH-2 Synth. It's great for bass sounds, and it has an input so you can run an external signal through it and use the synth controls to effect the signal. We've put vocals and guitars through it. Once we mixed down the basic tracks of a song and thought it was kind of boring so we ran the whole mix through the Roland and then did overdubs on top of that. It's broken right now but I'm hoping to fix it so I can use it again.
BYT: Good luck with that. How would you describe the style of music you play to my mother?
BW: "A rock band" because that would end the conversation as quick as possible. No offense to your mom or anything.
BYT: None taken, you DJ too right?
BW: Yeah, quite a bit, though I pretty much always use either CDs or my iPod. The iPod can be a bummer because it doesn't mix the songs together. I only have one. My vinyl collection is not big enough to sustain multiple DJ nights since a lot of it isn't even appropriate for a DJ set. Too many Sun City Girls records in there.
BYT: Vinyl is overrated, get one of these:
Is it DJ Geologist or do you have a different DJ name? (If not, let's make one up)
BW: It's DJ Geologist, or Geo depending on how much room there is on the flier. But feel free to make up a better one if you don't like it.
BYT: No no, it's fine, I dig it. I also like DJ Tanner. But some genius chick DJ already took that. Ok, match the animal with it's collective:
a) Cheetah
b) Eagle
c) Gerbil
d) Hedgehog
e) Wallaby
1) Mob
2) Coalition
3) Convocation
4) Array
5) Horde
BW: Where's "Murder of Crows"? I don't know any of these so I'll guess. Make sure you correct me though so I can learn.
a) Cheetah = 3
b) Eagle = 2
c) Gerbil = 1
d) Hedgehog = 5
e) Wallaby = 4
BYT: You didn't do very well, answers below. So what's the skinny on the new album? Who plays on it?
BW: It's all four of us, same lineup as Feels, and almost the same instrumentation, though we tried to make the guitars sound different this time.  We wanted them to sound unlike guitars as much as possible, or at least experiment with guitar sounds that are a lot different than any we've used before. We also decided to take a break from layers of vocal and guitar overdubs since we did that a lot on the last few records.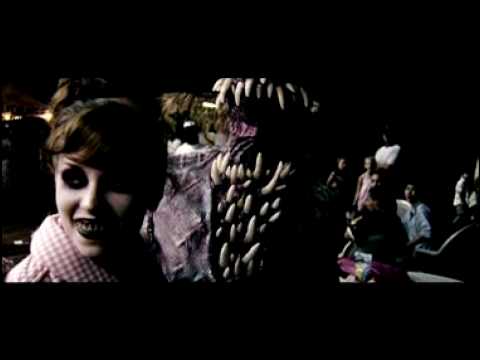 "Peacebone", the first video/single from Animal Collective's new album, Strawberry Jam
BYT: I read on Wikipedia that it has already leaked, does this piss you off or could you care less?
BW: I'm used to it by now. You have to expect that it's gonna leak. The way it was leaked (a few songs at a time) was kind of a bummer. You just don't want people to get sick of it. Plus I always liked the idea of a release date where everything drops on one day. But at the same time it helps get people psyched, and new people are reading and downloading from blogs every day, so the internet helps spread the word, which is the primary goal.
BYT: Your shitty ass web site isn't spreading any word that's for sure. Just sayin'.
BW: Noted.
BYT: Larry Craig, bi or totally gay?
BW: No opinion. I used to work in the senate. I never interacted with him or his staff though. I did meet a girl who worked for the other Idaho senator (Crapo).  She sucked.
BYT: Shocker.  Besides Larry's sexual orientation, what else do you have no opinion about?
BW: Whether or not Tony Soprano is dead.
BYT: What is your least favorite restaurant of all time? Mine: TGIFridays
BW: The Cheesecake Factory. The food is never worth the wait. There is no reason why someone should wait 30 minutes for a table there.
BYT: Do you eat animals?
BW: Yep, though a few weeks ago i was in Peru and I ordered guinea pig. They served you the whole thing laid out on its back. I just thought it'd be the meat. It didn't even taste like anything special; it tasted like chicken. My family had a guinea pig when I was younger so looking at this one made me seriously consider going vegetarian. Sorry Cinnamon.
BYT: Aw, Cinnamon!  How the hell do you ever get anything done with all the band members living in different places?
BW: Everyone has to work on their own during the breaks and show up to practice (which happens for a week or two about three times a year) with as many ideas as possible. We've started using email to send stuff to each other, but only in the last couple of months.
BYT: What is this I hear about you being on Entourage?
BW: We weren't. One of the producers emailed us last time we played LA. I guess they were going to have an episode where they were considering having a live band playing at a club that the characters went to and they wanted it to be us, but they had only heard us on record and wanted to see out live show first. We didn't really care because we didn't think we had any chance anyway, but we thought maybe it'd be fun to do and once we were there to play some of our weirder material. So he came to the show, supposedly along with Vince, and we never heard from him again. Oh well.
BYT: Honestly, I've never seen it. I'm pretty clueless when it comes to TV.  It is a TV show right?
BW: Yeah, I thought it was pretty fun the first couple seasons, but it's not as sweet anymore. It probably would have been fun to be on though.
BYT: Maybe someday Brian. Maybe someday… probably not though.  Anyway, you turned down our photo shoot offer.  Why do you hate photo shoots so much?
BW: I don't know if I'd use the word hate because sometimes they can be fun if the photographer and us have similar aesthetics and we get along. It's rare though. It's more that we hate doing them on tour. they can take up a lot of time and tour is already short on relaxation time. After a day's worth of driving, loading in, setting up and sound checking, you just kind of want to eat a nice dinner and drink a few brews before playing. The last thing you want to do is stand there for an hour while a photographer says things to you like "You don't have to just stand there. Move around, do something interesting." and you're like "huh, there' snot much I can do while I stand against this wall… should I put my hand in my pocket, or should I jump in the air?"
BYT: Fair enough, but I guarantee our photo shoots are more fun than that.  Maybe next time.  Looks like you're playing bigger venues this tour – are you nervous?
BW: Actually with the exception of a few cities, they're not much bigger than the last tour we did. I'm not really nervous. We've done a bunch of outdoor festivals now where we play to a lot more people than we've ever played to in a club. At a certain point large crowds just kind of blend into one big blob. Sometimes I get more nervous in really small venues when the people are right in front of us and its possible to make eye contact.
BYT: You're touring with Tickley Feather, who is that?
BW: She's a musician from Philly. We met her through our friend who we've worked with on some film and video projects and she acted in one of them. He had been telling us for a while that we should checkout her jams and a few months later she gave them to us. We all liked them a lot so we asked her to put something out on [our record label] Paw Tracks, which she's working on now. She'll be on tour with us from Tucson back to the east coast.
BYT: Name an album that everyone in the band agrees is brilliant and one where there is some differing of opinions.
BW: Surprisingly, there are much more of the latter. I think everyone agrees that Quasimoto's "The Unseen" is brilliant. there is a strong difference of opinion on the first Joanna Newsom record. I'm in the stoked camp when it comes to that one.
BYT: Well, you're right and they're wrong about Joanna Newsom.  Ain't no debatin'. Who do you think would win in a fight between her and Vashti Bunyan?
BW: Well Vashti is a lot taller, but Joanna is probably stronger from carrying that harp everywhere, so I'll go with her. The height advantage didn't seem to do much for the Russian in Rocky IV.
———————————–
Cheetah = Coalition, Eagle = Convocation, Gerbil = Horde, Hedgehog = Array, Wallaby = Mob