I'm not sure if it was last week's write-up on Paula Deen's big news, or if a big ol' pot factory upwind somewhere burnt to the ground, but everyone seems to have the munchies this week. This week, food is BIG. Like, disgusting country-style buffet big. Like a Fresh Choice salad with ranch and bacon bits big.
And I'm not quite sure why, either.
Before we go crazy with conjectures, however, let's get started. And this time, from the bottom up.
1. Epidemic Bottom: McDonald's Is On A Rampage
The world's favorite burger and nugget slinger, McDonald's, was all over the news this week for a variety of reasons. One of the reasons is above: 17-year-old Stacey Irvine of Castle Vale, Birmingham suddenly collapsed and was rushed to the hospital for unknown reasons. As doctors began inquiring about the teenager's eating habits, Irvine stated that she has eaten nothing but chicken McNuggets since the age of 2.
Yikes.
As doctors ran tests to evaluate the girl's health, they found swollen veins in her tongue, and anemia, amongst other health complications. When the UK media finally got a hold of Irvine, she said the following about her diet: "I am starting to realize this is really bad for me."
Uh, duh. Where have you been for the last 17 years?
Hey, at least her nail polish is cute.
Additionally, McDonald's made news this week by releasing their quarterly earning report, which says that their fastest growing area of business is between midnight and 5pm. I mean, what drunkard doesn't like some salt and grease to push down the slippery nipple shots? When will they cut out the middle man and just batter the nuggets in 4Loko?
The report is below: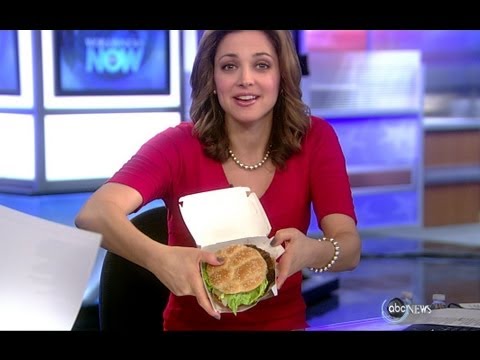 Mmm, now I'm hungry.
2. Bottom With a Red Velvety Center: Miley Cyrus' Penis Birthday Cake
This week was Miley Cyrus' boyfriend's birthday, so she did what any loving girlfriend would do for her heterosexual boyfriend – she got him a birthday cake shaped like a penis. Duh. Because any chance Miley Cyrus can turn an event or celebration into a bachelorette party, she takes. Remember her stint on the Teen Choice Awards in 2009? When she was  16? Oh My Gato.
If you need a refresher:
I mean, she may not be eating chicken McNuggets every day, but strip dancing and chocolate covered cakes can't be all that good for you, either. I mean, I got my first penis cake when I turned 24. And even that felt a little premature … and was filled with strawberries. See, some nutritional value.
Is my prudish side showing yet?
If you need further proof of inappropriateness … enjoy.
Cannot. Unsee.
Seems like everyone has dick on the brain these days. Can't say I blame them.
3. Kinky Top: Girl Saves Mother's Life … With A Slice Of Pizza
Okay, so the pizza itself didn't save her mother's life, but there was definitely a slice of pizza involved. 7-year-old Lisa Lawlor of Sarasota, Florida found her mother unconscious in her bedroom. Before calling 911, Lisa Lawlor tried to revive her mother and wake her – one of her techniques included slapping her mother in the face with a slice of pizza. When her mom still didn't wake up, she dialed emergency and had paramedics over to resuscitate her. I bet it was a slice of vegan pizza – I wouldn't wake up, either.
Little Lisa received an award for the valiant act by the Sarasota Fire Department this Tuesday. You go, girl!
In celebration of another life saved, here is a picture of Michelle Obama eating a taco. Chicken taco, so it's healthy, ya'see?
4. Princess Tops: Hipster Disney Princesses
Now that you are all adequately full, here is something to satiate the cute meter (since there are no old folks doing sweet things, kids dancing or making music videos, or any videos of anyone dancing this week); Disney princesses re-imagined as hipsters.
I am always partial to Ariel but I also think she has got to have one of the best outfits out of all of the princesses. Mulan looks super frumps, and Kida looks like the poor-man's version of Storm from the X-men. No thanks. Who's your favorite, and is she done right by the artist?
Oh, what the hell, ready for dessert? Here is some more food for you to look at:
—
Have a great weekend, and stay full – and stay classy, too, like this chick here: