Top Chef All Stars Recap: Black & Other Italians…
February 3, 2011 | 10:45AM
After a week's break (I think they just needed a breather after how emotionally involving it was to shoo Marcel off) TOP CHEF ALL STARS was back this week in one of the more enjoyable episodes in a while. It was kind of a back-to-basics night, all about (individual) cooking and time management skills, but first, we had to endure the quickfire.
Isaac Mizrahi showed up peddling his "Fashion Show:Ultimate Collection" (is anyone even watching that these days?) and announced, in true aging manorexic style, that they are to make a plate that is NOT GOING TO BE EATEN, JUST LOOKED AT.
Now, before anyone did anything you sort of knew Richard was going to win this one because with all his techniques and hair, how could he go wrong?
Still, it was pretty entertaining to watch Angelo write CROCODILE on his table for his Roberto Cavalli inspired plate ("My two passions are…. food and…. fashion" he sighed into the camera, his caterpillar eyebrows arching unnaturally, making us all wonder, yet again, about his professed straightness and mental strength), as well as have Dale namedrop his girlfriend again and attempt street art on a plate, and have Fabio attempt to sell three sad lumps of tuna as "beautiful ladies hiding from the rain" (the rain being lemon juice he was sprinkling on them, of course)
But Richard did win the challenge AND immunity and then, three gentlemen looking like they walked off of a set of "Goodfellas" walked in, the camera cut to Fabio looking as happy as a pig rolling in shit and we all knew it "WAS AN ITALIAN CHALLENGE".
The idea was that the chefs would cook a traditional Italian feast, to be served, family style, at RAO's one of those mob-like Italian restaurants where "a reservation is almost impossible, the tables are basically owned and passed down generation to generation". So yeah.
The chefs were to cook on their own but they were divvied up into categories by course:
Antipasti (starters!)-Carla, Antonia (the Italian American in the group) and Tiffany
Primi (pasta dish)- Tre ("they do call me the black Italian"), Mike Isabella (the Italian American in the group) and Dale
Secondi (meat dish) – Angelo, Fabio (the Italian American in the group) and Richard
The beauty of it all, as we mentioned before, is that Italian food is fundamentally simple. All it comes down to is using good ingredients, doing them justice, and of course, if you're the Italian American in the group, not effing it up and making your Gradma back home watching this ashamed.
Which, of course, meant that ONE of the Italian Americans in the group was going to drop the ball bigtime.
Nothing really bad happened during prep, but we did learn that Tiffany used to work in an Italian restaurant, that Dale makes Italian food for his girlfriend all the time (what's with the constant girlfriend talk Dale? are we trying to overcompensate for something?) and that Mike Isabella "really wanted to show off his fresh pasta making technique" even if Rao's people told him that they use dry pasta because it is less trecherous. Also, Antonia noted that Tre was not making his risotto the way he should be and Tre was so confident in his risotto you could almost see an "exit" sign flashing above his head.
Then it was dinner time! Lorraine Bracco, was there talking about eating there with Ray Liotta and Joe Pesci while filming "Goodfellas", which was great because it gives me a chance to run this Scorcese steadicam shot for you here and I welcome any excuse to do so: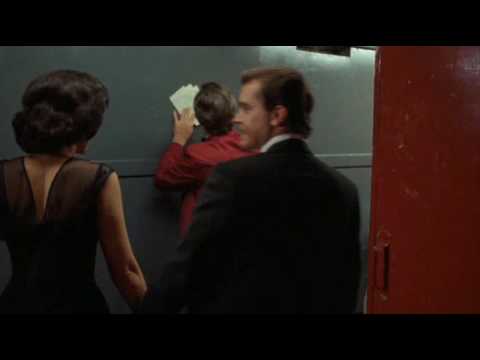 But family chit chat aside, everyone was there to eat. The antipasti ladies served up: mussels in white wine (Antonia), a minestrone soup (Carla) and a polenta with sausage which burnt but was magically salvaged (Tiffany). Everything was delicious and loved by everyone (one of the fellas did describe the soup as "something you could get in Wisconsin" but no one took him too seriously). Well done you nice, civilized women of TOP CHEF ALL STARS!
Then it was pasta time and from the kitchen hustle and bustle you could see the boys were not doing well. The pasta was not cooking, Dale's process looked positively pedestrian even for a simple pasta dish and Tre was still so confident I just wanted to shake him. Needless to say the food was "uncooked", "unsauced", "overgarnished", "bland", "uninspired". And as Dale ONCE AGAIN mentioned his girlfriend, Lorraine felt the need to say that "if this was my boyfriend cookin' he would not be getting laid tonight" and with that basically sealed his bottom three destiny.
After that-it was meat time and Richard, Angelo and Fabio all delivered. Especially Fabio's chicken and polenta dish ("I used to go hunt pheasant with my granpa") was a hit (even the normally anti-Fabio Bourdain announced "This polenta made me feel ok again after the last course") and then…it was onto the judges' table.
EVERYONE WAS FREAKIN' OUT IN THE STEW ROOM and as Tiffany, Antonia, Carla and Fabio were invited up front for what turned out to be the top 4, you could feel the collective egos in the room just being completely crushed.
In the end Antonia won but only because, I think, they wanted to devastate Fabio more ("I MEAN, SHE STEAMED SOME MUSSELS WITH FENNEL! GIMME A BREAK!") and set up a scene for some kind of impending rivalry.
All the pasta chefs were on the bottom and I could see them all going home since they all made cardinal errors in judgment. Which, actually, may have been a nice twist: "Sorry, you just don't belong here if you can't cook pasta". But, the judges had to stick to however many episodes they promised BRAVO in their contracts and so only Tre was sent home for his too stiff, too garnished risotto (in retrospect probably the least disasterous of all three dishes but hey….)
NEXT WEEK THOUGH-JIMMY FALLON IS ON TOP CHEF AND I AM P.U.M.P.E.D. and you should be too.
NOW-USE THE COMMENTS LIKE YOU KNOW YOU CAN.