I would like to start this assessment of "Beginners" boldly by saying: as a reviewer I feel my primary job here is to say "PLEASE GO SEE THIS MOVIE AND SEE IT NOW". In a sea of purposefully summer audience targeted movies (and the sporadic purposefully non-summer audience nugget) Mike Mills' comedy stands as a beacon of what a summer movie SHOULD BE, in my mind: thoroughly entertaining, funny and charming, phenomenal to look at, slightly fantastical and yes, with a heart filled to the brim with all the kinds of love we feel in our lives.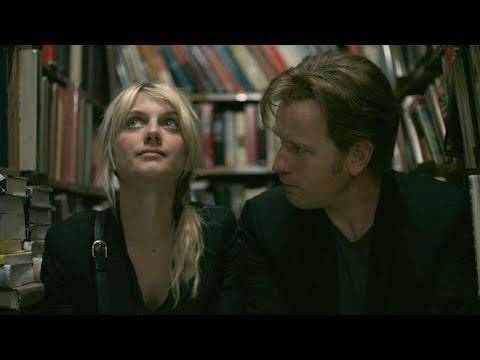 Mike Mills is a wonderful man. I've thought this ever since I became obsessed with his humans website, thoroughly enjoyed Thumbsucker, cried my way through "Does Your Soul Have a Cold?" and then discovered that he's married to Miranda July (I mean, only a truly special man would end up winning her over, right?), making the two of them my #1 couple to invite to a dinner party sometime.
And now, after many years of wonderful and introspective design and movie work, he gets to make the closest to a big, splashy Hollywood movie he'd ever make: a movie with stars (Ewan McGregor, Christopher Plummer…), a movie with a big, summer opening date, and a movie that is still so Mike Mills you could not mistake it for a movie by anyone else.
Of course, it is because stars and budgets aside, this is a very personal story. Here are the facts (as neatly classified by Zach in his interview with Mike): Mike Mills' father did come out of the closet when he was 75 (not long after his wife passed away); Mike Mills' father did wear a purple shirt when he came out; Mike Mills did adopt his father's beloved Jack Russell terrier upon his death; and Mike Mills is a graphic designer (he most recently designed the album art for the Beastie Boys' Hot Sauce Committee Part II).
The rest is what makes a movie a movie: a little sprinkling of magic.
It is, as I mentioned all about love (and loss, which, like in life often follows love):
the re-adjusting love between Oliver and his Dad Hal (a wisened Ewan McGregor and a very game Captain Von Trapp, I mean Christopher Plummer)
the newly blossoming love between Hal and his newfound younger lover (a delightfully uncomplicatedly complicated Goran Visnjic in fine tragi-comic mode)
the infatuation and resistance (because that's how we prevent heartbreak these days, don't we? by not giving in)  in Oliver's affair with a lovely, mysterious, delightfully complicatedly uncomplicated Melanie Laurent (playing that pixie girl we see in most movies but playing her with a big heart behind those liquid eyes of hers)
and everything that comes after (life and love and death all have consequences)
Mills employs a lot of visual and narrative cues and aides (time and place signifiers and comparisons sprinkled throughout, Oscar the dog being subtitled for your pleasure) and while a lot of these could come off as too purposefully quirky or gimmicky in some other setting, Mills' eye is assured and measured enough, and the actors do such a wonderful job of conveying these emotions they're given, that it never feels like that. In fact, the love and the grief felt in the movie are so strong, one almost feels that without these winks and nods throughout, the movie may be a little TOO REAL for us to handle. Just like life itself.
As I mentioned, the cast is an absolute delight, with genuine, easy chemistry between all of them (humans AND animals) and the cinematography washes them in soft, golden, LA tones making them all seem instantly huggable, even when their actions are not (they're all good people and thoroughly likable, but they're also JUST people, they make mistakes). I will not write much more for fear of spoiling it for you. But let me promise you this: you will love this movie like you love any other thing of beauty: because of the reaction you it provokes in you as much as the outright entertainment it provides.
It is the closest thing to art you'll see in a movie theater this summer, and that is not something to take lightly, especially in the cinematic climate we're experiencing right now. Go see it, then talk to someone about it.