all photos: Dakota Fine
Jonathan Fain is the only person in town who, every time I walk into his drinking establishment (which, if you go to Saint-Ex at all, you know is OFTEN) always has "this new thing he's working on that you should really try." Whether it is the champagne/st. germain ice pops, the absinthe foam (applied onto the glass or directly on your fingers), the latest juice/jalapeno infusions or something as simple and amazingly delicious as putting a stick of honey into a Lagunitas (resulting in my favorite beer cocktail in town – Bees in a Beer), something new is always happening and whatever it is, it can be chased down with either champagne or Jameson (or sometimes both as the case may be). He is exactly what a man behind a bar should be: friendly, knowledgeable, and with all sorts of great bad ideas he's about to rope you into without you ever realizing.  So, here is his drink diary, and, as always, things get flowing pretty fast: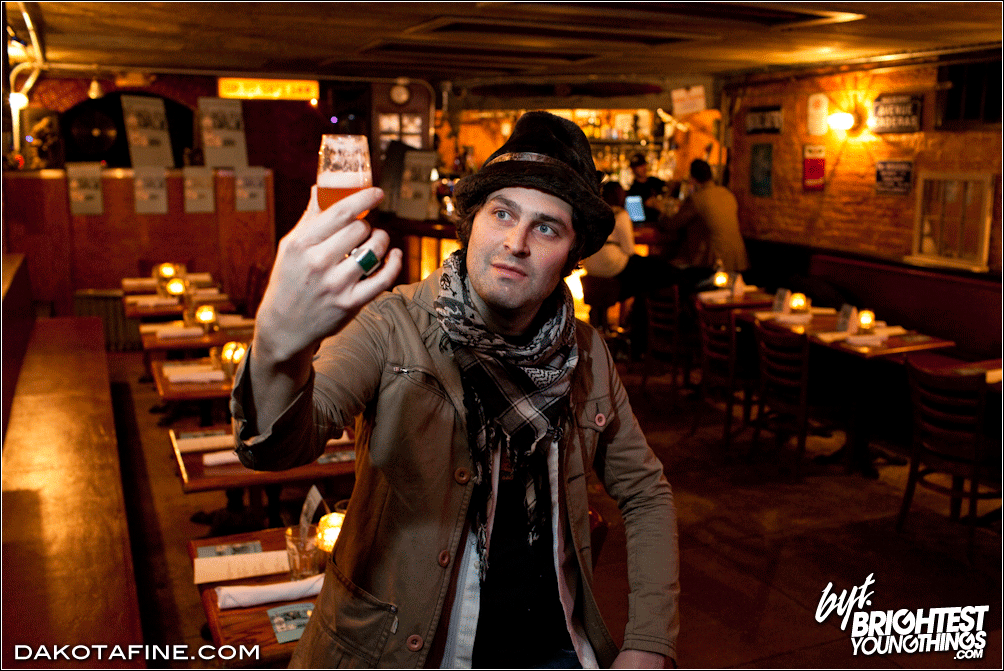 I'm not sure whether I should call this a drink diary, or a diary of an alcoholic. A lot of people think that it must be fun being a Bar Manager and doing Tastings all the time – well, it is. This diary, however, was put off for a month due to a month-long hiatus from drinking, as every once and a while you have to take a break from drinking.
I have decided to start my diary on Monday, in part because this is the day that I will be doing the least amount of drinking.
Monday – day off from work
Start the day with Illy Espresso coffee in a french press.
I go to happy hour at my neighborhood bar, Rustik. I have a couple of IPAs and try to avoid drinking any Jameson. (Unsuccessful)
This was also the night of the Jameson Bartender's ball. It's all-you-can-drink Jameson, followed by a day of wondering why Jameson is an industry shot and why you drank 15 shots of it. I decided to skip it and settled for a couple vodka-sodas at home.
Tuesday – Day 1 of the work week, Managing tonight
This day was a power tasting day. I tasted 20 wines from all over the place. A lot of times, vendors end up leaving me a bottle or two. I also ended up buying Longboard Sauvignon Blanc from Russian River California. This is a great perk of being a bar manager. Plus, I get to share wine with customers at the bar and get their opinion.
Yellow Fever is DJing tonight, and I end up taking some traditional Jameson shots with them. Leave early and catch a beer at the American ICE Company. The amazing Joe Love forces some Four Roses Rye Whiskey down my throat before I leave.
Go to bed.
Wednesday – Day 2, Managing
Coffee again to kick off the day. I'm not sure if I'm getting old, but I tasted a brandy from California and liked it. (Sounds like a song lyric…) Tasted Germain-Robin Select Barrel XO distilled from pinot noir. Produces 10 barrels a year. Also tasted Nude vodka from Oregon made from corn and, despite the name, it actually tasted good.
Tasted 3 Olives Dude vodka. The name says it all, as it tastes like flat Mountain Dew, and even has the yellow #5 in it. I have big plans for this vodka during Gay Pride week.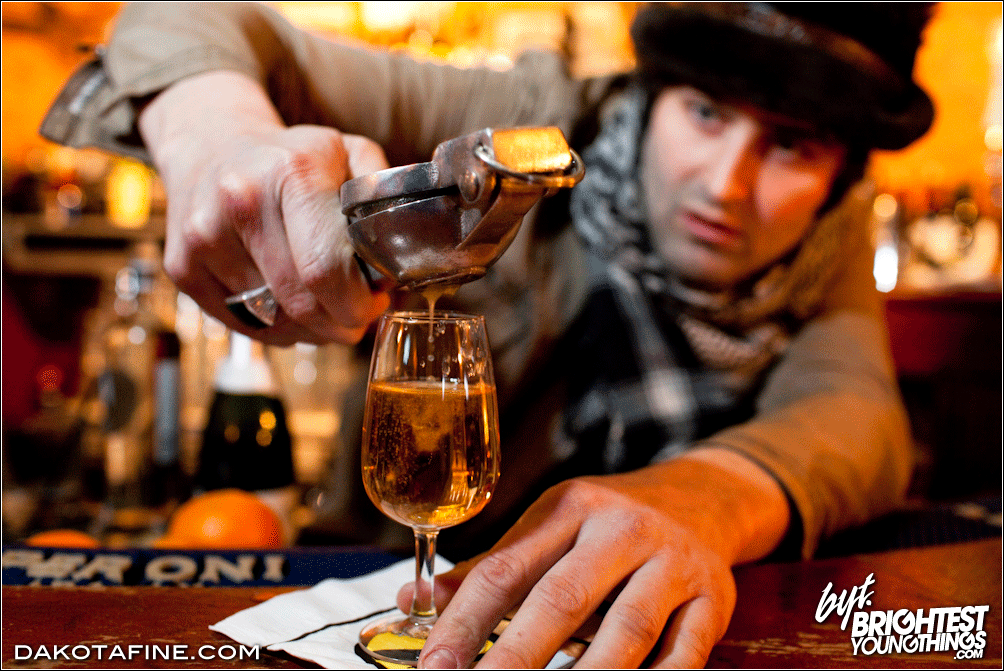 Thursday – Day 3, Bartending
I spend an hour making thyme sour mix and Campari Saint Germain foam. I also decide to make Irish cream whip cream. I then have a late wine tasting around 4pm.
A friend brings some homemade pickles and leaves the jar and juice. I find a couple of friends at the bar and introduce everyone to a pickle back. It's a shot of Jameson followed by a shot of pickle juice.
End the night with a Ron Zacapa 23 year old aged rum.
Friday – Day 4, Bartending
Start the day with Illy Espresso coffee in a french press.
I can sum this day up in three words: Jameson, Kraken, and Powers.
Everyone knows what Jameson is, but Powers is like Jameson's little sister. Kraken is from Trinidad and Tobago. It's 94 proof rum, so it's got a kick, but on the end notes it tastes like vanilla.
I end the night with my signature drink called Champagneson: 1 oz of Jameson topped off with sparkling white wine and garnished with a lemon twist.
Saturdays – Day 5, Managing
Illy Espresso coffee in a french press – the classic. And then off to Bourbon (Adams Morgan) for brunch. I'm not a big Bloody Mary fan, but I end up drinking half of my girlfriend's. For me, it's got to be a tall, cold Flying Dog Eldorado IPA to wash down the grilled cheese and tater tots. Also, more coffee.
Go to work at 4pm.
More coffee at work.
Not a lot of drinking. But I do like to do spot checks of Jameson bottles throughout the night. So I head over to Bar Pilar to make sure that their Jameson is ok. Couple more checks throughout the night at Saint Ex (quality control). Then I end the night with Lagunitas IPA. I find that this beer pairs particularly well with the Manny and Olga's mozzarella sticks. This ends the drinking for the night
Sunday – Day off
I'm not sure if this counts as drinking, but after a long night/morning of managing I don't even get out of bed until the Pho 14 delivery arrives.
Later Room 11 is a solid choice for cocktails. Dan Searing seems to always have something laying around in a jar for a long time that always manages to taste good. This time it was the house made walnut liqueur, Nocino.
I'm not a big dessert fan, but Estadio has blown me away with the cherry float. Adam Bernbach used to be my roommate, and I'm wondering why he never made that at home.