DC Beer Week started yesterday (but that was just a big cruise on the Potomac to kick things off, real fun starts now) and runs through August 19th and is offering a load of events to enjoy this wonderful alcoholic beverage in oh-so-many formats.
First and foremost, check out our DC Beer Week video, wherein DC Brau teaches us how to brew beer and get the perfect pour. (Life skillz.)
And before we get down to business with our guide, follow Beer Week's twitter feed @DCBeerWeek since changes sometimes happen on the fly. We'll recommend a few events planned at this time so we can celebrate the deliciousness properly. Our selections were based on empirically proven methods like:
bars we like
beers we like
beers in bars we like

Monday
Beer and Cheese Tasting at Kramer Books – 6pm
1517 Connecticut Avenue NW, kramers.com
The third annual Brooklyn Brewery beer and cheese tasting has seven selections from the brewery paired with artisan cheeses
Solidarity Saison Tapping Party at ChurchKey – 6pm
1337 14th Street NW, ChurchKeydc.com
ChurchKey taps the first kegs of Solidarity Saison, a blend of seven saisons brewed by D.C.-area craft brewer. Brewers include 3 Stars, DC Brau, Chocolate City, Gordon Biersch, District ChopHouse, Mad Fox, and Capital City. Those seven beers will then be blended to create Solidarity.
Pints and Pies at Justin's Cafe – 5pm
1025 First St. SE, JustinsCafe.com
All domestic craft beer on tap is paired with savory pies from Dangerously Delicious Pies.
Founders Rare Beer Tap Takeover at Pizza Paradiso Georgetown – 5pm
3282 M St. NW, eatyourpizza.com
This event features a dozen rare beers from Michigan's Founders Brewing Company, including both the 2011 and 2012 versions of the Kentucky Breakfast Stout, so named because it's aged in bourbon barrels. Rare beers on draft are featured courtesy of Michigan's award-winning Founders Brewing Co. Beer lineup at eatyourpizza.com.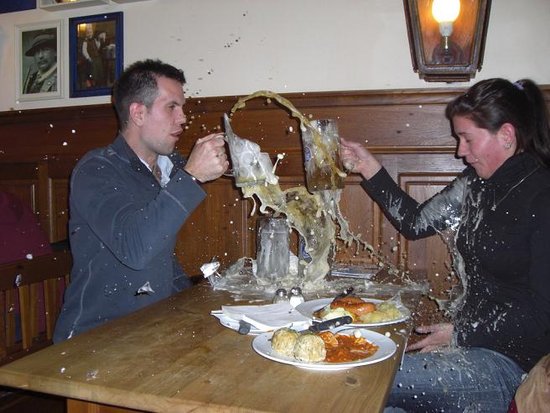 Tuesday
3 Stars, Union, and Oxbow Happy Hour and Meet and Greet at Pizza Paradiso Dupont – 5pm
2003 P St. NW, eatyourpizza.com
Try beers from two of the region's newest craft brewers for half-price. Your choices include a porter, a farmhouse ale and an imperial brown ale from 3 Stars. Union Brewing, a Baltimore brewery, brings a pale ale and a dark alt bier. The third featured brewery is Maine's Oxbow, which offers three farmhouse ales. Also featured: the D.C. Beer Week saison.
Chouffe Little Man Big Mouth Taco Takedown at Smoke & Barrel – 10pm
2471 18th St. NW, SmokeAndBarrelDC.com
Brasserie D'Achouffe sponsors Smoke & Barrel's first taco-eating competition. Top participants win three free tacos every Tuesday for a year. Glasses of Chouffe $6 from 10 p.m. to close.
Big Love: When One Isn't Enough at Meridian Pint – 5pm
3400 11th St. NW, MeridianPint.com
Enjoy 3 Stars Brewing Company's newest drafts, barrel-aged beers from DC Brau, Orange Whip IPA from the Mad Fox Brewing Company, and Oliver's. Ask about their rarities and aged varieties.
Wednesday
Troegs Tap Takeover at The Big Hunt – 4pm
1345 Connecticut Ave, TheBigHunt.com
At least seven drafts from Tröegs Brewing Company are featured, including two rare scratch beers.
Terra! Terra! Terra! at The Black Squirrel – 5pm
2427 18th St. NW, TheBlackSquirrel.com
Features Terra Incognita, a collaboration keg from Sierra Nevada and Boulevard breweries, along with a keg of Boulevard's Double Wide Imperial IPA, Tank 7 Farmhouse Ale and Unfiltered Wheat, Sierra Nevada's Kellerweis Hefeweizen and Ovila Dubbel.
Bluejacket and Brewer's Art Collaboration Brew Debut at ChurchKey – 6pm
Honeysuckle Rose, the Bluejacket and Brewer's Art collaboration ale, is debuted. This event also features a selection of Brewer's Art beers on tap.
Thursday
Let's Get Stoopid at Black Squirrel – 5pm
2427 18th St. NW, TheBlackSquirrel.com
Features kegs from Lagunitas Brewing Company, including Maximus IPA, Hop Stoopid Imperial IPA, Lucky 13.alt, Undercover Investigation Shutdown Ale, Little Sumpin Sumpin, IPA, Pils, and Imperial Stout. Burgers half off and swag available.
Samuel Adams $1 Happy Hour at Black Jack – 6pm
1612 14th St, BlackJackDC.com
Samuel Adams Octoberfest is $1. Test your strength by competing in the National Stein Hoisting contest.
Ommegang Tap Takeover with Vegetarian Beer Pairings at Meridian Pint – 5pm
3400 11th St. NW, MeridianPint.com
Enjoy a discount on 13 Brewery Ommegang drafts by pairing them with one of six special vegetarian mini-dishes.
Cigarmaggedon at Jack Rose – 5pm
Widmer Brothers Brewing and W. Curtis Draper Tobacconist are the hosts of this night, which features special beer and cigar package prices. All full size beers are priced at $6.
Friday
DC Brau Embers of the Deceased Tapping Party at ChurchKey – 6pm
1337 14th Street NW, churchkeydc.com
ChurchKey serves the first kegs of Embers of the Deceased, a hoppy smoked-wheat ale called a graetzer, a beer popular in Prussia until the early part of the 20th century. It's brewed with Bluejacket Brewery, opening in Southeast Washington next year. Sixteen DC Brau beers will be on tap and cask all night.
Mid Summer Night Barley Wine and Vintage Beer Festival at Bier Baron – 7pm (note: $40 ticket)
1523 22nd St. NW, BierBaronDC.com
This event features a vertical tasting of four vintages of Anchor Brewing's Old Foghorn. Plus, the release of the Baron's cellar reserve list, featuring an extensive collection of rare and vintage beers.When the Bier Baron took over the landmark Brickskeller beer bar, they inherited the previous owners' large stash of rare and aged bottles.
Rocky Mountain Hops at Black Squirrel – 5pm
2427 18th St. NW, TheBlackSquirrel.com
A Colorado suds invasion featuring rare concoctions from the New Belgium, Oskar Blues, Boulder, Breckenridge and Avery breweries, and barbecued Colorado lamb.
Northeast Brewery Night at Smith Commons – 7pm
Check out some of the best beer in the Northeast region, all for $5!  Check out Ommegang  (Cooperstown, NY), The House of Shandy Beer Co. (Burlington, VT), Weyerbacher Brewing Company (Easton, PA), Dogfish Head Craft Brewery (Milton, DE), Southern Tier Brewing Company (Lakewood, NY), Allagash Brewing Company (Portland, ME) and more!
Saturday
No Sleep Till Brooklyn Lager: An MCA Tribute Party at Penn Social – 7pm
Brooklyn Brewery takes over the tap as the music of the Beastie Boys plays in honor of the late Adam Yauch aka MCA.
Come One! Come All! Coney Island Comes to DC! at Jack Rose – 2pm
2007 18th St. NW, JackRoseDiningSaloon.com
Shmaltz Brewing Company and founder Jeremy Cowan take over the rooftop with games, prizes, live performers, and 15 Shmaltz beers on draft.
DMV Brewer's BBQ & Mid-Atlantic Brewery Night at Smith Commons – NOON to 5pm
Enjoy tasty eats and $draughts+small bottles from some fantastic local brewers including 3 Stars Brewing Company, DC Brau, District Chophouse, Flying Dog Brewery, Heavy Seas Beer, Mad Fox Brewing Company, Port City Brewing Company, Stillwater Artisanal Ales and more.
Sunday
DC Brau/Stillwater Collaboration Release at Pizza Paradiso Dupont
2003 P St. NW, eatyourpizza.com
Try the new collaboration from DC Brau and Stillwater Artisanal Ales, which is paired with a pizza special.
————————————————————————-
ALSO: City Paper has a comprehensive list of EVERYTHING GOING ON and Washington Post has a nice selection as well.