CGI Friday, Vol 2: The Dark Knight Rises
July 30, 2012 | 11:30AM
by Lukas B. Smith
CGI Friday is an exploration of the contemporary meaning of the passive mass experience as exemplified by the digitally tricked-out Summer Hollywood Blockbuster (SHB). To heighten the impact of the bright lights, loud noises, and pathos-mongery characteristic of the SHB, the reviewer will watch the production while intoxicated. To capture the shell-shocked delirium resultant thereto, the reviewer will capture his reaction before up-sobering. Enjoy.
I confess, the newest installment in the Batman franchise proved too long, too big, and too, well, Christopher Nolan-ish for the single, still-tipsy rant for which this column will have eventually become famous. I had to see it twice. I had to(!), and not because I loved it (which I did), or thought that its narrative complexity, which is easily overshadowed by the film's epic CGI/costumey/nu-kyoo-lur suchness, deserved a second, calmer perusal (which it might). No. For the first viewing, I didn't anticipate being in the theater for over three hours, didn't expect to be moved, honestly, and so simply failed to drink enough. My head began to clear and my blood began to thicken – the twin agonies of up-sobering – with 27 minutes remaining, just the point in the film when a full-throttle dose of the whiskey vapors was most needed. On opening day, I crawled out into the light, and, in Bane's words, it was blinding. I heard myself muttering things like, "what the fuck, man," and, "how in the hell am I going to do this?" How in the hell, indeed.
As it turns out, hell is just the place to ferret out a plan of last resort. I've chosen to attack the column in two additional stages, making a triptych of the review, so appropriate for a trilogy, you see. You're reading the first part, now, I guess. Anyway, my plan was to see the film again after a vigorous assault on the stockpiles of National Tequila Day (thank you, El Chucho) and I'd write the piece the day after with a bottle of Tennessee 'Coal on the writing desk. So here I sit, two viewings and two glasses down on what is now the sixth day. Flowers can be sent to my liver on facebook. Sip, sigh, repeat.
PART II
To start from the beginning, then . . .
Round One:
After watching the film on its release date, my decidedly fan-ish responses were as follows. Bane may have made a better transition to the screen than (gasp) the Joker. The fight scenes are better choreographed than in prior installations, because, well, they're choreographed. In the second film, especially, they appeared to arise more from the editor's chair than from filmed stuntplay, making them hard to follow when not unpleasantly disorienting. A possible explanation (excuse) for this may be that they were filmed from the perspective of the totally overwhelmed goons, making the fights' (literally) dazzling speed and ferocity a demonstration for the audience of what it would be like to fight Batman. On the other hand, the Batman v. Bane fights make more visual sense because they fight the same way and at the same speed, both having been trained by the League of Shadows blahblahblah. (It's a stretch, and this ain't Big Bang Theory, and I don't want to fight Batman, so I move on.) Why wasn't Fox (Morgan Freeman) at the funeral? Was Fox at the funeral? Did Anne Hathaway impose a limit on sexy Catwoman shots? She was really good, though. But, seriously, in a three-hour long movie where seemingly EVERYTHING happens, you can't let the camera linger on a perfectly compressed and poised catboob or allow us to marvel at her Anime-grade waist-hip ratio for a second or so? This is how cowboys get the blues, Mr. Nolan. The motorcycle-thingy was scintillatingly fun to watch in motion, though.
Altogether, after a first tipsy viewing, I felt that Nolan's Disneyfication of the (decidedly darker) Frank Miller-derived and(or?) –inspired Batman saga was a cinematic, if not filmmaking, success. They were big and fun and cool and stuff, and they were occasionally even interesting. Miss Hathaway's (paraphrased) claim that Nolan raised this film to the level of art – or of 'serious filmmaking,' or whatever . . . people that pretty are usually dumb; no complaints, though – this is obviously so much bullshit. But . . . to whom is that the point?
Round Two (with feeling):
Drinks (Stroh's and High West Bou-Rye) and snacks (a miscellany of pub grub) at Boundary Stone with Jason "J-Murda" Crafton and Cassiel "Joy of My Heart's Desiring" Archdeacon primed the pump for our ride up to El Chucho, where we commemorated National Tequila Day, or Veinte-Cuatro de Siete, with a zillion and more limey dranks and two tacos calabacitas. Mick was there with wristbanded handshakes while Julia's agro kiss-me-deadly root job served as aesthetic garniture to the minimally festooned yet delicious cocktails(sp?). Having by temperance spoiled my first viewing, I loaded for bear this time around. I enjoyed a margarita and then another (y repite) before I tasted again the Sr Clusterfuck, which is a wonder of bartendish polycomponental hubris. I believe I finished with a Tamarind Cocktease, which I don't think is on the menu. At any rate, if you're a boy, don't ask a barmaid for one. Eddie's proxy (sorry, man, I know you have a name) at Room 11 tried to kill me with a Milagro shot of Zeusian proportion before we sallied down the hill, cab-enabled.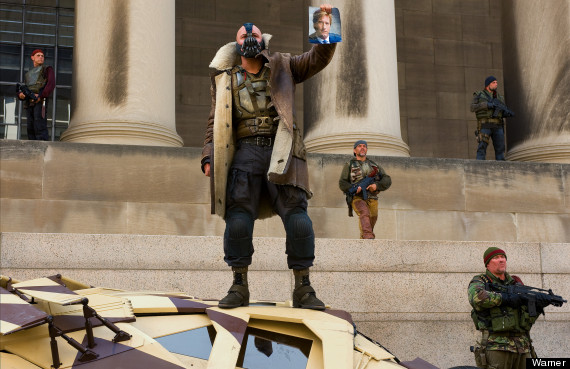 The Bane-appreciation from day one has had the unfortunate side-effect of turning me into a Bane voice-impressionist ever since. You've at least seen the trailer, and you know that Bane sounds most Shakespeareanly villainish. I'd lie if I pretended that thething I was most looking forward to for round two was anything but the laying out of proof in defense of my sterling impersonation to my friends. Fortunately, Bane makes an early appearance in the film's running-start opening set piece of action, so that I can get my elbow-nudging "see?(!)? My Bane impression is truly great(!)" look-overs out of the way and get on with assessing the film for (ahem) critical appraisal.
The second time around, the buzz carried me fully through. I bit deeply into the film's richly adorned narrative and laughed merrily at the mostly-marvelous synesthesia of the action sequences. Here's what I came up with:
Despite my initial reluctance, I have to say that Reese's Pieces taste awesome with popcorn, if not on their own. SweeTarts have lost their charm, alas. My bladder is bigger than Cassiel's, though not noticeably larger than Jason's. He trained as a chopper pilot, so I'm interested to hear what he thinks of 'The Bat's' rotor-driven flying capability. In his words, "it's an aeronautic impossibility, but fuck it. It looks cool, so so what?" So so what, indeed, sir. The rotorcycle (zing) can't possibly do what it does, but I cackled with joy, nay, glee, everytime it did its thing. Go, Hollywood(!). Bane really is a monumentally badass character whose lines are almost unerringly written, and Hardy should be commended for the head-lilting swagger and personality he brings to a basically faceless character. Face or no face, name a character or actor who can say "I am necessary Evil," and you think, "yeah, I mean, sure . . . Sir." Morgan Freeman is great, Bale is good, Michael Caine holds it together in a deliriously difficult roster of scenes, Anne Hathaway eats the screen for lunch (and then probably voms it later), Marion Cotillard is powerful in the reveal scene but both she and Nolan should be embarrassed about the death scene. Joseph Gordon-Levitt looks the part but didn't always manage to live up to his largely sanctimonious lines as Robin-cum-Batman 2.0. It's reminiscent of Katie Holmes' (daughter of John Holmes) floundering performance as Rachel in Batman Begins. Both young actors remind us of how hard it is to be convincing in the cinematized comic-book universe, and their shortcomings should cast additional splendor on the performances of the truly fine actors listed before them. [Sip, sip . . . gulp. Shit.]
The central character development structure is hard to summarize, not because it's vague, but because it's layered. The characterological pillar of the film, narratively speaking, is the central chiasmus between Bane and Wayne/Batman. Bane is a mirrored image of Batman. They're on clearly opposite sides of the moral scale, though architectonically similar. Bane is shown as a much darker orphan than Wayne, and his struggles are much fiercer than the developing Wayne's. This skews his ethical compass while making him prodigiously stronger. In the first showdown, an aging Batman is crushed by Bane, who explains how this can be in beautifully diametric phrasing, "You adopted the shadows. I was born in them. The shadows betray you because they belong to me." So, Bane is Wayne, though a denser version of him, and therefore Bane beats Batman. In the prison where Bane is (falsely) presented to have been born and raised, Wayne in turn becomes Bane by living in just the shadows the villain so ominously described, and, in overcoming what Bane himself could not, he gives Batman the strength to defeat Bane. This is pretty serious stuff, plot-wise, and many an aspirant novelist has scuttled his raft on the Scyllan rocks of such an ambitious plan. So, Bane as (inverted) Wayne = Bane over Batman – Wayne as (inverted) Bane/Wayne over Bane = Batman over Bane(phew, or tah-daah, or something). But that's just the core frame of the plot. There's much more. Namely, the shadowplay of Miranda as Talia and the parallel development of Miranda cum Talia, the development of Catwoman by way of the moral evolution of Selina, the progression from Miranda to Selina as a love interest, the disputed succession of Robin as either a Commissioner Gordon-type or as a Batman-type, the release of Bruce by Alfred, and the full maturation of a free Bruce Wayne are all in play, as well, and all need to be developed and believably accomplished if the film is to cohere. Fortunately, they do, and ultimately, it does. The final scenes of Cotillard and Gordon-Levitt are a bit shaky and untimely, and I believe that the emotive acrobatics get the best of Caine in his last spoken frame, but it's no matter. It's as big and complex as the Godfather, but guess what? It's not as good. What is? In echo of Bane's most devastating line in the film, victory didn't defeat the last Bale/Nolan installment of Batman. Hopefully the Gordon-Levitt versions won't either.
I can't fucking believe I have to go to work.