Behind the Desk #46: Radio Friendly Unit Shifter
May 11, 2012 | 1:26PM
By Brandon Wetherbee
Brandon Wetherbee hosts the talk show/podcast You, Me, Them, Everybody the first two Friday's of the month at the Wonderland Ballroom and in Brooklyn and Chicago once a month. Listen to it online at youmethemeverybody.com. He'll be at the Wonderland Ballroom on May 11 hosting YMTE Live with co-host Jenn Tisdale and guests Christopher Naoum from Listen Local First, stand up comic Will Hessler and band Miyazaki.
I'm not writing this just to post another Nirvana video. But I might as well do it now and get it out of the way/listen to the audio for however long it takes to write this.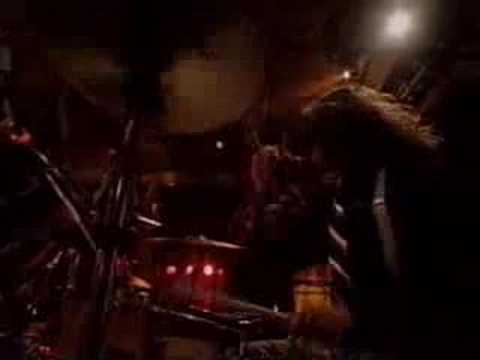 (Oh. This is from the 1993 to 1994 New Year's Eve performance from Seattle. MTV aired it a few times after the original date. I still have the VHS copy I had Guy Calcagno (real name) make me because I didn't have cable. Onto the actual column.)
After being a fellow judge of a comedy contest with a radio station DJ, I realized that the majority of culture is shaped by well meaning individuals that could care less about culture.
The man I met at the D.C. Improv was a very nice man. He smiled and shook hands and wanted everyone to like him. There is nothing wrong with that. In fact, I should be more like that guy. Approachable. On. At all times. Always on. Always willing to please.
(Jesus Christ, this song is still amazing. "Why do I think of things?" That's a perfect line. I know it's not in this version. Whatever. Still great)
I do not host my talk show so I end up on mainstream radio. (mainstream radio in this instance = radio station where 100% of music is programmed, the majority of that music being 10-15 songs appealing to people that shop in malls) Once again, there's nothing wrong with that kind of radio station, it's just not a goal of mine.
(Can you believe that this album had radio hits? That's nuts. Awesome nuts. Screw it, here's another video from that show.)
Mainstream radio played a large role in my life. Like most kids that grew up without the Internet, we listened (old man, I'm an old man) to specialized shows that catered to the local scene. I had the radio DJ I grew up with on my show last year and it was the most nervous I'd been all year. Turns out he's an awesome guy that no longer works in mainstream radio. There's a reason for this.
(This is my favorite song, the first one, "Serve the Servants." "Rape Me" should be no one's favorite song. It's cliche and dumb that it's my favorite song but it was at 14 so it will forever be my favorite song. I'm so glad I never got tattoos. These would be awful tattoo lyrics. Or not. I guess it depends on the font and when you die.)
The current crop of popular music, mainstream radio DJs appear to be the hangers on from high school. The kids not unique or weird enough to reject what wasn't for them, too unaware to try something hard like debate team, the kids not bright enough for AP classes, not athletic enough to make any team, genuinely nice people but striving to a status never meant for them. They don't tend to be people that live for music. They'd happily play the first single off "In Utero" because it was #1, not because it featured the words, "umbilical noose," and that phrase has yet to be uttered in popular music since.
(This is actually my least favorite song on the album. I was/trying not to be that guy who didn't like what everybody liked because I am original and only like the biggest band in the world's lesser known songs.)
I have yet to meet a mainstream radio DJ that cares about music. I have met mainstream radio DJs that became mainstream radio DJs because they knew they'd never be on television. Whether this is good or bad, happy or sad isn't the issue. The issue is the sound they're putting on.
(I love that Pat Smear was in Nirvana. "Hey guys, we're not nearly loud enough, let's bring in the guy from the Germs!" What did they play next?)
(Oh! It's their other abortion song! What's that? Your favorite band doesn't even have one abortion song?)
Mainstream radio DJs end up playing songs for people that also could care less about music and pre-teens. They cater to folks whose brains aren't done developing and people that still shop in malls. (Why am I hating on malls so much?) While this is fine for adults, have you talked to a middle schooler since leaving your teens? They are not easy people to talk to, reason with, want to be around, do anything that isn't awful.
So that's why I don't want to be a mainstream radio DJ. I'm not trying to use You, Me, Them, Everybody to become a shock jock or alter the show so it can be in an easily digestible format. If that happens naturally, wonderful. If I have to do it by resorting to appealing to people that shop at malls (I got 'em! 3 for 3!), I might as well give up now.
(Let's skip to the destruction part.)
(I never noticed how much this sounds like cats dying.)
In conclusion, mainstream radio DJs cater to people with soft skulls, they're nice people, I still like destructive music, god is gay, good bands have a minimum of two abortion songs, when you're rich you can spit at the camera and Pat Smear is the coolest.
Thanks for reading and have a wonderful night.