Behind The Desk 14: Awkward (Gym) Music
August 16, 2011 | 4:20PM
Behind the Desk #14: Awkward Music
By Brandon Wetherbee
Brandon Wetherbee hosts the talk show/podcast You, Me, Them, Everybody the first two Friday's of the month at the Wonderland Ballroom and in Brooklyn and Chicago once a month. Subscribe to it online at youmethemeverybody.com. He'll be at the Wonderland Ballroom on September 2 with guests Mab, Just Mab, stand up comedian Sampson McCormick and a special set from Dan Scheuerman of Deleted Scenes.
Dear Keli,
I do not want to run with you. Please don't take this personally. I think you're a fine human being and I enjoy spending time with you. My decision to work out alone actually has nothing to do with you. Let me explain.
I'm not a fan of people that tend to use the gym. I realize the absurdity of that statement considering I am someone that uses a gym. Maybe I should have said I'm a judgemental prick that shuts people out just because they have tribal tattoos and listen to music that I loath/makes me feel smarter. Anyways, I like going to the gym to do things I can't do at home, like use machines that would collect dust if in my living room, lift weights that don't make sense for me to own because I'm not under 5 feet 5 inches and I never see anyone taller than 5 feet 5 inches using heavy weights on a daily basis and play basketball.
Yes, Keli, I'd rather play basketball alone in a gym than go for a nice run outside with you. If you and I go for a run, we'll talk about things like art and our mutual neurosis and RuPaul's "Drag Race." At the gym, if I time it just right, I get to listen to music from my iPod on the sound system that is for the entire gym. Since I go to a gym that isn't well attended and since both the basketball court and the workout room have stereo systems on all the time, if I'm the only one using the court or the workout room, I get to pick what music is played. It's quite fantastic. It's even more fantastic when some kind folks that wouldn't ever listen to your music because your music isn't on any Internet jukebox has to suffer through your playlist.
Keli, do you like The Replacements? I'm a big fan. They are quite an influential rock group from Minneapolis. From the mid-80s to the late 80s they released a handful of near perfect albums, the kind of music that inspires teens to start bands that are much more successful than The Replacements ever were. One of my favorite albums of theirs is "Let It Be" and one of my favorite tracks on the album is ""Androgynous." Listen to it here.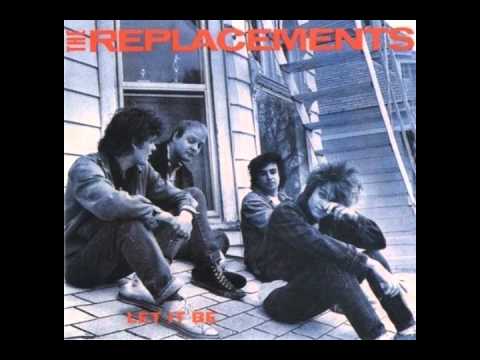 For some odd reason, the guys that came into the gym while this song was playing had sour looks on their faces! Can you imagine! Why wouldn't you love hearing such a great song for the first time while you're wielding a sledge hammer on a giant tire?
I can understand not wanting to work out to mid-tempo songs that questions gender roles. I do. But what about good old, fashioned, hard hitting rock and roll? If there's one band that pleases every dude I know, it's Queens of the Stone Age and if you're a fan of QOTSA, you must be a fan of substance abuse. That's why I was once again shocked by my gym mates lack of enthusiasm when "Feel Good Hit of the Summer" came on.
Oh, Keli! Maybe I should go running with you. It's not nearly as much fun as making people that paid $55 a month to be told to walk on their toes feel awkward, but I have another few days with the gym so I'm going to take advantage of the gym. Maybe if I play some electronic music everyone will be happy. You told me you like Junior Senior. Well, I like them, but I also like Air. They're both duos, make beautiful music and sometimes get people dancing. So why didn't anyone like it when "Afternoon Sister" came on?
I'm not meant to program gym playlists. My preferences of bar room intellectualism, anthems of substance abuse and scores for suicidal sisters seems to only do it for me. Maybe we'll go running Keli. If you can promise me I"ll make at least one in shape gent feel a little bit awkward, I'll be much more likely to say yes.
Thanks for reading and have a wonderful night.