An Introduction to Scott Lucas and the Married Men
August 6, 2013 | 3:00PM
I've seen Local H about 30 times. I'm 30. That's a lot of one band. It's probably way too much for a band made up of only two people.
Scott Lucas is the front-man/half of Local H. When he started Scott Lucas and the Married Men in 2009, I was a little hesitant. Like most dumb people that loved one thing, I was afraid I wouldn't be able to enjoy another, similar, but different, thing. It took a while, but now I enjoy the other band from the guy whose other band is great.
2010′s "George Lassos The Moon" was a solid debut from veteran rock and roll musicians. Lucas worked with multiple members of another Chicago rock and punk institution, The Tossers. Staying away from feedback and trying out Americana, the album showed potential but wasn't as satisfying or solid as Local H's 2008′s "Twelve Angry Months."
2012′s "Blood Half Moon" found the band coming into their own. The 7-member band gelled over three years of consistent touring. A Local H record for the person that no longer yearns to hear screams. It's a well-rounded, comfortably sounding, lyrically challenging record that sounds best on vinyl (I realize this sounds pompous, but it does. It plays perfectly fine on an iPod, but the flow is better when you have to get up to flip sides).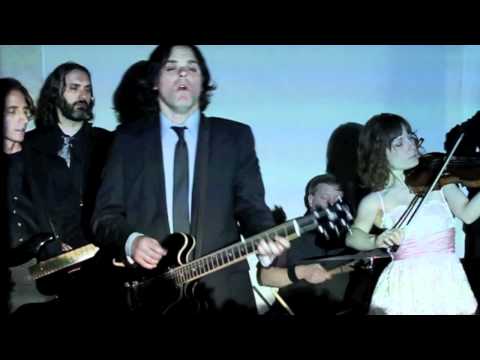 The band comes to DC tonight and NYC Wednesday with the new EP full of covers, "Cruel Summer." We asked Lucas some of the records that the band has been listening to on this short East Coast jaunt.
The following five songs are evident in Scott Lucas and the Married Men, especially live. Neil Young comes through on the quieter songs, The Waterboys are represented musically, Grinderman, specifically Nick Cave's menacing and hilarious lyrics, are common in Lucas' best songs, the dark sincerity of The National is heard on both Lucas LPs and Pink Floyd's "Fearless" is a mid-tempo, acoustic beauty that the band strives for on record.